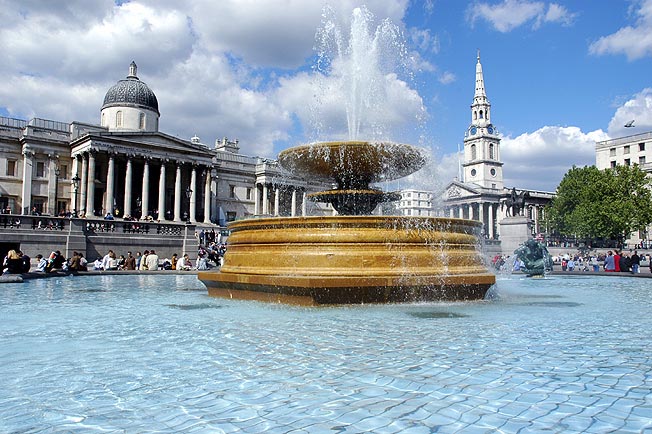 Trafalgar Square, London. The National Gallery appears at the left, St. Martin-in-the-Fields at the right.
London Photos, a commercial photo library, has generously shared this photograph with the Victorian Web, and copyright remains, of course, with them. Readers may wish to visit their site for many beautiful images of modern London.
Richard Jefferies on Trafalgar Square
Ascend the steps to the National Gallery, and stand looking over the balustrade down across the square in summer hours. Let the sun have sloped enough to throw a slant of shadow outward; let the fountains splash whose bubbles restless speak of rest and leisure, idle and dreamy; let the blue-tinted pigeons nod their heads walking, and anon crowd through the air to the roof-tops. Shadow upon the one side, bright light upon the other, azure above and swallows. Ever rolling the human stream flows, mostly on the south side yonder, near enough to be audible, but toned to bearableness. A stream of human hearts, every atom a living mind filled with what thoughts? — a stream that ran through Rome once, but has altered its course and wears away the banks here now and triturates its own atoms, the hearts, to dust in the process. Yellow omnibuses and red cabs, dark shining carriages, chestnut horses, all rushing, and by their motion mixing their colours so that the commonness of it disappears and the hues remain, a streak drawn in the groove of the street — dashed hastily with thick camel's hair. In the midst the calm lions, dusky, unmoved, full always of the one grand idea that was infused into them. So full of it that the golden sun and the bright wall of the eastern houses, the shade that is slipping towards them, the sweet swallows and the azure sky, all the human stream holds of wealth and power and coroneted panels — nature, man, and city — pass as naught. Mind is stronger than matter. The soul alone stands when the sun sinks, when the shade is universal night, when the van's wheels are silent and the dust rises no more.
References
Jefferies, Richard. The Toilers of the Field. London: Longmans, 1898. 323-25. [Text at Project Gutenberg]
---
Last modified 22 November 2010