Lau Pa Sat Festival Market. 18 Raffles Quay, Telok Ayer, Singapore [Between Raffles Quai and Robinson Road]. George Coleman. 1834; expanded 1894. According to a local site, travel.com.sg, Lau Pa Sat means "'Old Market' in Hokkien . . . [This] gazetted national monument [is] the largest Victorian filigree cast-iron structure still standing in Southeast Asia." Fodors.com adds that "a thriving fish market" existed on the site in 1822, and that "it was redesigned as an octagon by George Coleman in 1834 and redesigned, as we see it today, in 1894." Today converted to a typical Singaporean hawker center — the national government brought all street sellers of food into such centers several decades ago as a means of assuring healthful conditions — the building originally served as a meat and fish market. According to an elderly gentlemen, who told me that he first saw it when he played hookey from school many years ago, the odor of "the butchery" and decaying "fish lying in the mud" was so strong that he wouldnt even think of eating there today: "the imagination is too strong." For many years, however, it has been a popular food court, and when I photographed it a second time (October 2008), the octagonal hall was absolutely packed with people buying, selling, and eating food while a local rock band played on a stage at the center of the hall; this stage visually divided the hall and unfortunately prevented obtaining photographs that show the impressive size of Lau Pa Sat.
Cast Iron Structural Elements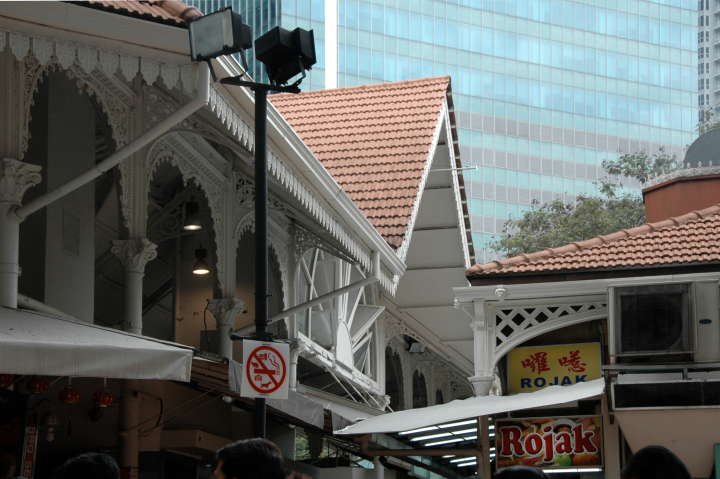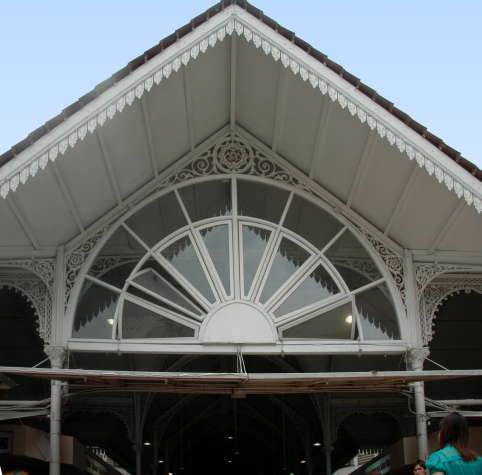 Left: Side view of Entrance with cast iron columns and tracery. Right: Window and roof details. [Click on images to enlarge them.]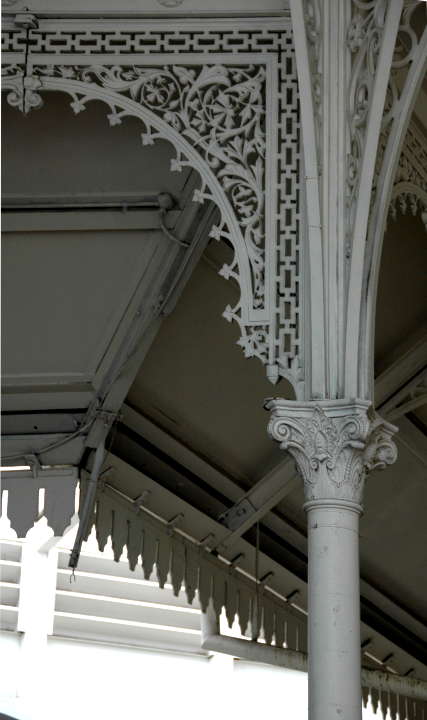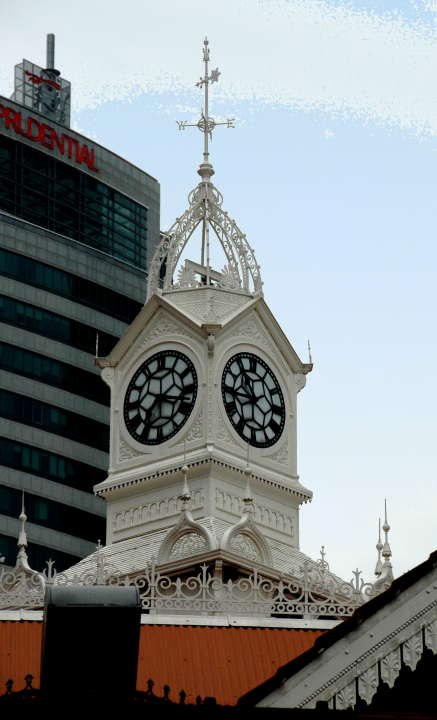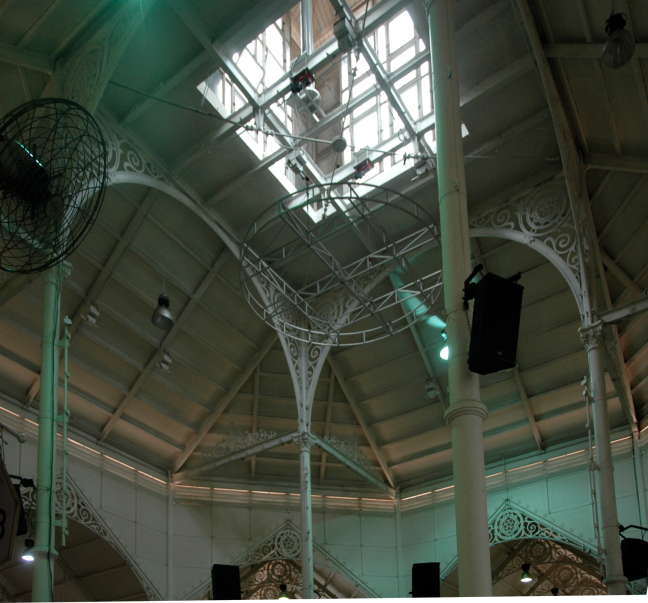 Left: Cast iron column and tracery. Middle: Cupola with Clock. Right: Cast iron columns at the center of the building.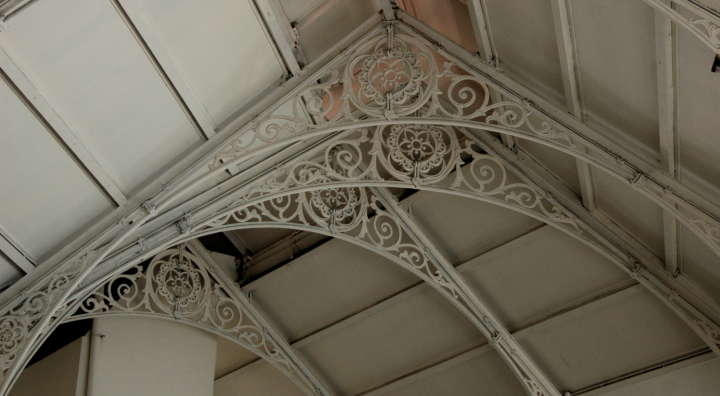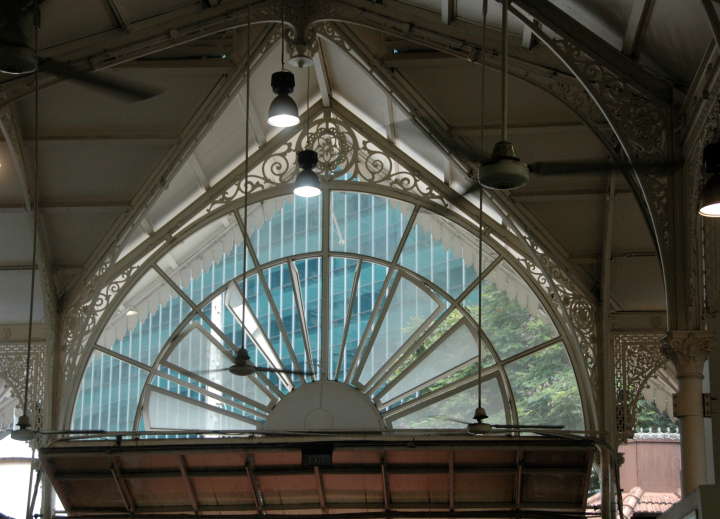 Left: Cast iron roof supports. Right: Window above entrance.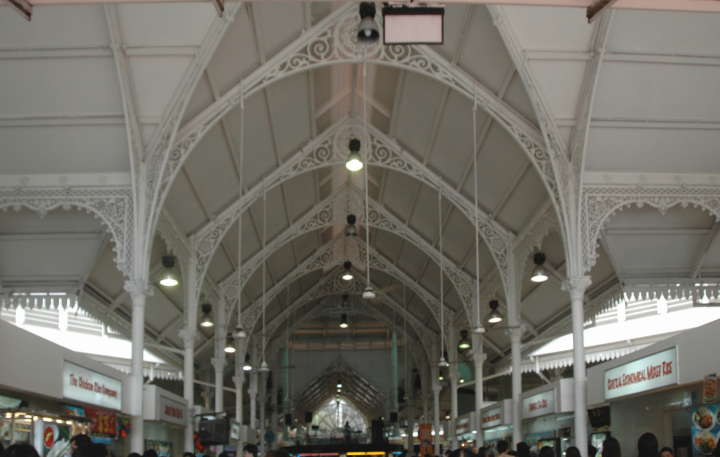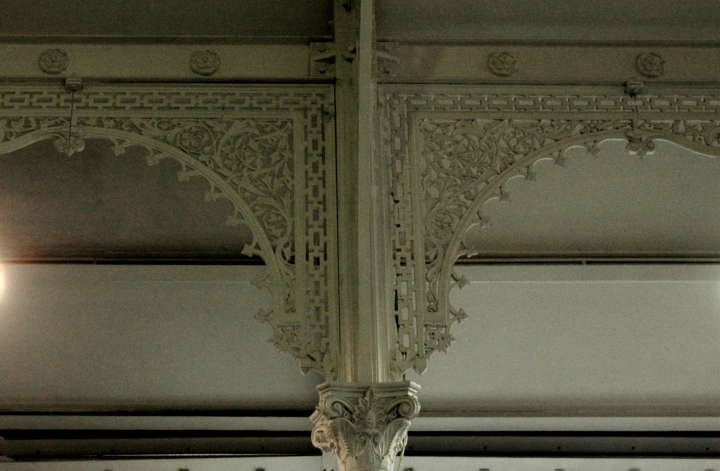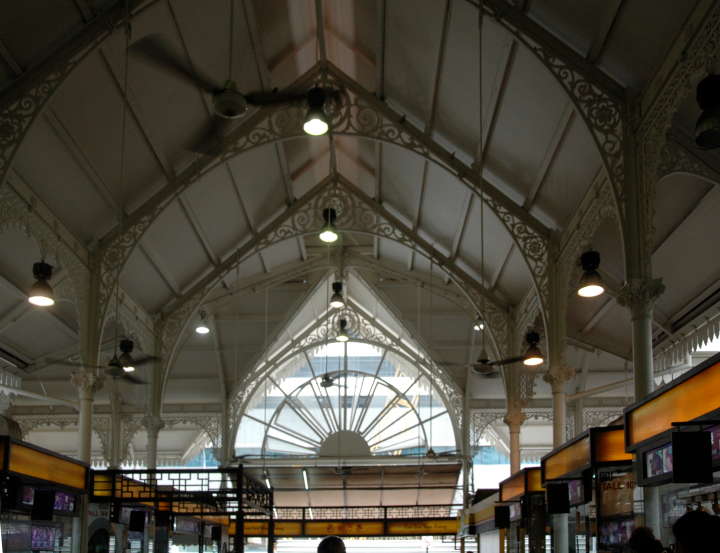 Left: Cast iron capital and tracery. Right: Cast iron roof supports and entrance.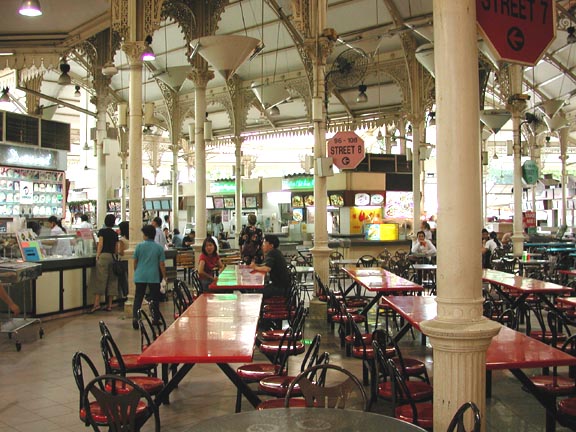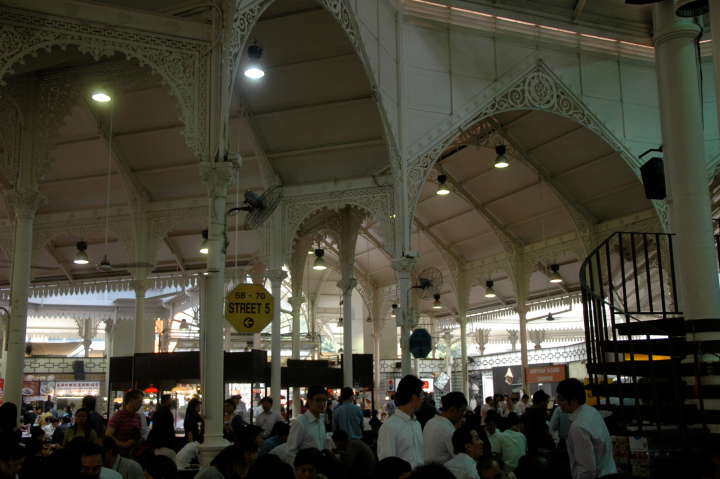 The Food courtni 2002 and 2008.
Photographs 2002 and 2008 George P. Landow. You may use this image without prior permission for any scholarly or educational purpose as long as you (1) credit the photographer and (2) link your document to this URL in a web document or cite the Victorian Web in a print one.
References
"Lau Pa Sat Festival Market." www.travel.com.sg. Viewed 26 October 2008.
"Lau Pa Sat Festival Market." www.foodors.com. Viewed 26 October 2008.
Kong, Lily. Singapore Hawker Centres: People, Places, Food. Singapore: National Environment Agency, 2007.
---
Last modified 29 October 2008