Photographs by the author. You may use these images without prior permission for any scholarly or educational purpose as long as you (1) credit the photographer and (2) link your document to this URL in a web document or cite the Victorian Web in a print one.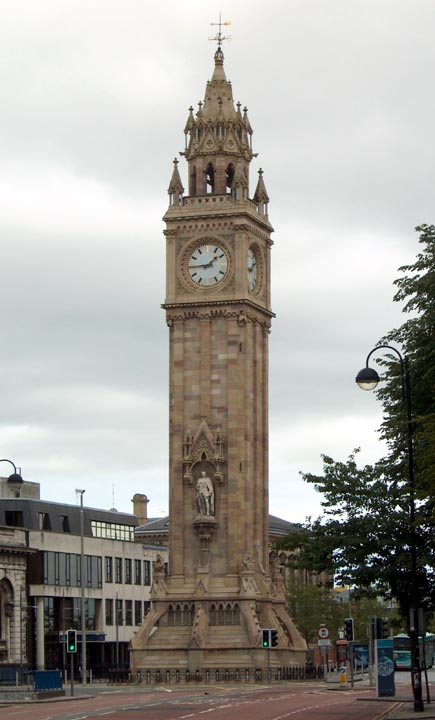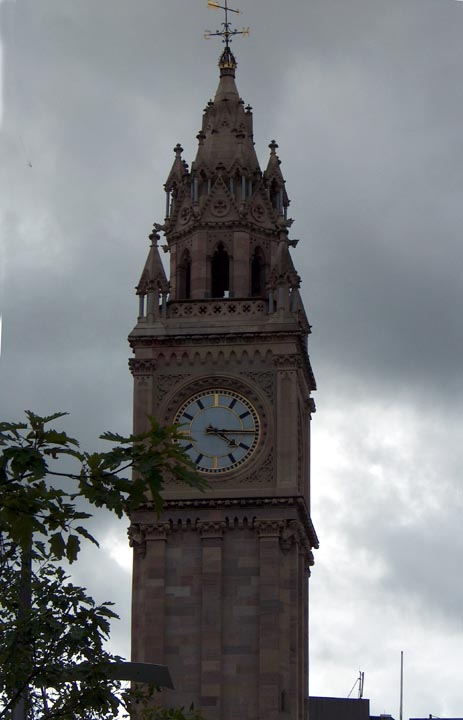 William J. Barre's Albert Memorial Clock (1865-70) in Victoria Square, Belfast, Northern Ireland stands 113 feet high and is constructed of sandstone. (Sources disagree about the height of the tower, some giving 113 feet and others 143; 113 seems correct [GPL)
The Belfast historian Fred Heatley describes the Albert Memorial Clock Tower in Queen's Square at the foot of High Street as his native city's "equivalent to Italy's famed Leaning Tower of Pisa" (52) because the monument, completed in 1869 after a highly successful fund-raising drive to pay for it, is slightly out of plumb. However, in that it has been the traditional gathering point in Belfast for over a century on New Year's Eve, it is also the equivalent of New York City's Times Square. Although Prince Albert visited Belfast only once, in 1858 with Queen Victoria, the town fathers decided to erect a lasting expression of their loyalty to the British crown after the Prince Consort's death in 1861. In the ensuing architectural competition, a young rival to the venerable Sir Charles Lanyon, William J. Barre (1830-1867), won, and then was deprived of his prize. The contract in secret was then awarded to Lanyon, Lynn, and Lanyon, the firm that had actually placed second — the job managed by one of Lanyon's partners who just happened to be a Belfast Member of Parliament! When the general public learned of the blantant jobbery, the contract was awarded to Barre after all.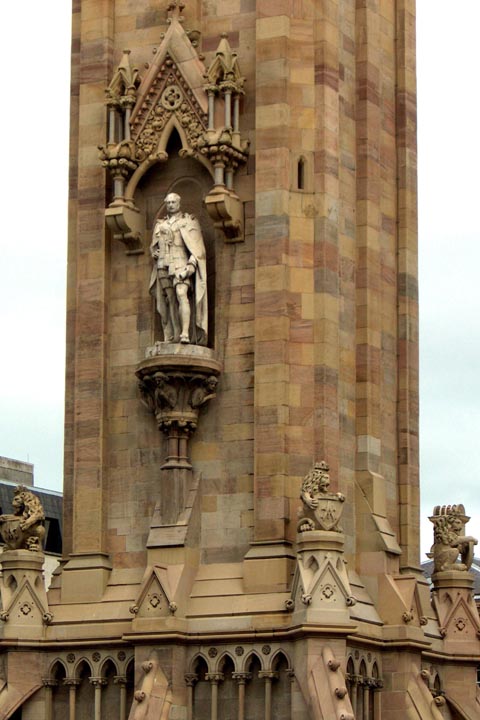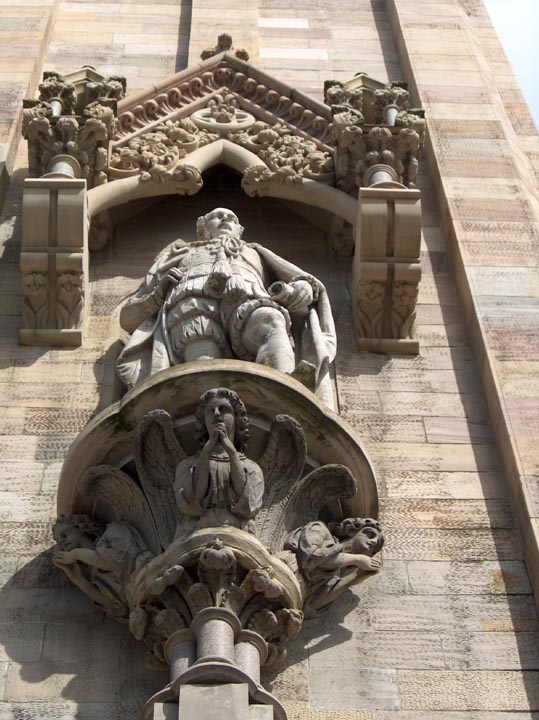 Three views of S. F. Lynn's statue of Prince Albert. [Click on images to enlarge them.]
Designed in the "German Gothic" (Heatley 52) style, probably by Barre's associate and assistant, Charles Sherrie, the 30-metre tower features a gigantic, full-length statue of Albert, looking up the High Street to Castle Street, so-called because of a seventeenth-century fortress built by the Chichester family (Earls of Donegall) that once stood there. S. F. Lynn's statue has been beautifully restored, and the sandstone tower made pristine by having 3 inches shaved off each side, thereby removing the unsightly shrapnel markings occasioned by German bombs in WWII and IRA bombs in the "Troubles" of the 1970s. As these pictures (taken in August 2006 during the Dickens Symposium at Queen's University) suggest, the clock's four faces can been seen from all over downtown Belfast, making it still, as the AA's Treasures of Britain and Treasures of Ireland (1973) suggests, "Barre's "most consicuous Belfast Building" (585), and certainly one of the city's most conspicuous buildings altogether.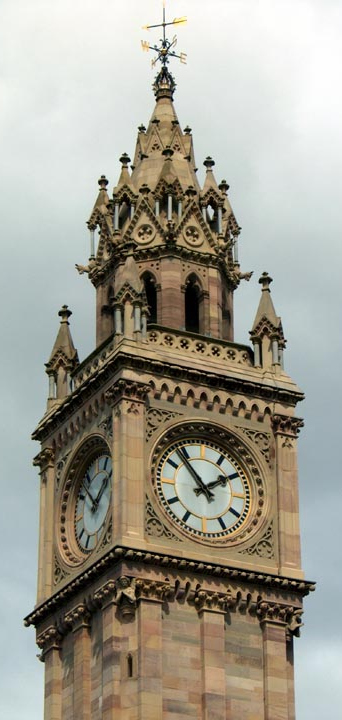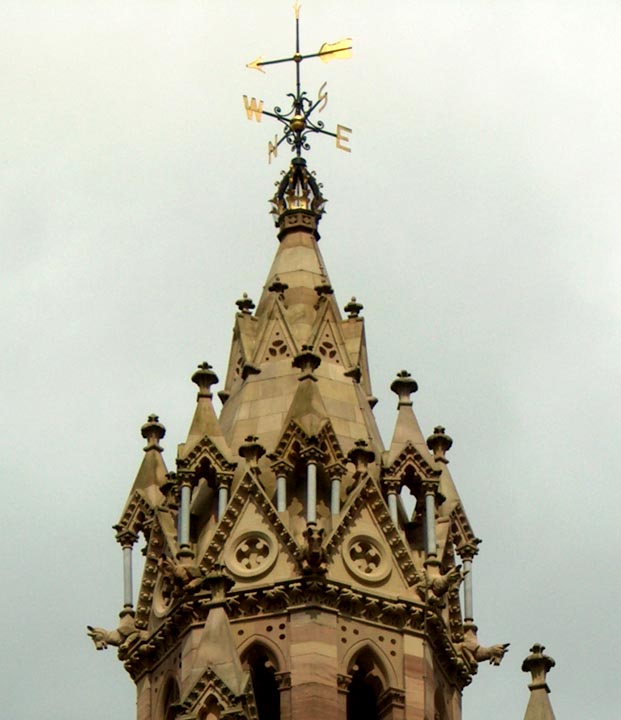 Left: Dial and Roof. Right: Pinnacles and Weather Vane. [Click on images to enlarge them.]
Other Views
References
Heatley, Fred, and Gillian Boyd (illustrator). Belfast: Paintings and Stories from the City. Donaghadee, Norther Ireland: Cottage Publications, 1998.
Automobile Association, Great Britain. Treasures of Britain and Treasures of Ireland. Fanum House, Leicester Square, London: Drive Publications, 1973.
---
Last modified 28 August 2006