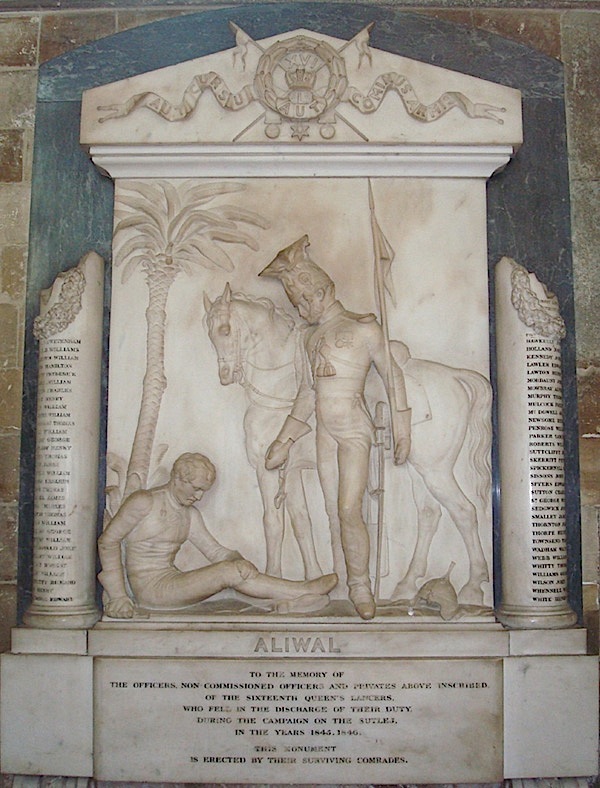 Memorial to the Sixteenth Queen's Lancers
Edward Richardson (1812-1869)
1848
Canterbury Cathedral
Photograph by S. Bilton, available offsite at Fibiwiki (an encyclopaedia about life in British India) on the Creative Commons License. Text by Jacqueline Banerjee.
The National Army Museum includes the Sixteenth Queen's Lancers in its "famous units," explaining that its "first Indian posting culminated in the First Sikh War (1845-46), during which one of its squadrons charged an enemy cavalry force ten times its numbers at Aliwal before going on to rout the artillery and infantry behind them." It is hard to exaggerate the fame of this victory at the time. The army historian Sir John Fortesque described it as "the battle without a mistake" (qtd. in Featherstone 57). The credit went to Major-General Sir Harry Smith (1787-1860), who was created a baronet, with the special designation "of Aliwal," as well as receiving his army promotion. His conduct in this First Sikh War, and especially this battle, also won him the grand cross of the Bath, and the thanks of both houses of parliament, the East India Company, and the Duke of Wellington, who was the army's commander-in-chief. In addition, he was granted the freedom of both London and Glasgow, and an honorary LLD at Cambridge, the latter bestowed on him at the installation of Prince Albert as chancellor (see Vetch and Benyon).
The Inscription reads:
ALIWAL: To the memory of the Officers, Non-commissioned Officers, and Privates above inscribed of the Sixteenth Queen's Lancers, who fell in the discharge of their duty during the campaign on the Sutlej in the years 1845, 1846, this monument is erected by their surviving comrades.
Related Material
Bibliography
"16th The Queen's Lancers." National Army Museum. Web. 5 January 2017.
Featherstone, Donald. Victorian Colonial Warfare: India. London: Cassell, 1992.
Vetch, R. H., rev. John Benyon. "Smith, Sir Henry George Wakelyn [Harry], baronet, of Aliwal (1787–1860), army officer and colonial governor." Oxford Dictionary of National Biography. Online ed. Web. 5 January 2017.
---

Victorian
Web

Visual
Arts

Sculpture

British
India

Edward
Richardson

Next
Created 5 January 2017