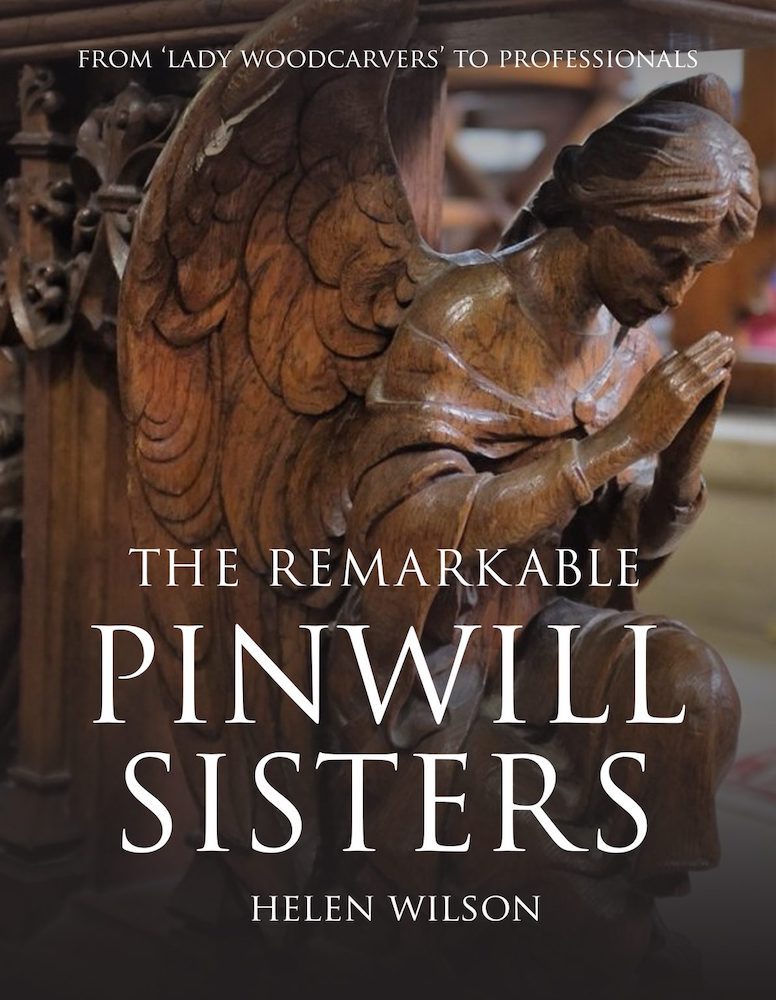 Cover of the book, featuring a carving of a praying angel on the altar rails at Plympton St. Mary, Devon, designd by Edmund H. Sedding and carved by Rashleigh Pinwill in 1910.
With its sturdy but flexible cover, and many illustrations, this book is a pleasure to handle and look through. But it is not simply a coffee table book. It is a scholarly and methodical study of a challenging subject: the careers of three women from about 1890 forward into the 1950s. The bulk of the material the author had to work on is, luckily enough, their actual carved woodwork, and, along with that, a range of contemporary photographs of the work and workshops. Accounts and letters are not plentiful, and personal narratives brief. But there is plenty here to tell what is, in fact, a truly remarkable story.
How did this story unfold? The Pinwills were a clergy family with seven daughters; there was a wood-carving clergyman grandfather, and ship-builders in the family a little further back; both parents seemed supportive and even wisely encouraging of carving as a hobby. However, it was the restoration of Ermington parish church in 1884, with the arrival in the village of the craftsmen and the architect and designer Edmund H. Sedding (1863-1921), which turned three of them eventually into professional wood-carvers. Two photographs (Figs 2.8 and 3.2 in the book) show the sisters with the craftsmen at several years' interval, first posing with the clay models for a reredos, and then with the finished carved object - and the excitement and confidence of the young women is palpable.
Detail of chancel screen carved by Ethel and Violet Pinwill, to designs by Frederick Bligh Bond, 1904, at St Petroc's, Lydford, Devon. Photograph © Helen Wilson.
Becoming professionals in around 1889, and then surviving in business, was certainly remarkable for women at that time, and the three sisters must have supported each other in their first decade. Mary Rashleigh Pinwill (b. 1871) was the eldest and perhaps the instigator since her name was used as their trade name, but she left the business on marriage in 1900; by 1911 Ethel (b. 1872) had moved to work as a professional woodcarver in Kingston-upon-Thames, Surrey, but the firm's reputation was well-established by then, and Violet (b. 1874) proved well able to carry on the business in Plymouth, where it survived World War 1.
The sisters often worked to Sedding's designs. Sedding, nephew of John Dando Sedding, who had connections with the Arts and Crafts movement, became diocesan architect in the Truro diocese (Cornwall); his personal and practical co-operation must always have been a factor in their success. When he died in 1921, Violet did more of her own designing, working on memorials and restorations, and became a teacher of apprentices; but she kept carving, right on into an era of Henry Moore and "the modern very severe style." She met the clients, ran a busy workshop, and organised many carvers and joiners, skilled men, often longstanding employees. Eventually Pinwill woodcarving had furnished over 180 churches, mostly in the south-west, and it is estimated the company produced over 650 individual items.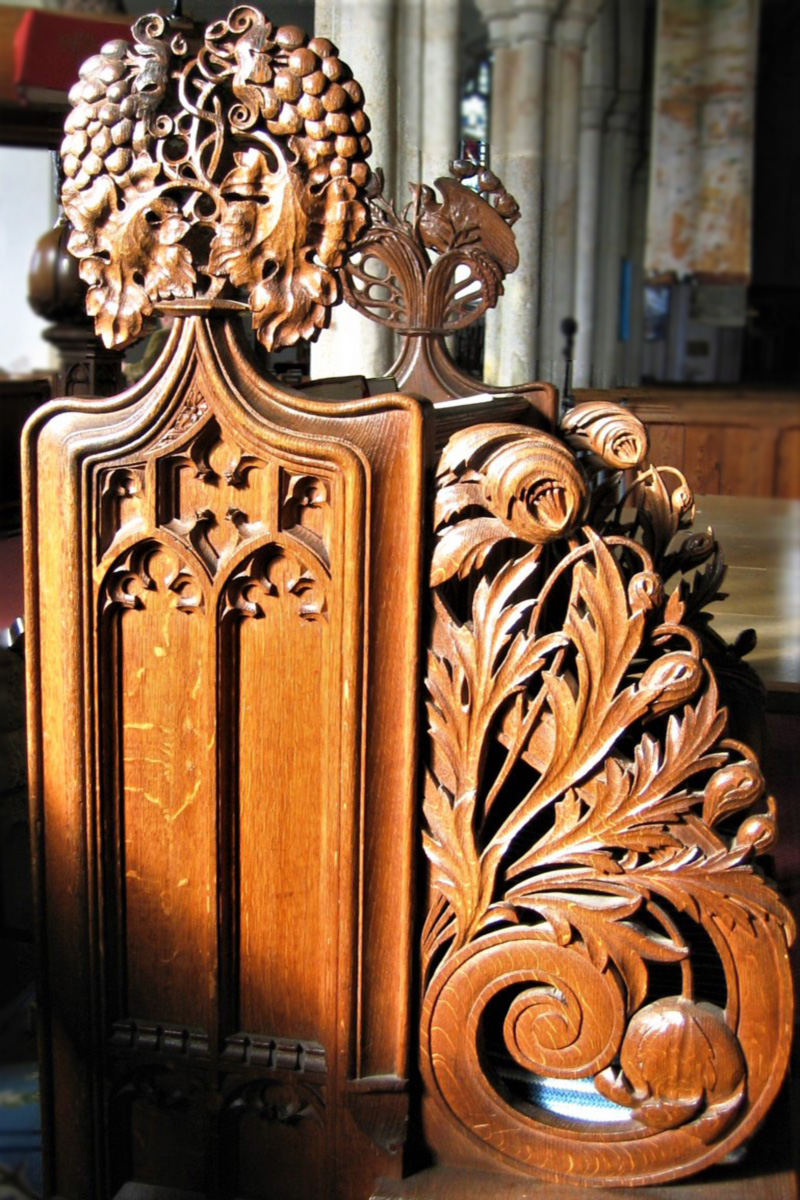 Choir stall bench end carved by the Pinwill Sisters at Plympton St. Mary, Plymouth, Devon, 1898. Photograph © Helen Wilson.
The book has an abundance of excellent coloured photographs (350 in all), well-displayed; the eight chapters are chronological except for the last which discusses what is known of Pinwill workshop practice and that of competitors; this chapter is a very useful addition. Interspersed are seven sections, of which two are biographies (of the mother of the family and of Sedding), and five are surveys of Pinwill work at particular churches; these sections are not listed in Contents but are identified by their softly tinted pages or can be found in the index.
A vast amount of detective work has gone into the text, to place events and objects in their wider context, to give a background of the work of other women artists, and to colour the changing world of church restoration and furnishing. No doubt Helen Wilson has tried to trace the later history of (Annie) Ethel Pinwill, who had moved to Surrey, was at her father's funeral in 1926, and died at Ermington in 1951 – but what she did in the intervals has not been discovered. Perhaps Violet met up with her when she did war-work (carving aeroplane propellors in World War 1, probably at a factory in Weybridge, Surrey).
The book provides plentiful but unobtrusive endnotes, a glossary, bibliography and index. I would have liked a one-page list of dates and events, and I wonder if William Giles, carver, and Harry Flashman, joiner, are correctly named in the captions to figures mentioned above? But there are no real complaints. I found it a most enjoyable read: I will look at work of this period with different eyes in future.
Bibliography
[Book under review] Wilson, Helen. The Remarkable Pinwill Sisters: from "lady woodcarvers" to professionals. Plymouth, Devon: Willow Productions, 2021. xi + 300 pp. £25.00. ISBN 978-1-5272-8264-3
---
Created 3 April 2021