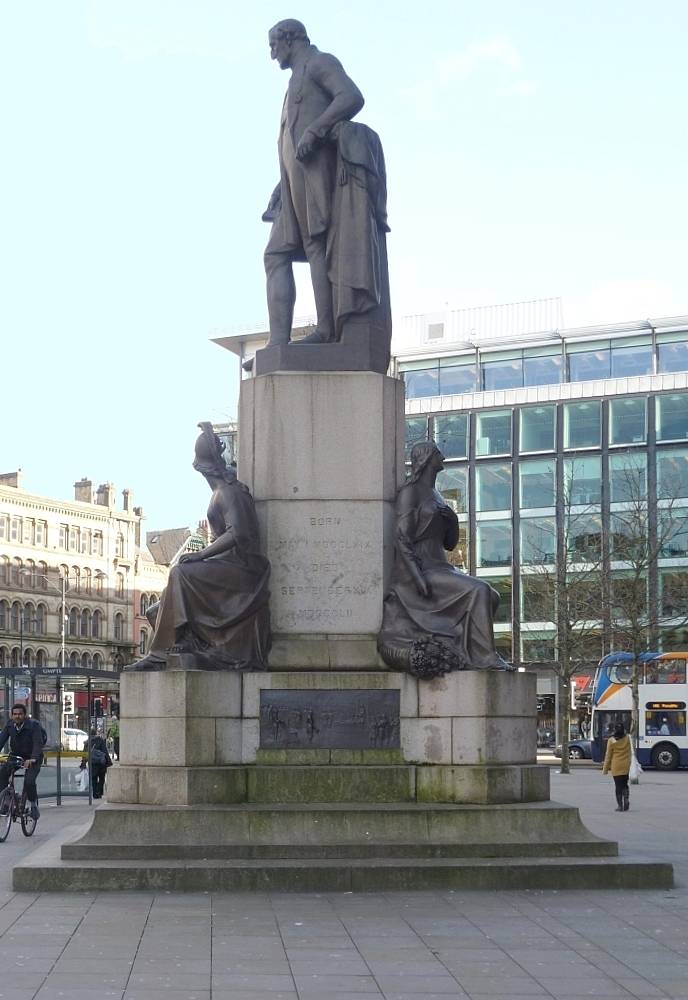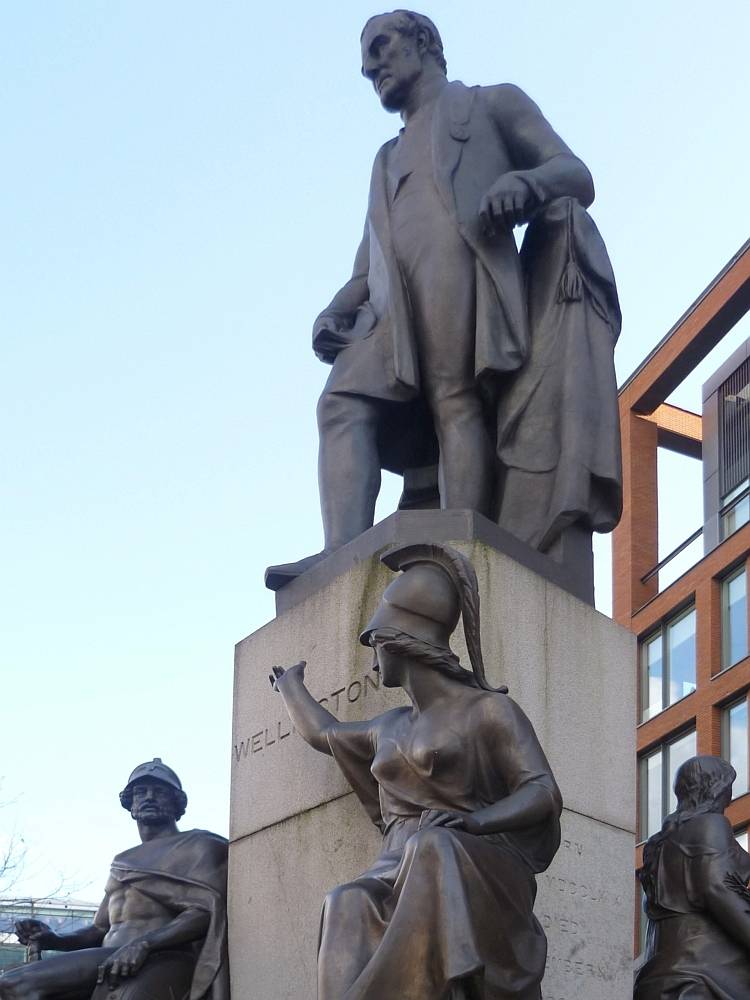 Left: Wellington Monument, Piccadilly, Manchester, from the side. Matthew Noble (c.1817-1876). 1856. The much larger than life-size (13' high) statue of the Duke of Wellington shows him in later life "dressed in a frock-coat with military decorations" speaking in the House of Lords, with his military despatches at his feet (Wyke 114). Below him at each corner of the square granite pedestal are four bronze figures representing his attributes, and below and between these are four bronze relief panels showing the high points of his career. Right: Closer view of Wellington, with the figures of Mars (for Valour) and Minerva (for Wisdom) beneath him. The monument was a controversial one, partly because "[p]ublic opinion favoured an equestrian statue" (Hartwell 189), and partly because Noble was not yet well-established. But in the event the statue was deemed to be "a very truthful likeness" ("Notes of the Month," 502). Noble's most prestigious commission in Manchester would be for the statue of Prince Albert in the Albert Memorial, Albert Square, Manchester.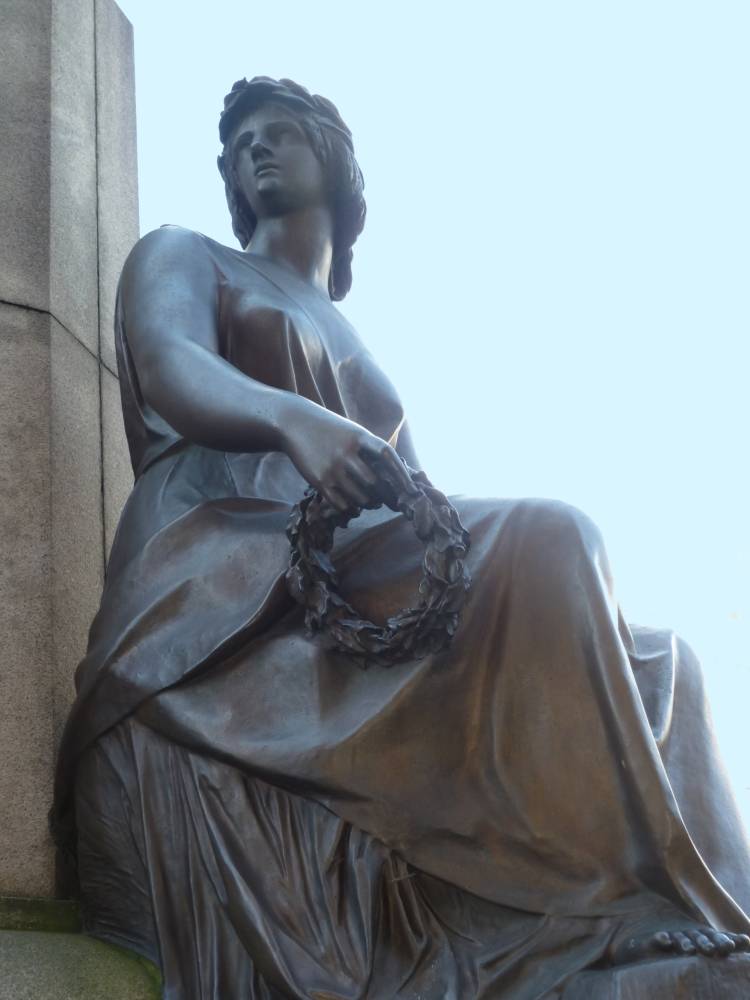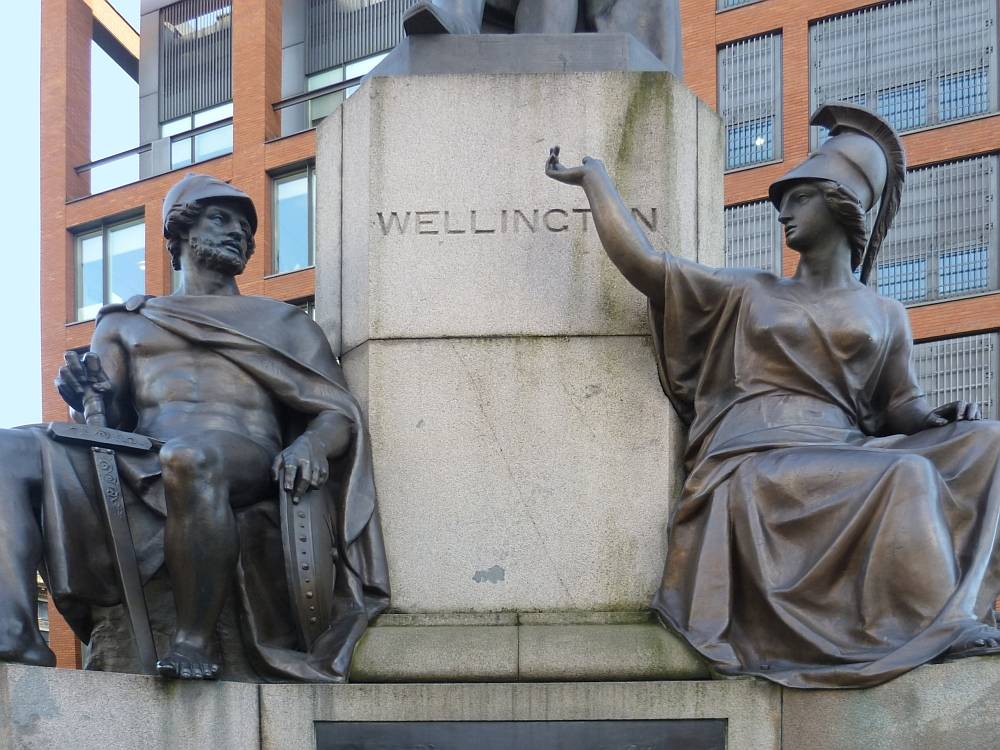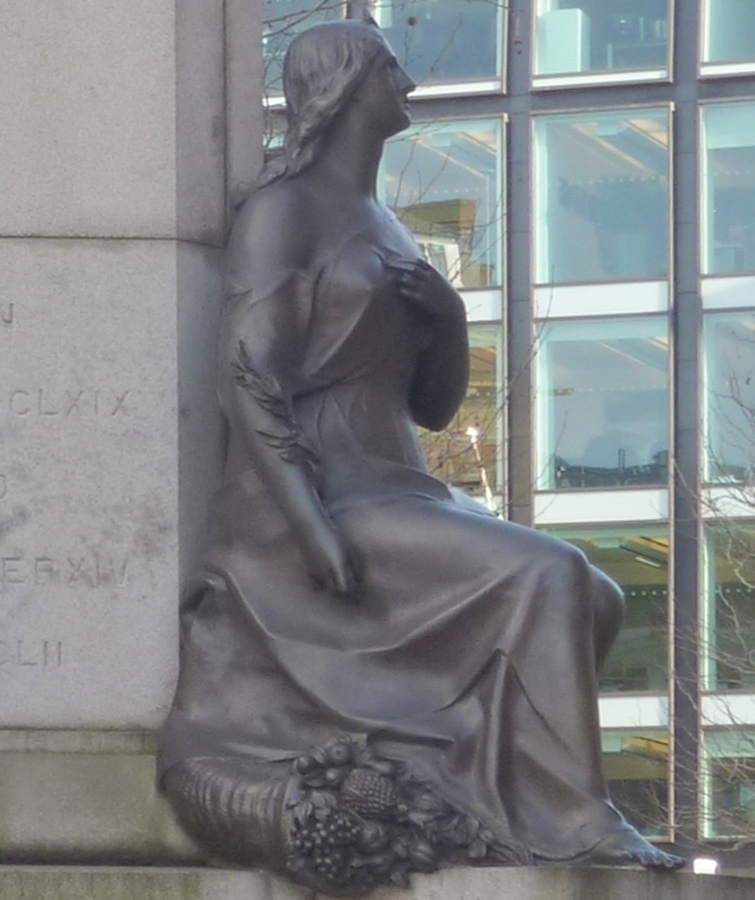 Left to right: (a) Victory, with two wreaths, one on her head and the other in her hand, the latter clearly of oak leaves, symbolizing British success. (b) Close-up of Mars and Minerva. Mars is a brawny, bearded warrior with hemet, cloak, and decorated sword and round shield; Minerva's arm is raised either in acknowledgement of the Duke's wisdom, or as a gesture in a kind of "sacra conversazione" with Mars (Read 149). (c) Peace, with a cornucopia beside her, a star on her forehead, and an olive branch in her hand.. There are thus three female figures, and one male. According to a contemporary source, the bronze used in the monument weighed 10 tons, while the granite for the pedestal weighed 100 tons, so it really is "colossal." (Perrin 145).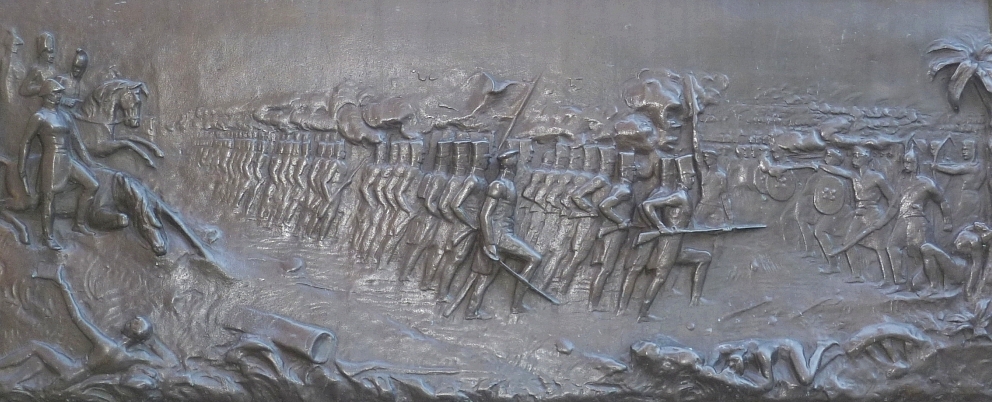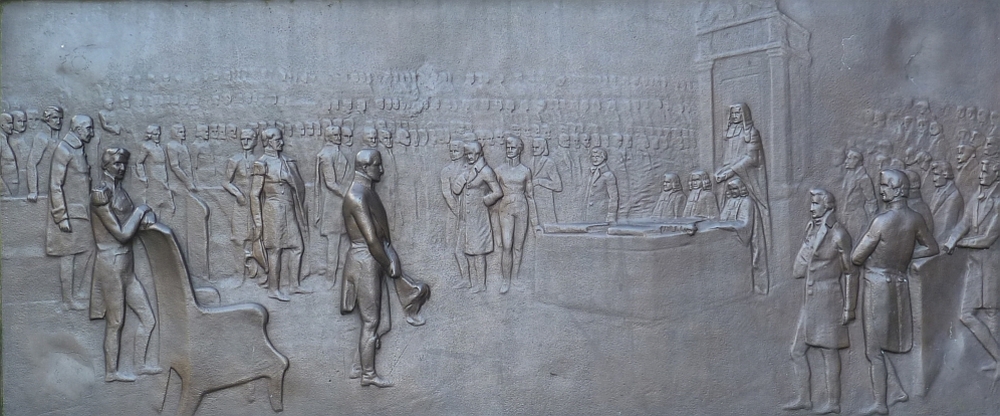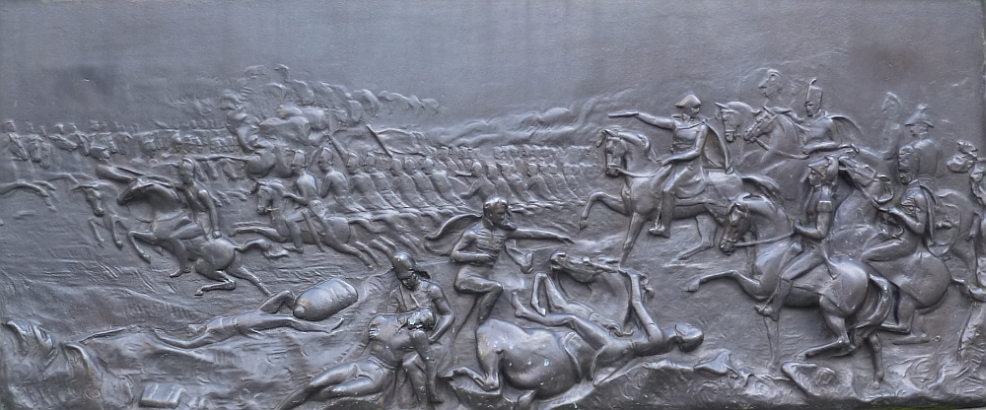 The four bronze reliefs below and between the four supporting figures. As Benedict Read says, figures were "fine for allegories, but for more specific, narrative reference, reliefs had no rival" (149). Upper left: The Battle of Assaye (1803). This was in the second Mahratta war in India (note the palm tree). It was Wellington's first significant success, when he was still Major-General Arthur Wellesley, a remarkable triumph against huge odds, and an important step in the establishment of the Raj: "With all the sanguine temper of my mind ... I declare that I could not have hoped for the completion of my plans at once so rapid and so secure," he said at the end of that war (qtd. in Majumder et al. 697). Upper right: Wellington receiving thanks from the House of Commons in Parliament in 1814, the year that he was granted his title. Lower left: The Battle of Waterloo (1815). Lower right: Wellington as a diplomat, at the Congress of Vienna. The Duke represented Britain here in 1815. Read has this as "Council of War" (150), but the idea was to establish peace in Europe after Bonaparte's defeat.
The inauguration of the monument on 30 August 1856 attracted as many as 100,000 spectators (see Wyke 117), and was widely reported. The commentator in the Gentleman's Magazine described how "[t]he mayor having, on behalf of the corporation, accepted the statue, commanded it to be unveiled, which was done amid loud cheering, the band playing the national anthem, and the fountains beginning to play simultaneously" ("Notes of the Month," 503). It was even featured in the Illustrated London News, which explained that "the statues of Peel and Wellington occupy sites of about equal magnitude on the right and left of the fountains." As intended, a statue of Victoria would eventually be given "the central space" (279).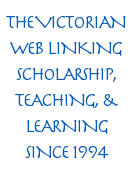 Related Material
Photographs by the author. [You may use these images without prior permission for any scholarly or educational purpose as long as you (1) credit the photographer and (2) link your document to this URL in a web document or cite the Victorian Web in a print one. Contemporary illustration by courtesy of old-print.com (antique prints and maps sellers). Many thanks. Click on the images for larger pictures.]
Bibliography
Hartwell, Clare. Manchester. Pevsner Architectural Guides. London: Penguin, 2001. Print.
Illustrated London News. 15 September 1856, p. 279. Page viewed at old-print.com. Web. 30 March 2012.
Majumder, R.C. et al. An Advanced History of India. India: Macmillan, 4th ed. 1978. Print.
"Notes of the Month." Gentleman's Magazine. Vol. 201. Google Books. Web. 30 March 2012.
Perrin, Joseph. The Manchester Handbook. Manchester: Hale & Roworth, 1857. Google Books. Web. 30 March 2012.
Read, Benedict. Victorian Sculpture. New York & London: Yale University Press, 1982. Print.
Wyke, Terry, with Harry Cocks. Sculpture of Greater Manchester. Liverpool: Liverpool University Press, 2004. Print.
---
Last modified 29 March 2012