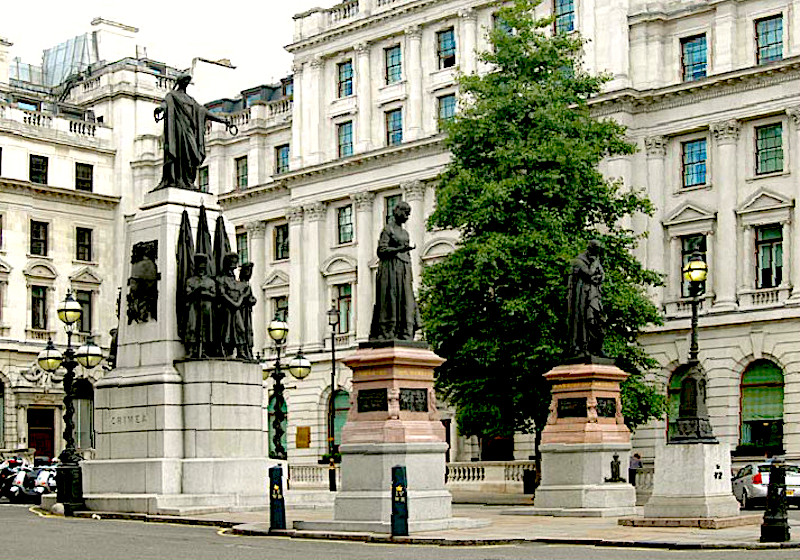 The Guards Crimean War Memorial, by John Bell, whose name appears carved into one of the stone blocks to the left and above "Crimea." This is located at the junction of Lower Regent Street and Pall Mall, London, and is a Grade II listed group of bronze, granite and marble. The main part was unveiled in 1860. John Henry Foley (1818-1874), R. A, created the memorial to Sidney Herbert (War Secretary during the Crimean War), inscribed 1866 on the base and placed here later; and Arthur George Walker, R.A. (1861-1939) created the statue of Florence Nightingale, unveiled in 1915.
The Guards Crimean Memorial itself is a very special one. It features three regiments of Guards: Granadier, Fusilier and Coldstream. Marie Louise Sørensen et al. write,
It seems that with time, our connection to even long-lasting and brutal wars changes as the shift from communicative to cultural memory takes place, and, in that shift, not all wars have the characteristics that make it possible for them to be absorbed into national narratives of heroism, sacrifice, and belonging. Remembrance of the Crimean dead in England is, therefore, now either personal or regional (found in parish cemeteries), but not a commonly shared narrative. A telling exception to this is "The Guards Crimean War Memorial" erected in 1859 at Waterloo Place, London, and dedicated "To the memory of 2152 Officers, Non-Com. Officers and Privates of the BRIGADE OF GUARDS who fell during the war with Russia in 1854-56. Erected by their Comrades." [17]
According to Andrew Kersham, 22,162 Guardsmen died in the conflict. The inscription is unusual, in that it is thought to be the first public recognition on a memorial in this country of the sacrifice not just of officers, but of all ranks.
Over the years, the sculpture group has gone through a change in position as well as scope. In 1914 the original monument was relocated to allow for two additional works, the statues of Florence Nightingale and Sidney Herbert, to be placed in front of it. There was a particular point in this: "As the British/Allied involvement in the The Crimean War came to be seen as a logistical, medical, and tactical failure and mismanagement, the refocus on a heroine was a helpful distraction," suggest Sørensen et al. (18). Claire Bullus points out that there was a degree of artistic licence here: Florence actually used a kerosene lamp rather than the dinky oil-burning one she is shown to be holding here (156). The two extra statues were unveiled in 1915. At that time, the statue of Honour at the top received an alternative name: Victory.
Related Material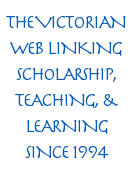 Photographs, caption material and formatting by George P. Landow, December 1999, September 2001, and July 2005. Commentary by Jacqueline Banerjee. Thank you to Richard Barnes for prompting the additional comments. [You may use these images without prior permission for any scholarly or educational purpose as long as you (1) credit the photographer and (2) link your document to this URL in a web document or cite the Victorian Web in a print one.]
Bibliography
Barnes, Richard. John Bell: The Sculptor's Life and Works. Frontier, 1999.
Bullus, Claire, and Ronald Asprey. Statues of London. With Photographs by Dennis Gilbert. London and New York: Merrell, 2009. [Review]
Kershman. Andrew. London's Monuments from Boudicca and Byron to Guy the Gorilla. London: Metropublications, 2007.
Sørensen, Marie Louise. "Memorials in the Aftermath of Armed Conflict: From History to Heritage." Memorials and Memorialisation: History, Forms, and Affects. Edited by Sørensen, Dacia Viejo-Rose and Paola Filippucci. London and New York: Palgrave Macmillan, 2019 . 1-32.
---
Last modified 8 March 2020