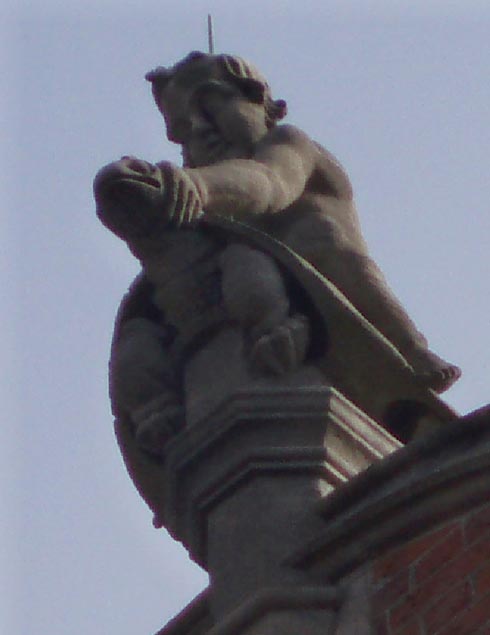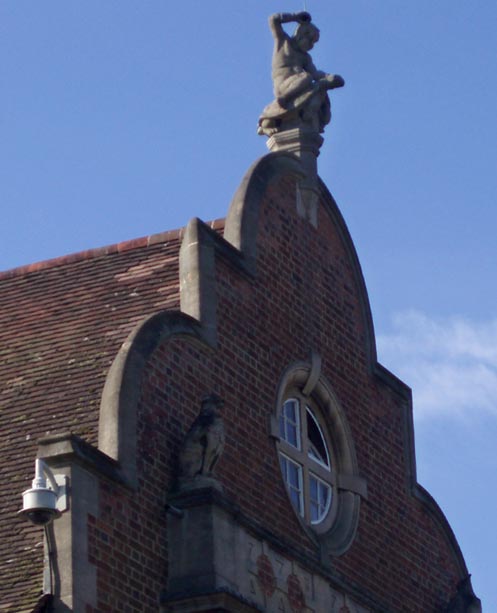 Boy on a Tortoise. Margaret M. Giles (1868-1949). Jenkins Building, Engineering Department, Oxford University. Corner of Banbury Road and Parks Road, Oxford. [Click on images to enlarge them.]
He sits astride a turtle on the gable of the Engineering Department's Jenkin Building at the corner of Banbury Road and Parks Road. I reckon I must have passed him at least twelve thousand times over the past forty years and became aware of him only a few weeks ago. Of course it's a busy junction and I have to look where I'm going, while he has his head in the clouds and doesn't need to watch out for traffic.
I understand The Boy on the Tortoise, as he is known, was sculpted by Miss Margaret Giles, who married Professor Jenkin, after whom the building is named. What is the significance of the statue's iconography? No one seems quite sure, but one suggestion is that it represents youthful engineering subduing the natural world. The turtle or tortoise is a symbol of strength, endurance and perseverance in several cultures and in more than one mythology supports the world on its back. It is also known to live to a very great age so is unsurprisingly associated with longevity. The Department of Engineering celebrates its centenary this year so has made a good beginning and, with the tortoise as its symbol, can look forward to a robust and long future.
I wanted to find out more about the figure, at least who sculpted it — and when; but it hasn't been at all straightforward. My enquiries produced some information from people connected with the Department, but I haven't yet unravelled it all. This is as far as I've got.
Commentary by Sheila McKinnon (2012)
Thanks to Mia Ridge, doctoral student in digital humanities at the Open University, for sending along the link to the PDF from which the text below comes in September 2014.
The story of the sculpture of the boy on a tortoise which crowns the northern gable end of the Jenkins Building is particularly interesting. When the architectural drawings for the building were presented, they showed the standing figure of a man at the apex of the gable. It was Professor Jenkin himself who suggested to Margaret May Giles (1868- 1949), the sculptress (who was married to his younger brother, Bernard Maxwell Jenkin, a consultant engineer), that she make detailed designs for the apex and the two lower corners of the gable. The original male figure became a "chunky' boy on a tortoise, representing 'Youthful Engineering subduing the Earth', The two lower comers Cook on the aspect of a salamander, representing 'heat' (in mythology the salamander has fire as its element) and a penguin, representing cold. Each of these last two sculptures bears two numbers which read from left to right '1 9 1 4', the year when the building was completed. A scaled-down figure of the hoy on a tortoise was first made in wax and then cast in bronze. Margaret proceeded to make a full-scale model in clay. This was followed" by the final stone statue, which was mechanically pointed before being hand-carved,
Unfortunately, the main statue came tumbling down during the 1930s, possibly struck by lightning. Amazingly, only the boy's raised right arm was broken. Sadly, as no one bothered to consult its creator, it was stuck back at a strange angle (as it remains today), much to Margaret's distress, A small bronze replica also suffered a sad fate when it was stolen from the Engineering Department in the early 1980s, Fortunately, a copy of the small bronze cast, owned" by the artist's daughter, was available for the making a further cast. Another beautiful small replica, this time in silver, decorates a serving dish owned by Braaenose College.
Photographs by tRita Harris. [You may use these images without prior permission for any scholarly or educational purpose as long as you (1) credit the photographer and (2) link your document to this URL in a web document or cite it in a print one.]
Bibliography
Beattie, Susan. The New Sculpture. New Haven: Yale University Press, 1983.
Landow, George P., "Margaret Giles's Hero and the Sublime Female Nude." Gender, Voice, and Image in Victorian Literature and Art, ed. Antony H. Harrison and Beverly Taylor. DeKalb: Northern Illinois University Press, 1992. [full online version]
McKinnon, Sheila. "A short history of the Keble Road Triangle." Oxfordshire Local History Association 9 (2012). 44-59. Web. 6 September 2014.
---
Last modified 6 February 2020