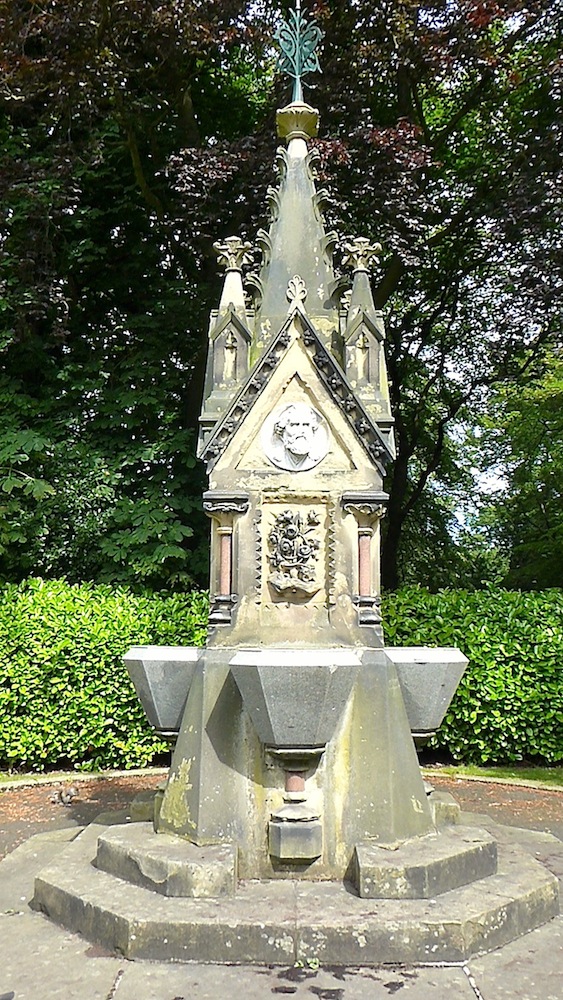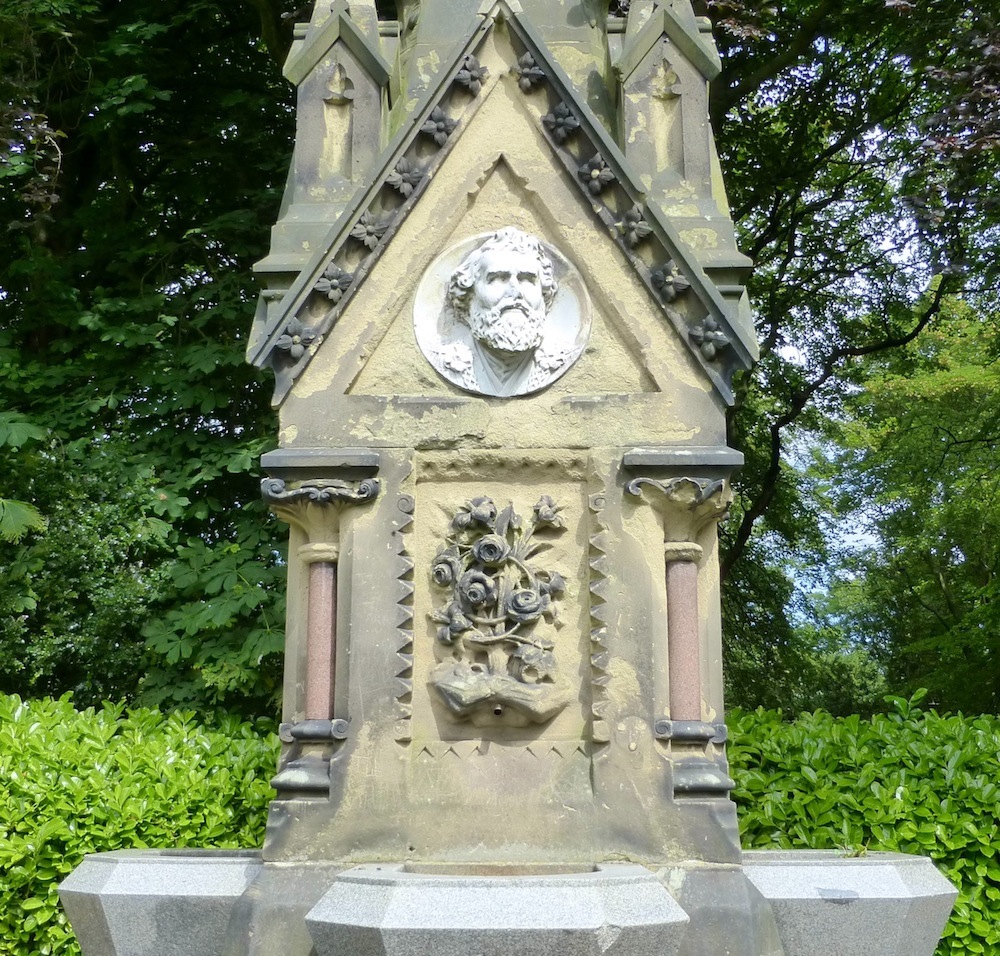 Left: Whole fountain from the front. Right: Close-up of the medallion, with a head of George Charlton, and a relief of roses and lilies beneath.
Charlton Memorial Drinking Fountain, by unknown hands (see Underwood et al. 71), is just west of Saltwell Towers in Saltwell Park, Gateshead, Tyne and Wear. This impressive Grade II listed drinking fountain dates from the later nineteenth century, and is made of stone and granite, with a large stone base and steps, elegant basins, pink marble columns, floral reliefs and a portrait medallion in high relief on the front. To the rear can be seen the Gateshead arms. It is completed" by a tall Gothic spire, with gables, pinnacles and crockets, and decorative ironware at the top. Spouts emerge from under the floral reliefs.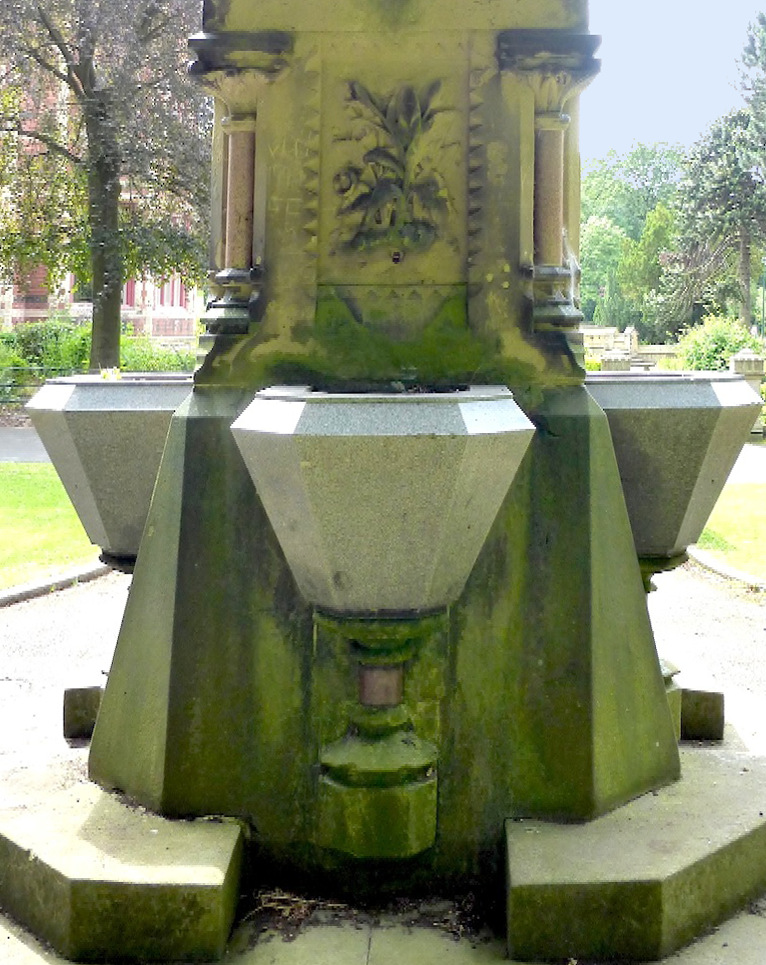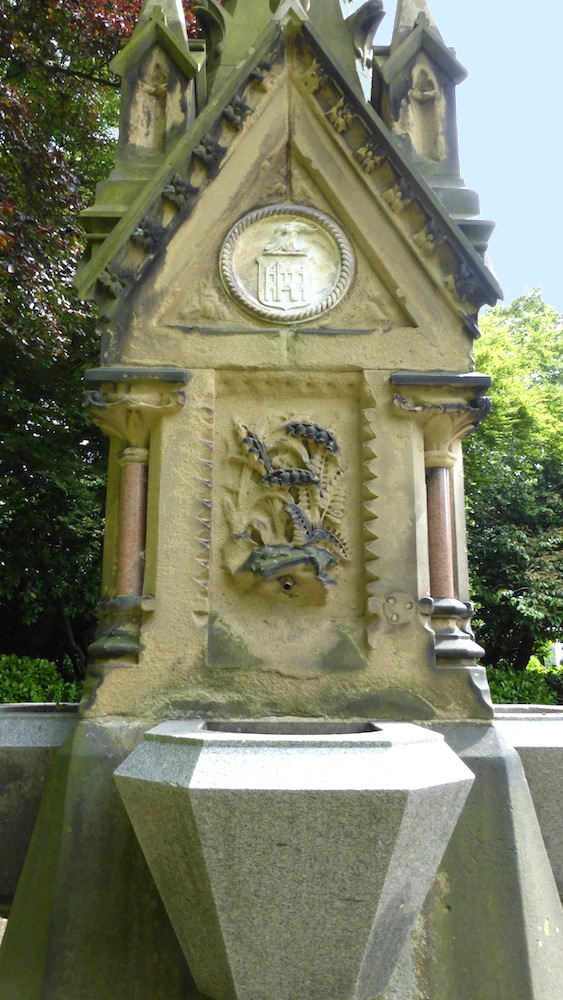 Left to right: (a) One of the sides, with a view of three of the basins. (b) Rear of fountain, with Gateshead arms (gates surmounted" by a goat) and a relief of ferns and bluebells. (c) Portrait of George Charlton. Source: frontispiece of Stevenson.
The fountain honours the memory of George Charlton (1808-85), whose likeness is given here, and who was a staunch Primitive Methodist. Primitive Methodists had broken away from Wesleyan Methodists, and were, characteristically, more politically involved. Thus, as the inscription says, Charlton worked "in the cause of social reform." Among the particular causes he espoused were, despite his own religious affiliation, Catholic Emancipation, and the abolition of the corn laws. He also promoted temperance. His popularity was such that he was elected Mayor of Gateshead for two years running (1874 and 1875), and became an Alderman and J.P. In fact he was so widely known and respected that, according to George Stevenson, the only inscription needed on this fountain was his name.
Stevenson describes Charlton as a tall man, with "a large, well-formed head, with its covering of whitened, wavy hair," and as having had "strongly-marked features, deep-set, penetrating eyes, high cheekbones, slightly contracted brow, and strong, yet mobile mouth" (844). He adds that the fountain was placed in Saltwell Park because the estate was acquired while he was mayor; that Charlton is shown here in his mayoral robes and chain of office; and that the likeness was "very striking" (849). Stevenson even tells us what the fountain cost (£200). Unfortunately, however, he does not name the architect and sculptor involved — who deserve to be remembered too.
Photographs and scanned image by the author. [You may use the images without prior permission for any scholarly or educational purpose as long as you (1) credit the photographer and (2) link your document to this URL or cite it in a print document.]
Related Material
Bibliography
List Entry: Charlton Memorial Drinking Fountain to North West of Saltwell Towers. English Heritage. Web. 8 August 2014.
"George Charlton Memorial Drinking Fountain." PMSA (Public Monument and Sculpture Association). Web. 8 August 2014.
Stevenson, George John. Methodist Worthies: Characteristic Sketches of Methodist Preachers of the Several Denominations, with historical sketch of each connexion. Vol 5. London: Thomas C. Jack, 1884. Internet Archive. From Pitts Theology Library, Emory University. Web. 8 August 2014.
---
Last modified 8 August 2014