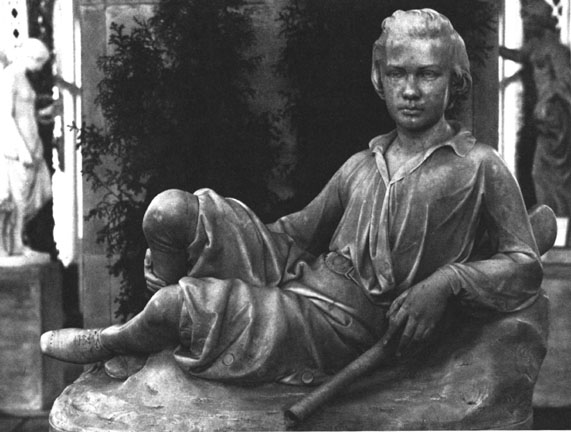 Waiting for His Innings by Joseph Durham (1814-1877). 1866. London, City of London School
Astrid Bucknall, who's been carrying out research on her family tree, has written to report that she has obtained "a copy of the will of Edwin Henry Lawrence, who was my great great grand father." The will states:
I bequeath to the National Gallery the Marble Statue by Joseph Durham A.R.A. of a Cricketer "waiting for his inning" being a life sized Statue done by him of my son Basil Edwin Lawrence and I request that this inscription may be incised on the edge or rim of the Statue "Basil Edwin Lawrence Trinity College, Cambridge M.A. L.L.D. presented by his Father Edwin H. Lawrence F.S.A." and I request that my son will obtain and add a plain Granite or Marble Stand for the said Statue."
Ms. Bucknall futher explains: "I do not know as yet if the will was proved, [and] I do not know if the statue was transferred to the National Gallery. I have been in touch with the bursar of the City of London School, and the statue is now in the main entrance of the school. How it got from my grandfather to the school I have no idea."
References
Read, Benedict. Victorian Sculpture. New Haven: Yale University Press, 1982. Pl. 273.
---
Last modified 23 June 2004