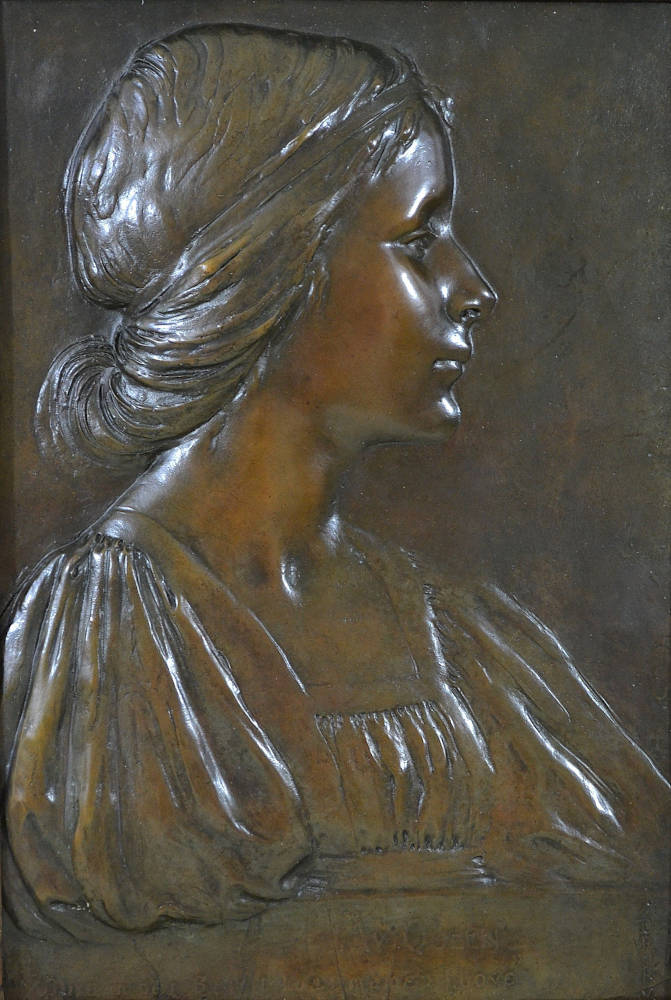 My Queen. Bronze bas-relief plaque, 12 ⅜ x 8 ⅝ inches. (31.4 x 21.9 cm). Inscribed "Pure in her spirit, this maiden I love" and signed "A. Drury '96," lower right. Private Collection. Click on image to enlarge it.
Drury was a sculptor, painter, and medalist and one of the foremost practitioners of the New Sculpture movement. My Queen, perhaps Drury's best-known relief sculpture, is reminiscent of the work of the painter Edward Burne-Jones who had a major influence on the artists associated with the New Sculpture movement. Burne-Jones' Flamma Vestalis of 1896, for instance, is similar in feeling to this sculptural relief executed in the same year. Both Burne-Jones' painting and Drury's sculpture were, in turn, influenced by Renaissance portraiture.
The original cast of My Queen exhibited at the New Gallery in 1896 measured 20¼ x 14½ in. (51 x 28 cm) but casts were also available in a smaller size. Jane Winfrey thinks that My Queen is essentially a profile relief version of Drury's 'ideal' bronze bust Griselda exhibited at the Royal Academy in 1896 [no.1836] (43). The model for Griselda is traditonally thought to be Clarrie Doncaster and because both the bust and the relief were exhibited in the same year it makes it highly likely that Doncaster was the model for the pair. When My Queen was shown at the first Society of Medallists exhibition in 1898 the critic for The Studio stated in his review: "Mr. Alfred Drury's charming panel in high relief – My Queen – if hardly a medal, is a beautiful thing in itself" (264).
The relief is based on a popular Victorian poem "My Queen", written in 1862 by Frances Elizabeth Steel Graves and initially published in 1863 in the magazine London Society. The poem was later republished in 1895 in Current Literature. A Magazine of Record and Review. This is perhaps where Drury first noticed the poem and was inspired to base his sculpture on it. The fourth and last stanza reads:
"But she must be courteous, she must be holy,
Pure in her spirit, this maiden I love;
Whether her birth be noble or lowly,
I care no more than the spirits above.
But I'll give my heart to my lady's keeping,
And ever her strength on mine shall lean;
And the stars may fall, and the saints be weeping,
Ere I cease to love her my Queen, my Queen!"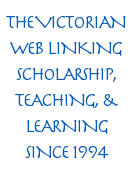 Related Material Including Other Versions
[You may use this image without prior permission for any scholarly or educational purpose as long as you (1) credit the Victorian Web and (2) link your document to this URL in a web document or cite it in a print one.]
Bibliography
Current Literature. A Magazine of Record and Review. 17 (1895): 320.
Graves, Frances Elizabeth. London Society, 4 (1863): 448.
"Studio Talk". The Studio. 13 (1898): illus. 262.
Winfrey, Jane. "Works exhibited by Alfred Drury", in Ben Thomas (Ed.). Alfred Drury and the New Sculpture. Canterbury: Studio 3 Gallery, 2013.
---
Last modified 16 April 2011