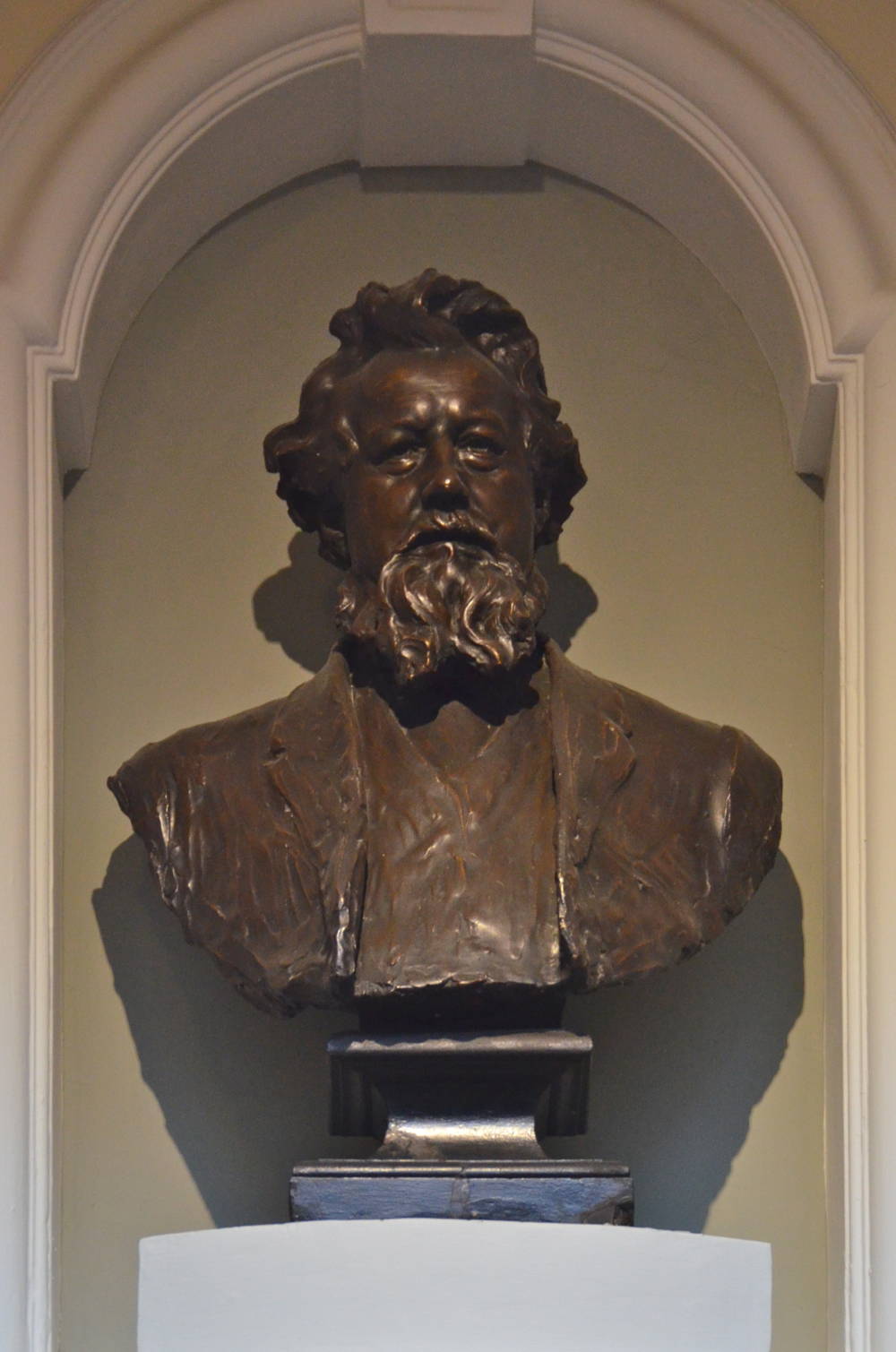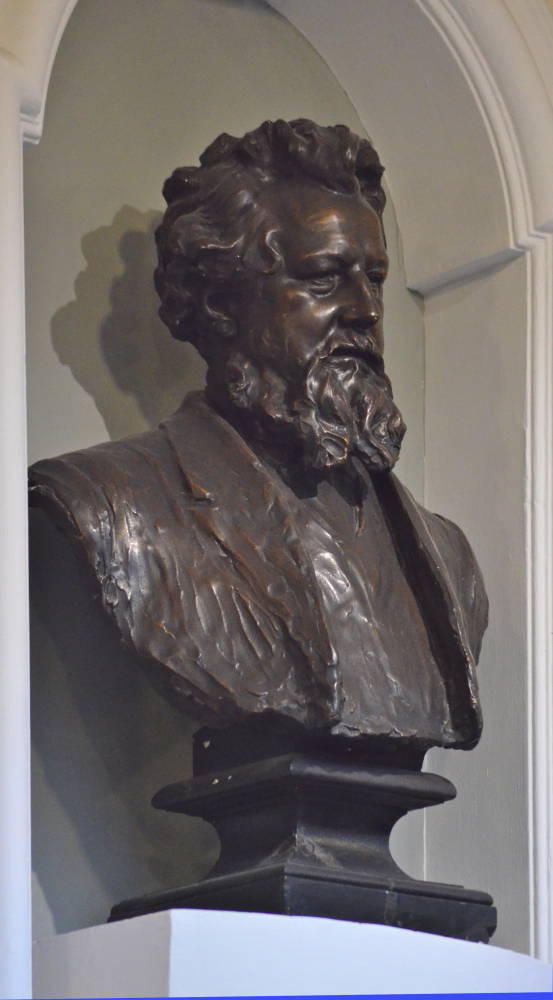 William Morris. Conrad Dressler, 1856-1940. Bronze, 34 in. (86.3 cm) high including base 1892. Art Workers Guild, Queen's Square, London. Photographs and formatting by George P. Landow. Courtesy of the Art Workers Guild. [Click on these images to enlarge them.]
ressler gained a reputation as a portrait sculptor early in his career. M. H. Grant's A Dictionary of British Sculpture describes him as "one of the leading sculptor-portraitists of his day, his likenesses being remarkable for their truth, vivacity and virile workmanship" (80). Dressler was one of the few of a declining group of sculptors who carved all his own work from beginning to finish, without the aid of assistants. By 1889 his reputation was sufficiently established to have had a number of prominent men of the period as sitters, including some leading members of the Pre-Raphaelite circle. Dressler showed thirty busts of leading English figures of the day, including William Morris, A. C. Swinburne, and John Ruskin, at a show at Dowdeswell & Dowdeswell Galleries in London in June 1889. The Magazine of Art reported on this exhibition:
The sculptor has considerable skill in catching a likeness. In some instances, however, Mr. Dressler has softened, in others over-accentuated the characteristic features of his sitters…there is some exaggeration in the rendering of such distinct personalities as Messrs. Ruskin and Swinburne. From an artistic point of view Mr. Dressler's work is almost always efficient and interesting, and indicates a vigour and a breadth of handling that promise well for future achievement" (xlii-xliii).
Later in 1889 Dressler exhibited some twenty-five works, primarily busts in bronze or plaster, at the Autumn Exhibition at the Walker Art Gallery, Liverpool. Dressler had developed a new type of process involving electroplating directly from highly finished plaster models, but this was used primarily for sculptural reliefs.
Dressler was working on a bust of Morris by as early as 1886. In November 1886 Swinburne wrote his mother and told her about a bust that had recently been made of him: "My bust is thought a very good likeness; it is by a young German sculptor named Dressler, who is also making a bust of Wm. Morris – who (he says) is as bad a sitter as I am a good one" (Letters, 5.262). It is uncertain how many different busts of Morris were executed in 1886. Original conceptions would have been modelled in clay from which plaster casts would have been made. In the case of busts of Ruskin, two terracotta, three plaster, and two bronze casts are known to exist.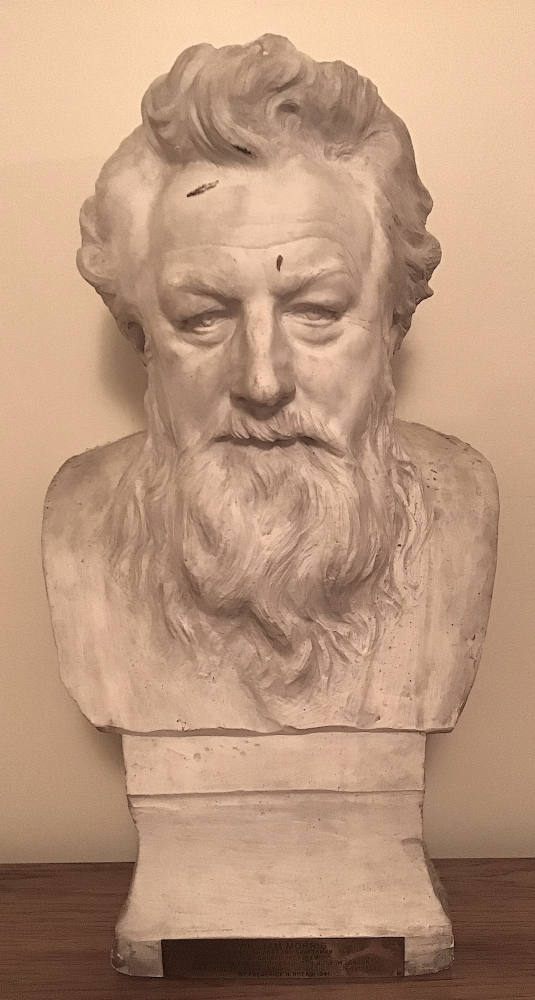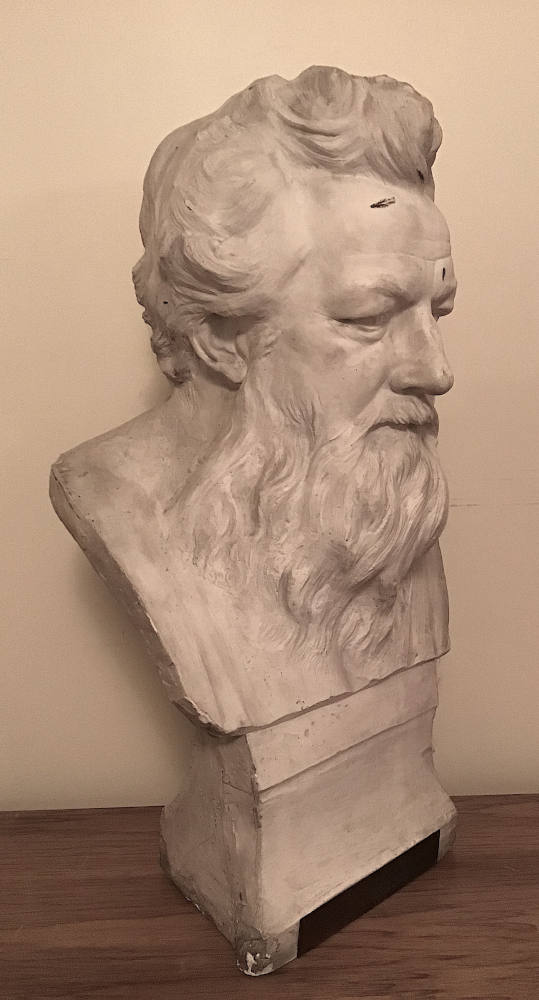 Conrad Dressler. Portrait Bust of William Morris. c. 1886. Plaster. 25 3/4 in. (65.5 cm) high including base. Private collection. Photographs by the owner.
Dressler created two different busts – a plaster cast in a private collection that undoubtedly predates the bronze one that Dressler gave to the Art Workers' Guild in c.1892-93. Unfortunately their archives do not have any relevant material delineating when their bust was created or how Dressler came to donate it. Dressler himself was a member of the Guild from 1891 to 1918. The bronze version of the bust differs from the plaster version in significant ways. The tilt of the head is different, as is the handling of the hair and beard, and there is better deliniation between the beard and neck in the bronze version. Overall the bronze version is a better likeness, again supporting the idea that it was executed later than the plaster version. Dressler may have modelled several different busts until he made one that he was pleased with. The Morris bust at the Art Workers Guild has pride of place in the meeting hall, situated in an arched niche above the Master's chair. Morris's bust at the Art Workers' Guild was enthusiastically praised from the start. In 1893 Theodore Watts Dunton stated: "No doubt one of the most splendid portrait busts of recent times is Dressler's portrait of William Morris, but heads of this type are extremely rare"(98).
The plaster bust of Morris at one time belonged to Frederick Hurten Rhead (1880-1942), the well-known ceramicist. He was a major figure in the Arts and Crafts Movement, particularly in the United States, although he was born in England. It is likely that Rhead admired Dressler's work as a fellow ceramicist, and possibly the two were even acquainted. Rhead would obviously have thought highly of William Morris as one of the founders of the Arts and Crafts Movement in England.
Bibliography
Grant, M. H.: A Dictionary of British Sculpture from the XIII to the XX Century. London: Rockliff, 1953.
Lang, Cecil Y., Ed. The Swinburne Letters. New Haven: Yale University Press, Vol. V, 1962.
"Recent Exhibition." The Magazine of Art. 12 (August 1889).
Watts [Dunton], Theodore. "The Portraits of Lord Tennyson – II," The Magazine of Art 16 (1893).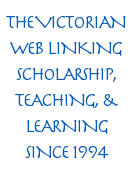 Related Material
---
Last modified 28 April 2021