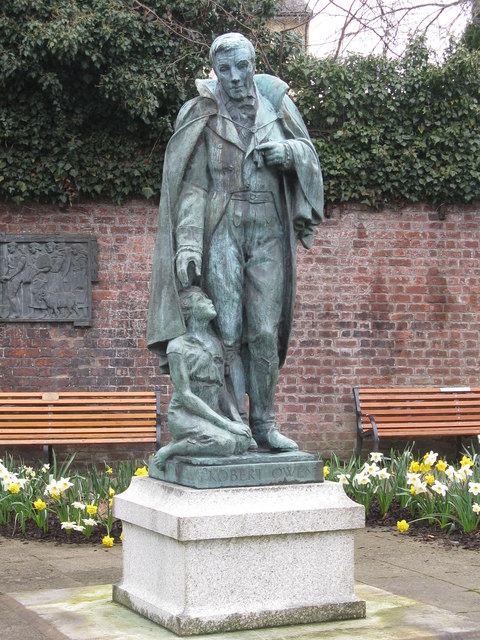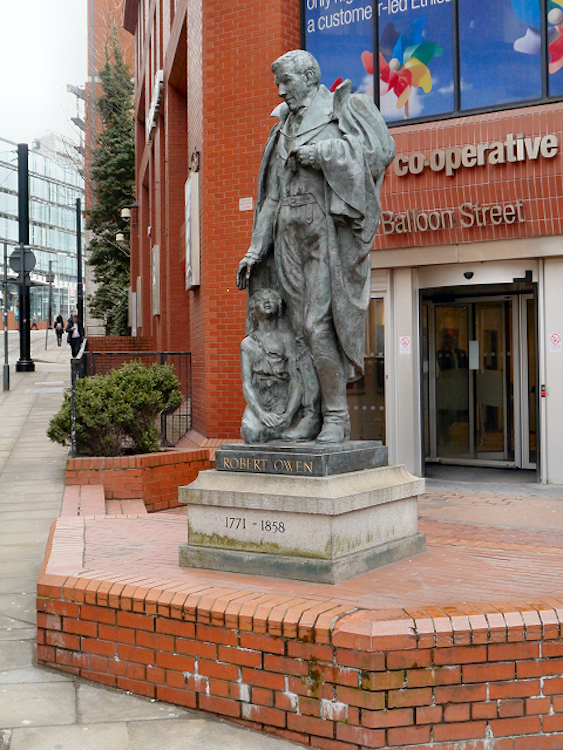 Robert Owen (1771-1858) by Gilbert Bayes (1872-1953), completed after Bayes's death by W. E. King (1884-1973), who was President of the Royal Society of Sculptors from 1949-54. On the left is the original bronze portrait statue on its granite plinth, installed in 1956 in the Robert Owen Memorial Garden in Newtown, Powys, mid-Wales. Owen was born, died and is buried in the town. He is honoured there for his moral vision of a fairer society, and attempts to realise it. He is shown with a compassionate expression on his face, his hand reaching protectively towards the young girl who kneels by his feet. This reflects Owen's particular concern for children's working conditions. Wreath-laying ceremonies are held here each year to commemorate the man and his humane vision.
On the right is a replica of the statue in Manchester, unveiled on 28 May 1994 (according to the inscription), outside the headquarters of the Co-operative Bank at the corner of Balloon Street and Corporation Street. The statue, positioned on the raised brick forecourt, reminds us of Owen's early experience of the cotton mill industry in the town, and of how Manchester businessmen helped to back his famous experiment to set up an ideal working community in New Lanark, near Glasgow, in Scotland. The statue was commissioned as part of the 150th anniversary of setting up the co-operative movement (Wyke and Cocks 66). [Click on the images to enlarge them.]
Photograph of the Newtown statue © M.J. Richardon, and the Manchester replica © David Dixon, both first posted on the Geograph website, and kindly made available for reuse on the Attribution-ShareAlike 2.0 Generic (CC BY-SA 2.0) licence. Commentary and formatting by Jacqueline Banerjee.
Related Material
Bibliography
"Core Record: Robert Owen." vads: The Online Resource for Visual Arts. Web. 26 June 2020.
"William Charles Holland King." Mapping the Practice and Profession of Sculpture in Britain and Ireland 1851-1951. University of Glasgow History of Art and HATII, online database 2011. Web. 26 June 2020.
Wyke, Terry, with Harry Cocks. Public Sculpture of Greater Manchester. Liverpool: Liverpool University Press, 2004.
---
Created 26 June 2020