Want to know how to navigate the Victorian Web? Click here.

he Agapemonites were a sect of millinarian adventists, or believers in an imminent Second Coming. The sect was founded by Henry James Prince (1811–1899), whose followers were also known as the Lampeter Brethren, the Priceites, the Community of the Son of Man, the "Children of the Resurrection," or simply as the "A." It was a small sect, estimates of its adherents ranging over the years from about sixty (in the Illustrated London News report) to several hundred. Its London church, "The Ark of the Covenant" in Clapton, was built for a congregation of about four hundred (see Baker).
A variety of such sects flourished after the Repeal of the Test and Corporations Acts in 1828, which allowed non-conformists to hold public office. But the Agapemonites were unusual in being highly organised — having their own hierarchy, their own settlement, and eventually boasting their fine London headquarters. It was long-lasting too: the last member of the sect only died in the mid-twentieth century. However, it was marked out most of all by its practice of so-called "spiritual wifery." This practice made it "one of the most notorious religious establishments of the 19th century" (Schwieso 113).
Henry James Prince
Henry Prince was the youngest child of a West Indian plantation owner, born in Bath and brought up after his father's death by his widowed mother and her devout Catholic lodger, Martha. He underwent a religious conversion in 1834, and in the following year gave up a career in medicine for his religious calling. In March 1836 he entered St David's College, Lampeter. While here he converted Martha to his own beliefs and married her in 1838, despite the large age difference. At the same time he was acquiring his own following, even before his ordination. His first curacy was at Charlinch in Somerset, where the rector himself became his follower. Clearly, he had enormous conviction and a charismatic personality. However, the Bishop of Bath and Wells was less impressed by him, or rather by his unorthodoxy, and revoked his licence to preach. A few months after Martha died in 1842, Prince caused a scandal by marrying the rector's sister Julia, another considerably older woman of independent means. Nevertheless, he continued to win followers as an itinerant preacher. In 1842 he obtained a temporary curacy in Suffolk (see Schwieso 115) — only for the bishop of Ely to express displeasure with his unconventional ministry, and stop him preaching again.
The Agapemone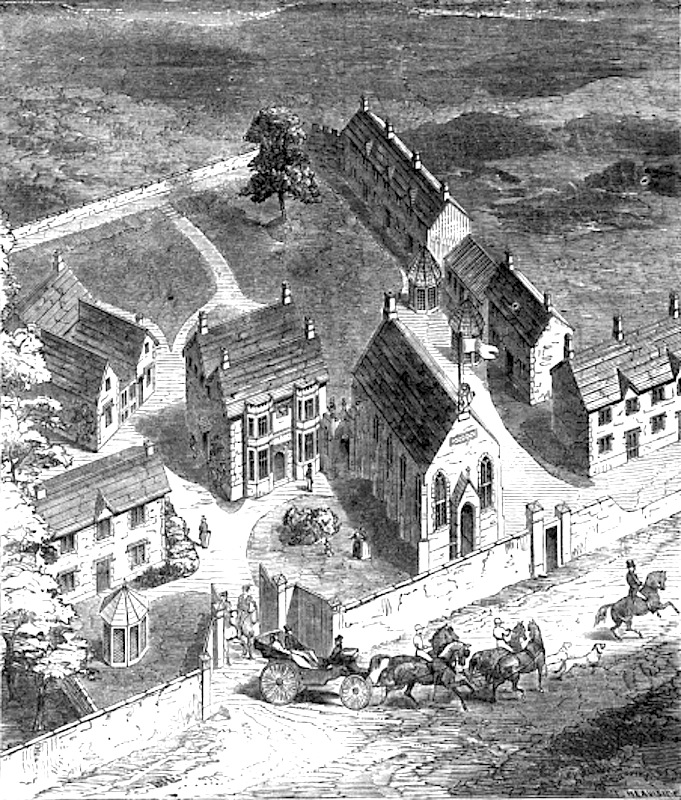 "'The Agapemone,' at Charlinch, near Taunton" (source: "The Agapemone," 254). The report notes on the previous page that the "equipage used by the Family is first-rate"
Criticism from his superiors in the church notwithstanding, Prince continued with his to gain followers, especially in the seaside towns of Brighton and Weymouth, and eventually in 1846 set up a permanent base (the Agapemone, or "abode of love") at Spaxton near his first curacy at Charlinch, with the idea of awaiting the Second Coming there. No privation was involved. On the contrary, a bemused Illustrated London News reporter wrote: "They have converted the chapel into a banqueting-house, and substitute feasting and enjoyment for privation and prayer" (254). Another visitor, William Hepworth Dixon, gave a fuller description of the chapel, where he was made comfortable while waiting to see Brother Prince. He found himself:
lounging on a red sofa, near a bright fire, in the coloured light of high lancet windows, filled with rich stained glass; soft cushions beneath my feet; a billiard-table on my right hand; church furniture in oak and brass about me; and above my head the sacred symbol of the Lamb and Dove, flanked and supported by a rack of billiard-cues. [Dixon 236]
The funds for the luxurious establishment came from the followers, many of whom seem to have been rich single women, only too willing to endow their assets on their "Beloved." Prince seems to have had an extraordinary hold over them. But in one notorious case, he went too far: he arranged marriages for three of his clerical followers with three sisters from the wealthy Nottidge family. The family responded by "rescuing" a fourth sister, Laura, from the sect and consigning her to an asylum. Recaptured when she tried to return to Spaxton, Laura successfully sued her own family members for abduction and illegal detention. Prince seems to have won through. But although the Times of 29 August 1849 took her part, noting the "great indignation" felt at her confinement to an asylum for as long as seventeen months, it mentioned the "absurdities of the Agapemone." And this particular story was no yet over. Louisa, having lived out her life peacefully and in great comfort at Spaxton, died about ten years later in 1858. Another sibling, Ralph Nottidge, then challenged her will, which had been made in favour of the sect — and this time, the family was successful. The Times report of 12 June 1860 said:
It would be a most unhappy conclusion if we were to be told upon the authority of a Vice-Chancellor that as English law stands, a religious impostor — a conscientious fanatic, if you will — might legitimately exercise his spiritual influence over his female devotees so as to induce them to denude themselves and their natural heirs and kinsfolk of their property in his behalf.
These sensational cases had an impact on both Charles Dickens and Wilkie Collins — the latter, especially with regard to The Moonstone). Like the Illustrated London News report, they did Prince no good at all in the eyes of the general public.
Prince himself is reputed to have had a number of "spiritual brides," and in 1856 had announced that he was instrument through which the Holy Spirit could be united with the sinful human flesh. In front of his followers he engaged with one of his followers in a "Great Manifestation" of this: Zoe, the young woman involved, later produced a child, Eve or Eva (depenoing on source). His followers were apparently not shocked "that the Great Manifestation had taken place in the Abode of Love," but simply disappointed "that it had failed to exhibit the whole series of beautiful phenomena which had been expected from it by them, if not by Brother Prince" (Dixon 317). Prince himself was apparently devastated at the all-too-human result of the rite, blaming it on the intervention of the devil.
The Ark of the Covenant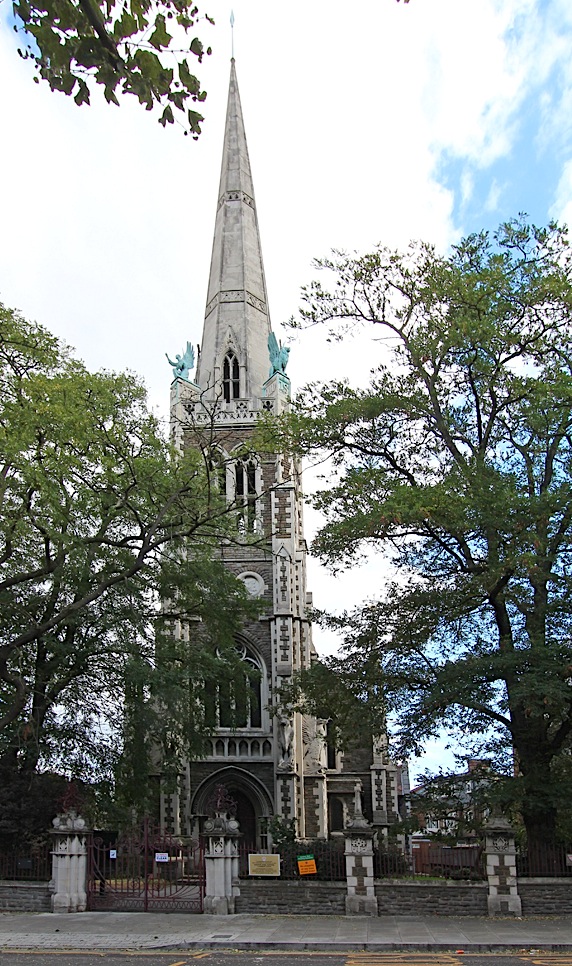 The former Agapemonite Church of the Ark of the Covenant, Upper Clapton, London.
Most astonishingly of all, even in the later Victorian period there were enough trusting, well-heeled Agapemonites in London for them to build a fine church in Clapton, termed the Ark of the Covenant. Here they could practice their faith without actually withdrawing from the world. In the statutory listing of this splendid and unusual church, with its dramatic iconographic scheme, Historic England explains that the family firm chosen to design it had a strong connection with the sect. "Joseph Morris & Sons" could well have been described as "Joseph Morris & Sons & Daughters," and Morris's daughters Violet and Olive were both members of the Spaxton commune. Violet, an architect herself, was most probably involved with the design of the "Ark." Olive, a wood-carver and, very unusually for that time, an engineer, would also have contributed something to it. She is thought to have carved the pulpit and maybe also the lectern (see Historic England). Looking at the iconography of the church, it is still possible to sense something of the heady atmosphere which the charismatic Prince had created, and which drew such people into his orbit.
Despite having claimed to be the Messiah and immortal, Prince died at Spaxton early in 1899, and the leadership of the sect passed to another highly unorthodox Anglican curate, John Hugh Smyth-Pigott. This Agapemonite lived locally and briefly made the church the main hub of the sect. But he caused so much outrage by his claims to be Jesus that he was forced to take himself off to Spaxton. Although he had failed to substantiate his boasts by walking on water (at Clapton pond) and was defrocked in 1909, he still had his followers. However, his last years were marked by mental as well as physical decline, and the sect barely survived his death in 1927, its last adherent passing away in the mid-twentieth century. John Betjeman thought that the Clapton church was a splendid edifice, and was quite taken with the "A"s, describing them as "good, gentle people, much maligned."
Related Materials
Bibliography
"The Agapemone."Illustrated London News. Vol. 18. 29 March 1851: 253-54. Hathi Trust. University of Michigan Library. Web. 12 October 2016.
Baker, T. F. T., ed. "Hackney: Protestant Nonconformity." A History of the County of Middlesex: Volume 10, Hackney. London, 1995: 130-144. British History Online. Web. 12 October 2016.
Barlow, Kate. The Abode of Love: The Remarkable Tale of Growing Up in a Religious Cult. Pbk ed. Edinburgh: Mainstream Publishing, 2007 (available as an e-book).
Betjeman, John. "City and Suburban." The Spectator Archives. 3 February 1956, p. 12. Web. 12 October 2016.
"The case of 'NOTTIDGE v. RIPLEY.'" The Times. 29 August 1849: 4. The Times Digital Archive. Web. 12 October 2016.
Dixon, William Hepworth. Spiritual Wives. Vol. I. 4th ed. London: Hurst and Blackett, 1868. Internet Archive. Contributed by University of Californai Libraries. Web. 12 October 2016.
"The Former Ark of the Covenant." Historic England. Web. 12 October 2016.
"It is now some twelve or thirteen years ago that." The Times. 12 June 1860: 4. The Times Digital Archive. Web. 12 October 2016.
Mander, Charles. The Reverend Prince and His Abode of Love. East Ardsley: E. P. Publishing Ltd., 1976.
Schwieso, Joshua J. "The Founding of the Agapemone at Spaxton, 1856-6.". Proceedings of the Somersetshire Archaeological and Natural History Society: 113-21. Web. 11 October 2016.
Stunt, Timothy C. F., "Prince, Henry James (1811–1899)." Oxford Dictionary of National Biography. Online ed. Web. 12 October 2016.
Wise, Sarah. Inconvenient People: Lunacy, Liberty and the Mad-Doctors in Victorian England. London: Bodley Head, 2012 (see Chapter 4 on the Nottidge case).
---
Created 12 October 2016