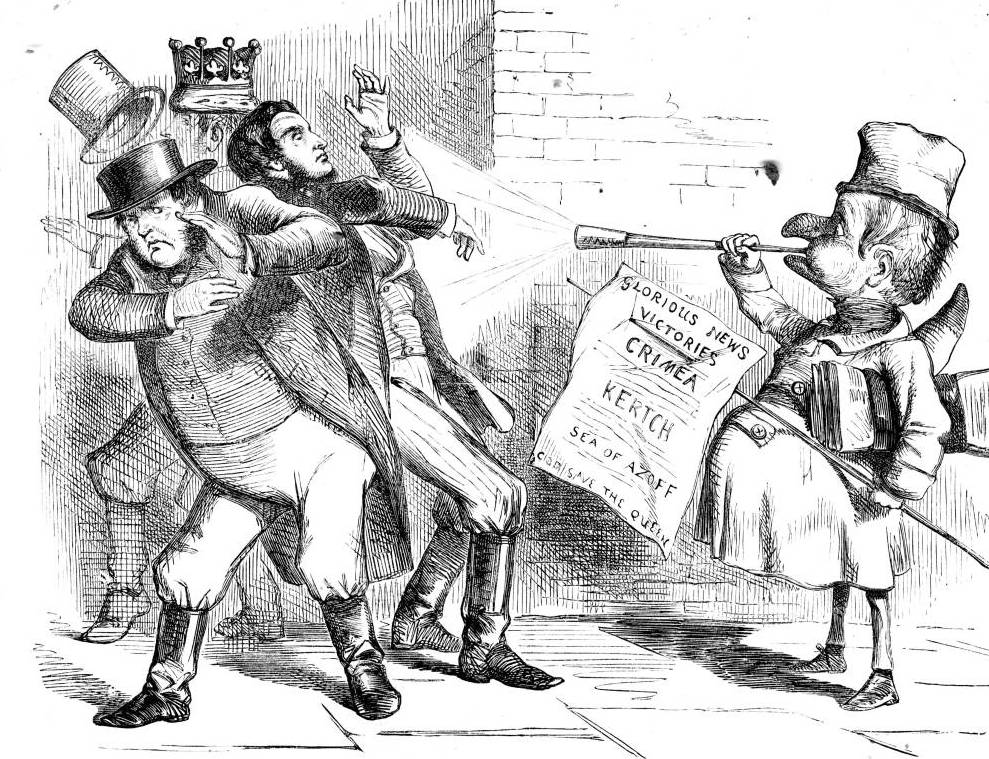 Defeat of the Russians at Home and Abroad. Wood engraving from Punch. [Click on image to enlarge it.]
Punch here is the spokesperson for British Liberals and even Radicals, while the good old Tory John Bull represents the somewhat isolationist landed interests. Mr. Punch, the iconic spokesman for British public opinion, in the cartoon Defeat of Russians at Home and Abroad blows a jingoistic trumpet, but the Prince remains less than hawkish. Incredibly, as war fever raged in the autumn if 1854, a rumour circulated that Queen Victoria's husband, Prince Albert, was a Russian agent. As a German, Prince Albert was In favour of neutrality, just as his cousin, the King of Prussia continued to be reluctant to join the British and French in a coalition against Russia, which was on Prussia's eastern border. However, Britain saw German reluctance instead as supporting Russia, making Prussia a mere Russian tool. A newspaper in Scotland circulated the treason charges, and a few other newspapers in Britain repeated the accusation. In London, thousands waited by the doors of the Tower to see Prince Albert escorted into that prison, and rumors were afloat that Queen Victoria intended to stand by her husband and go with him. Defenders of Prince Albert were able to squash the rumors, which Prince Albert labeled as the "stupidest trash." Publicly, Albert described himself as having the sentiments of the British, and, as if to prove his point, he described Nicholas I as "a tyrant and the enemy of all liberty on the continent." "The Turk," he wrote, "is a fine fellow."
Although both Victoria and Albert were both devout Christians, neither saw any point in Britain's "coming to the rescue of Christians" in the Ottoman Empire; nor, however, did they see the point of intervening against the Russian invasion of Ottoman territories. However, as an anti-Russian sentiment arose in the popular press, they came around to the position of Aberdeen and Palmerston that military intervention to prevent Russian expansion into the Mediterranean would be necessary.
The cartoon implies that politicians, who are greeting the start of peace negotiations with less than patriotic fervour, are closet "Russians" since they are prepared to yield on the four points to be discussed at the Congress of Paris. In fact, as Marjoe Bloy points out in her list of the war's effects, "Russia escaped quite lightly" and "Napoleon III's prestige was enhanced" along with that of France, but there was "an apparent, rather than a real victory for Britain. There were no lasting gains and no end to the Eastern Question, . . . the war proved to be a very expensive mistake, [and] . . . The Indian Mutiny of 1857 was caused partly by Britain's poor record of blunders, mismanagement and inefficiency in the Crimean War." Nonetheless, a number of important domestic changes and reforms came about as a result of the war. (See her essay for details).
Scanned image by Philip V. Allingham. Text by Allingham and George P. Landow, who also did the formatting and linking. Image courtesy of the Irving K. Barber Learning Centre, University of British Columbia, Vancouver. [You may use this image without prior permission for any scholarly or educational purpose as long as you (1) credit the person who scanned the image and the University of British Columbia and (2) link your document to this URL in a web document or cite the Victorian Web in a print one.]
---
Last modified 13 May 2014