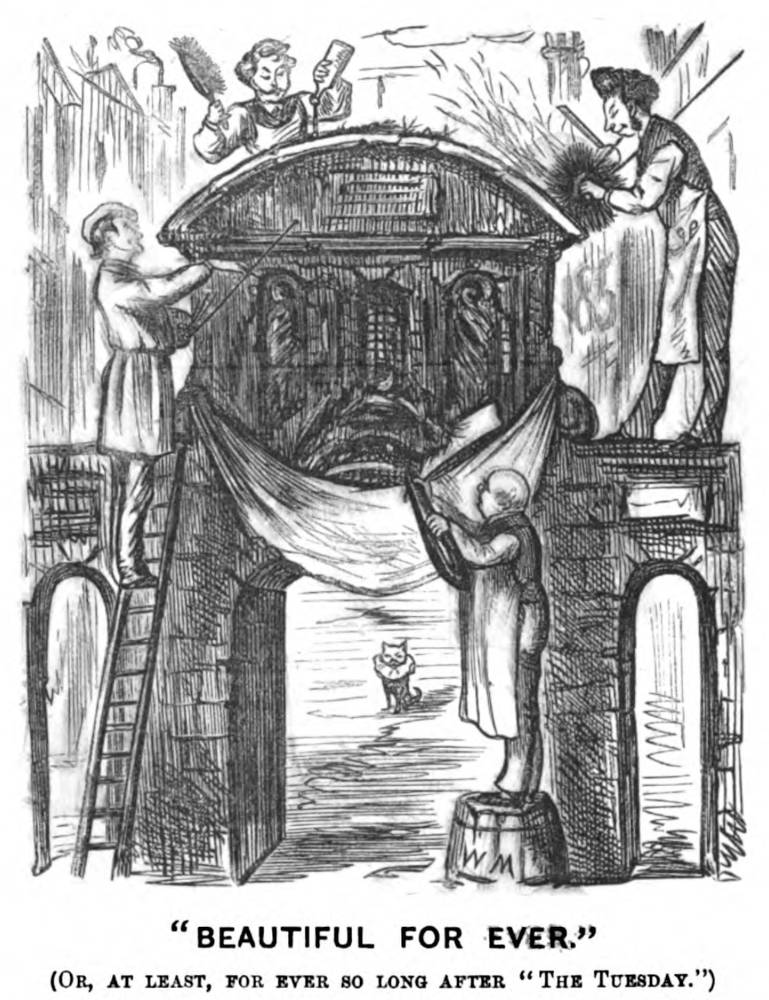 O, Temple Bar, a prouder Monument
Art thou than all, though some their heads far higher
Point to the sky, through London's whole extent:
Ev'n than the tall Memorial of her Fire.
Beneath thy festooned arch ere now hath passed
How oft a Monarch with a pageant gay,
Or a Lord Mayor in glory doomed to last,
But to the next November's thrice third day!
And when, upon a visit of high State,
Approached thee has the Monarch of the Land,
Bow many a City King hath, at thy Gate
Attended, to his Liege thy Keys to hand!
On top of thee famed Rebels' heads, by Love
And Mercy cut off in the days ago,
Have Loyalty commended from above
To crowds that gazed on Royalty below.
And now hast thou been whitewashed, Temple Bar,
But not as caitiffs plunged in hopeless debt;
Not as poor penniless insolvents are:
No, thou, though whitewashed, art not bankrupt yet !
And when some Hero, not perhaps unborn,
Is borne, through thee, to his Cathedral tomb,
A ooat of blacking may thy face adorn:
But we rejoice ; we will not discount gloom.
And are there those who fain would pull thee down—
Thou that maintain'st thy Westward crossing free?
Linked, as thou art, anew with England's Crown P
They shall not, Temple Bar. Perpetual be!
Links to Related Material
Bibliography
"O Temple Bar." Punch, or the London charivari. 62 (2 March 1872): 90. HathiTrust online version of a copy in the Harvard University Library. Web. 12 March 2022.
---
Last modified 12 March 2022