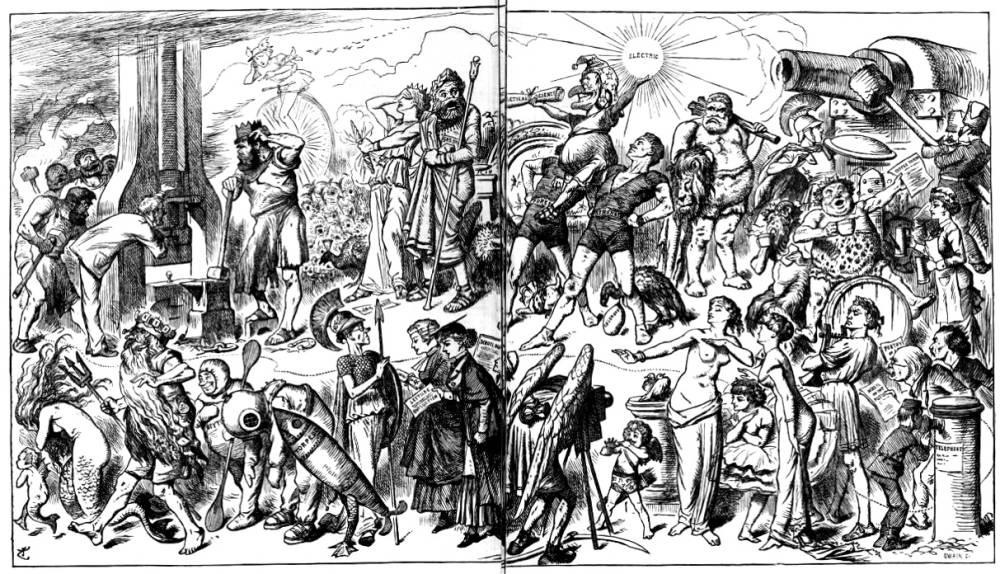 "Prometheus Unbound, or Science in Olympus. Wood engraving by Swain from a drawing by John Tenniel from Punch (3 December 1878): [Click on image to enlarge it.]
Tenniel represents nineteenth-century advances in science and technology as a combination of surpassing, driving away, or evicting the classical gods and associated myths — a trope long familiar in poetry. At the lower left corner the very presence of a torpedo. diving suit, and third figure I can't identify drive away Neptune, a mermaid, and a mer-baby while directly above them a massive steam-driven forge amazes both a crowd of blacksmiths and Hephaestus (or Vulcan). To their right in the middle of the cartoon we see Mr. Punch sitting on the shoulders of two strongmen girded with belts on which appear the words force and strength, In one hand he holds a rolled up scroll labeled "practical science" and in the other he holds a bright sphere (or artificial sun) labelled "Electric," which is so powerful that it is driving away Zeus (who holds lightning in his right hand) and Hera. Fittingly, Mercury rides a large-wheeled bicycle. In the right-hand corner Hercules disconsolately, or at least grumpily, holds his club and lion skin as he and an armored figure, probably a Roman soldier, find themselves overshadowed by an enormous modern cannon. Below this group, a young waitress serves coffee to an aged faun and Bacchus, who straddles a barrel of whiskey or beer.
The effects of technology (or "practical science") upon literature and visual arts the occupy the lower right corner as a winged photographer takes a pictire of Cupid, Venus, a ballet dancer, and a society matron. Meanwhile a scornful Apollo turns his back on modern authors of poetry and other literature as a little man wearing a uniform speaks into a telephone attached to what looks like a standard post box. A final, central emblem of change: two women, one dressed as a university student or lecturer and another as a judge, approach a resisting Athena (or Minerva).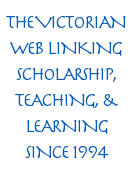 Details and related material
[You may use this image without prior permission for any scholarly or educational purpose as long as you (1) credit the Internet Archive and (2) link your document to this URL in a web document or cite the Victorian Web in a print one. — George P. Landow. ]
---
Last modified 8 December 2017