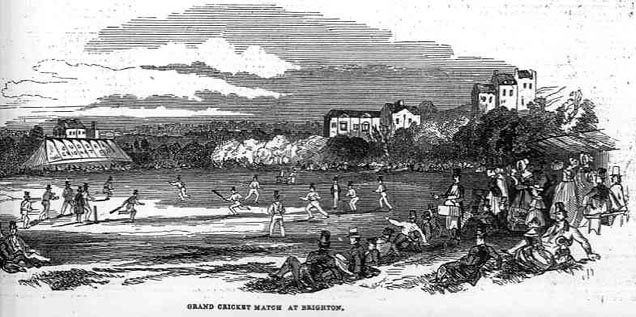 Grand Cricket Match at Brighton. 1844. [Text and scan by Philip V. Allingham. You may use this image without prior permission for any scholarly or educational purpose as long as you (1) credit the photographer and (2) link your document to this URL in a web document or cite the Victorian Web in a print one.]
Sussex v. Marleybone Club and Ground, with Pilch and Martingell
The return match between these two elevens (Pilch and Martingell having been substituted for Wenman, in consequence of the growing strength of the Sussex players,) commenced on Monday in Box's Ground, in the presence of up wards of 2000 spectators. Fortunately, the weather was fine, not a drop of rain falling during the match. Sussex went in first with Dean and G. Picknell, Hillyer and Martingell bowling. Dean made a score of 21, when his wicket was lowered by Hillyer. Bushby then went in. G. Picknell was bowled by Hillyer, after scoring 13 runs. Box then came, and Bushby soon after lost his wicket.
After dinner, Hawkins went to the wicket, and was bowled out by Hillyer at the second ball. Mr. Taylor succeeded him, and was bowled by Bayley. Hammond was next, and in the first over he was bowled by Hillyer. Mr. Napper seconded him, and struck the second ball to the wall for 4; but his stumps were lowered by Bayley at the next ball. Sopp next went to the wicket, and with Box, succeeded in adding materially to the score. At length, Sopp struck the ball in the air, when Sewell caught him out very cleverly. R. Picknell then took the bat, but at the second ball from Bayley, his stumps were scattered. Hodson, the last of the Sussex, then went in, and got 4 first stroke. Dorrinton, after playing three-quarters of an hour, was stumped by Box. A few more runs were then got between them, when Hodson was caught by Sewell. — Box carrying out his bat, after scoring in a splendid manner no less than 68 runs.
At twenty-fire minutes to six, the Marylebone Club commenced their first innings by placing Martingell and Dorrinton at the wickets; Dean and Mr. Taylor bowlers. Sewell was next, and got fours and threes in quick succession, Martingell following suit. After some very fine play, Sewell struck a ball towards Dean, and he was neatly caught out, retiring with a score of 41. Hillyer filled the vacant place, but the stumps were directly drawn for the day.
The game was resumed on Tuesday morning at 20 minutes past 10, with Martingell and Hillyer at the wickets; the former of whom was caught by Hawkins, without adding to the score. Pilch then went to the wicket, and was bowled by G. Picknell for 13 runs. Mr. Kynaston had scored only 4, when Dean lowered his wicket. Mr. Hartopp came next, but was immediately run out. Mr. Bayley followed, but was bowled by G. Picknell without scoring, and Good was served in the same manner. Mr. Dewing, who succeeded him, began to score very fast, and with Hillyer ran it up to 150, when Mr. Dewing was bowled. by Hodson. Lord Glamis was the last to go to the wicket. Hillyer after making 28 by some fine play, was caught at the point by Dean, Lord Glamis carrying out his bat. The innings amounted to 153, being 18 less than their opponents. It being now nearly two o'clock, the players went to dinner, after which Sussex commenced their second innings by placing the two Picknells at the wickets. Robert's wicket was soon lowered by Hillyer; and Dean, who succeeded him, was caught by Dorrinton the wicket-keeper . . . .
Related Material
References
"Grand Cricket Match at Brighton." The Illustrated London News (14 August 1844): 125.
---
Last modified 27 September 2006