[The following passage comes from an article in the September 1878 issue of the The Graphic. Both statues are in Dublin, the one at right from the Trinity College Library. George P. Landow]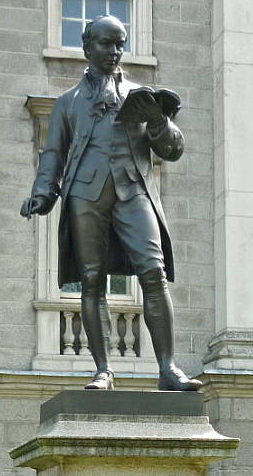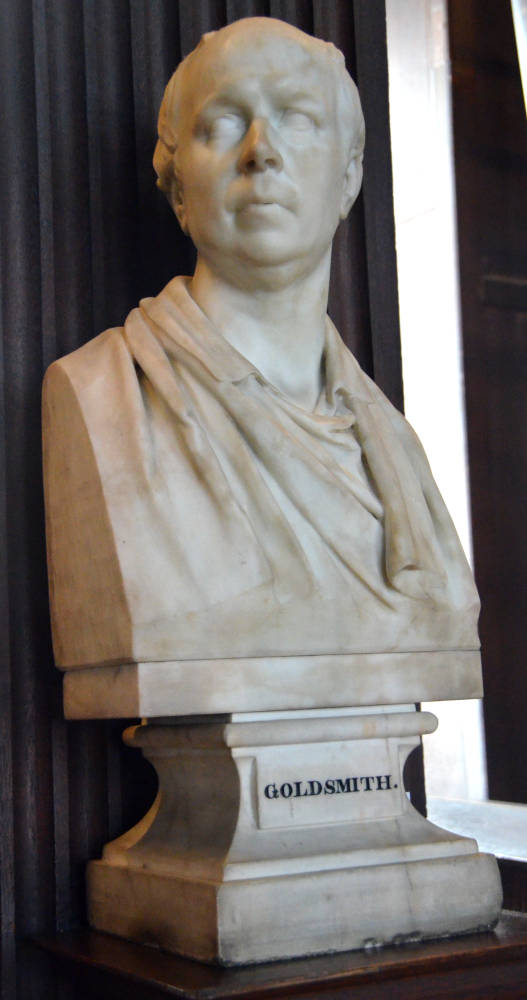 Whilst London has not a single statue to the memory of English poets Dublin possesses one of Moore and another — the infinitely superior work in point of art of the two — of Oliver Goldsmith. Goldsmith's statue stands in front of the University in which the poor sizar's early studies were pursued, and in the same garden is a statue of Edmund Burke, Goldsmith's contemporary within those classic walls. Goldsmith, who was born at Longford, has himself observed that though he made no great figure in mathematics, which was then and is now a study in greater repute than any other branch of learning in the University, he could turn an ode of Horace with the best of the scholars. On leaving Dublin he studied physic at Edinburgh, but a short time afterwards went to London where he was employed as a school usher, later on as a corrector or reader for the press, and then as a journalist.
His brilliant essays on "The Present State of Polite Literature," and his narrative after a tour of Europe on foot of "the Citizen of the World" secured for him a reputation which reached its full blazonry on the publication of "The Traveller" and "The Vicar of Wakefield." His "Poet, Physician, and Historian," as Johnson's epitaph in Westminster Abbey describes him, died in London, on April 4, 1784, so that in half-a-dozen years the centenary of his death will have come round. He died of fever, "made I am afraid," writes Johnson, "more violent by uneasiness of mind." His debts began to be heavy, and all his resources were exhausted. The last four lines of "The Deserted Village:" —
That Trades proud Empire hastes to swift decay;
As ocean sweeps the laboured mole away;
While self-dependent power can time defy,
As rocks resist the billows and the sky.
were not written by Goldsmith, but by Johnson. [178]
Bibliography
"Dublin Illustrated." The Graphic (17 August 1878): 169-81. Internet Archive online version of a copy in the University of Illinois Library. Web. 14 August 2018.
---
Last modified 14 August 2018