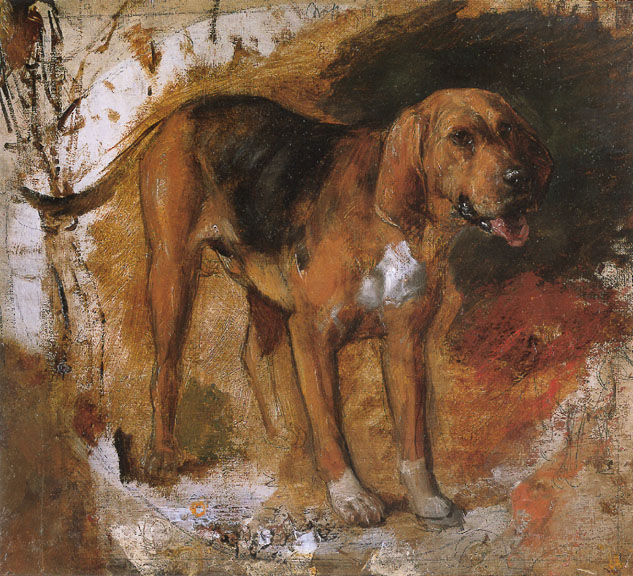 Study of a Bloodhound for the painting The Flight of Madeline and Porphyro during the Drunkenness Attending the Revelry" better known as The Eve of St. Agnes (Guildhall Art Gallery, Corporation of London) by William Holman Hunt OM PRB RWS ARSA (1827-1910). Oil on canvas: 9 x 11 inches, 23 x 28 centimetres
Provenance: William Michael Rossetti, given to him by the artist c. 1853; thence by descent to Oliver Rossetti, the previous owner
William Holman Hunt's contribution to the Royal Academy exhibition of 1848 was the key painting for the establishment of the Pre-Raphaelite Brotherhood. He took his subject from Keats' poem The Eve of St Agnes. In danger of missing the deadline for the Academy exhibition, his friend, John Everett Millais, lent Hunt the use of his studio. At the Royal Academy exhibition, the painting was hung somewhat high up in the Architectural Room, but in a good light. Here it attracted the attention of Dante Gabriel Rossetti; leading to his friendship with Hunt and Millais and the subsequent formation of the Pre-Raphaelite Brotherhood that same year.
John Blount Price of Islington lent Hunt the bloodhounds. Quoting from Keats' poem in the catalogue for the exhibition, Hunt revealed the central importance of the dogs to his conception of the subject: "The wakeful blood hound rose, and shook his hide, But his sagacious eye an inmate owns" (Pre-Raphaelite-Symbolist-Visionary. p. 14)
Peter Nahum Ltd, London has most generously given its permission to use in the Victorian Web information, images, and text from its catalogues, and this generosity has led to the creation of hundreds of the site's most valuable documents on painting, drawing, and sculpture. The copyright on text and images from their catalogues remains, of course, with Peter Nahum Ltd.
Readers should consult the website of Peter Nahum at the Leicester Galleries to obtain information about recent exhibitions and to order their catalogues. [GPL]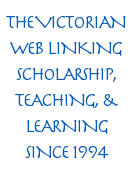 Bibliography
Nahum, Peter, and Sally Burgess. Pre-Raphaelite-Symbolist-Visionary. London: Peter Nahum at Leicester Galleries. Catalogue number 3.
---
Last modified 1 August 2001