Thirlmere. H. Clarence Whaite (1828-1912). 1878. Oil on canvas. H 100.3 x W 181.6 cm. Collection: Blackburn Museum and Art Gallery. Accession number: 111. Acquisition method: gift from Ms J. W. Stones, Blackburn, 1907.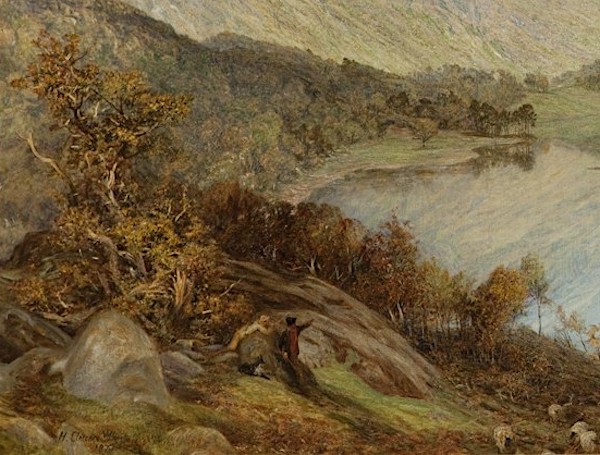 The figures in the left-hand corner of the painting.
Thirlmere is now a large reservoir, because the whole area here was flooded and dammed in the late nineteenth century to supply water to Manchester. Whaite is best known for his paintings in North Wales, but he also painted in the Lake District: Thirlmere and Betws-y-Coed are at about the same distance from Manchester, which he visited regularly even when settled in Conway.
The scenery here is gentler, but Whaite still shows the mountains looming over the small figures of a man and his companion in the left-hand corner. These are probably a farmer and his son, with their collie dog beside them. The man is pointing out something in the distance. Perhaps this helps to draw our attention to the reflection of the taller mountain, especially, in the still water. The twisted tree to the left of the little group is shown in considerable detail. Boulders and craggy rocks encircle the grassy patch at the head of the lake, where the sheep are grazing. Nature seems more benign than awesome here, and placid, but still vast enough to make the human presence seem tiny.
Link to related material
Image released by the museum on the Creative Commons Attribution-NonCommercial-NoDerivatives licence (CC BY-NC-ND), via Art UK. Image download, text and formatting by Jacqueline Banerjee. [Click on the images to enlarge them.]
Bibliography
Lord, Peter. Imaging the Nation: The Visual Culture of Wales. Cardiff: University of Wales Press, 2000.
---
Created 17 January 2022