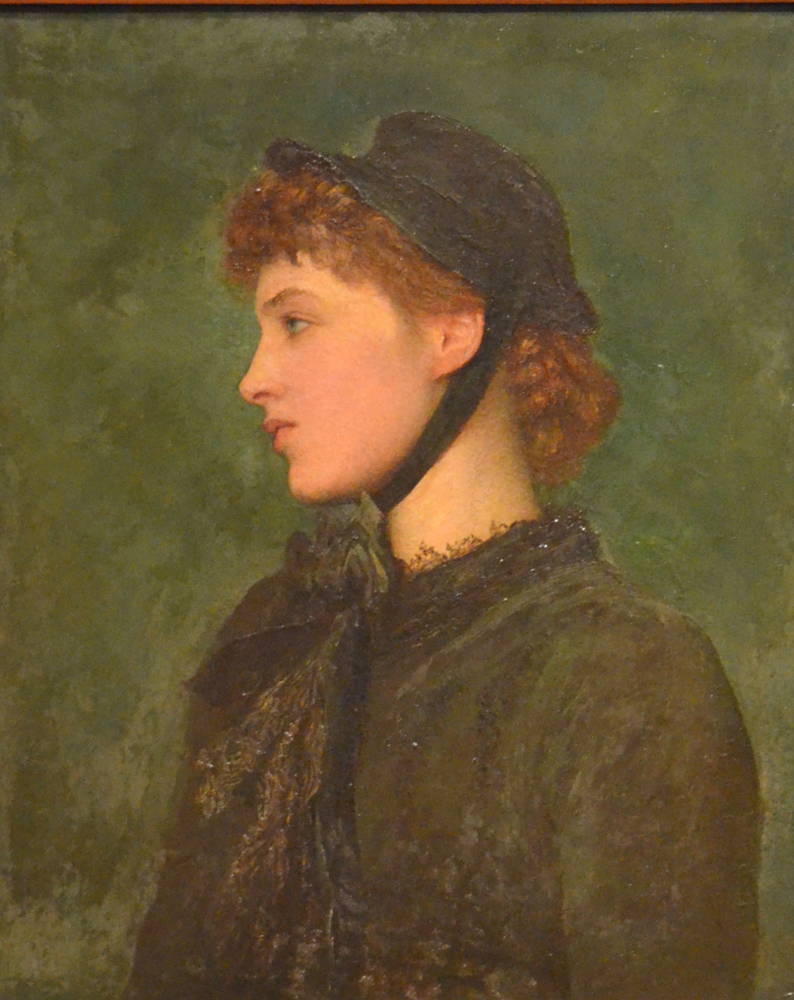 The Dean's Daughter [Lily Langtry]
George Frederic Watts RA (1817-1904)
1879-80
Oil on canvas
Watts Gallery, Compton (no. 43)
Related material
Photograph, text, and formatting by George P. Landow
Many thanks to the Watts Gallery for permitting the Victorian Web to include an image of this work from their collection. Readers might wish to view the Gallery's site for news about current exhibitions and its other programs.
Veronica Franklin Gould tells a story that suggests why this painter famous for his uplifting allegories depicted the King's mistress as a chaste maiden. One reason for this approach by the high-minded painter lay in the fact that both Poynter and Millais, who also had no qualms about painting the young woman, depicted her wearing luxurious costumes. Langtry wore a gold gown in Poynter's painting and black in Millais's Jersey Lily, this last a picture so popular that it "had to be roped off from the crowds." Always Watts's advocate, Gould presents his choice as a matter of pioneering animal rights:
For her presentation at Court that May, Lillie Langtry attached three of the largest ostrich plumes she could find to her headdress. One was fitted to her poke bonnet when she arrived to pose for Watts. Appalled at the suffering of the bird, "he ruthlessly tore off the opulent ostrich feather which I regarded at that time as the glory of my head gear," Langtry recalled. In retrospect, she was glad, for without the aesthetic accessory her portrait appeared timeless: "! realized that he was quite right in his somewhat arbitrary ideas, for the portrait was not dated, and might have been painted yesterday or tomorrow, a quality which - Watts thought - works of all great artists should possess." This was the first recorded step in his campaign against the cruel fashion for feathers. [140]
Gould adds that his painting the king's mistress in black "suggests that sittings began soon after her arrival in London," but given her own description of the competing paintings by Millais and Poynter that immediately precedes this statement, that hardly seems to make sense or provide a sufficient explanation. Watts has painted Langtry much as he himself wished her to be — a pure, thoughtful young maiden, the opposite of a royal bed-companion. Gould, of course, recognizes the issue of moral ambiguity here, which she approaches somewhat coyly: "Did he know that her father, the Dean of Jersey, was a philanderer? Considering the transient superficiality of her own lifestyle, what surely impressed her was that he had made her look pure and noble" (140). Whatever the complexities of the artist's motives, one things is certain: Little of expected Victorian prudery appears in this situation in which the daughter of a philandering clergyman eagerly crawls into the king's bed, and one of England most high-minded painters not only painted her portrait but also cleaned up her act. Gould also tells that Watts "found Lillie Langtry's company so diverting that, she recalled, he would sometimes ignore the sitting, ring for tea and fascinate her with lectures on art. . . . She sat to him for hours between social engagements over the next two years, absorbing the mysteries and splendours of the Venetian school" (140).
Bibliography
Blunt, Wilfred. "England's Michaelangelo": A Biography of George Frederic Watts, Om., R.A. London: Hamish Hamilton, 1975.
Gould, Veronica Franklin. G. F. Watts: The Last Great Victorian. London: Yale University Press, 2004.
---

Victorian
Web

Artists

G. F.
Watts

Paintings

Next
Last modified 20 March 2012