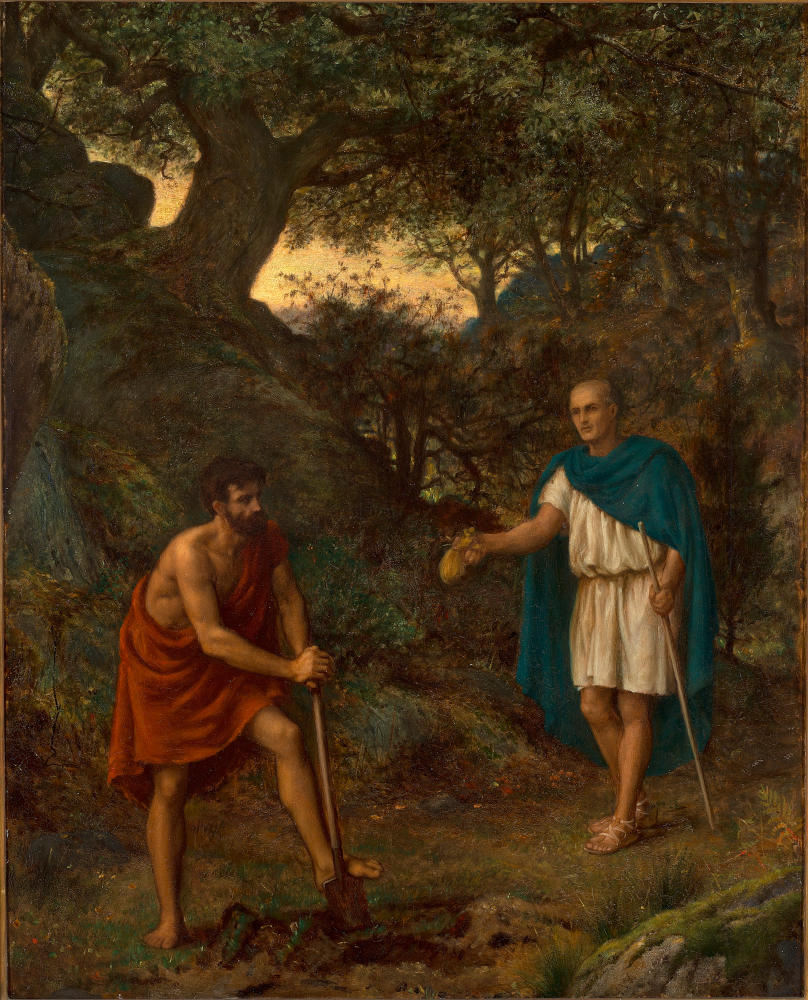 Sir Walter Raleigh in The Tower. Henry Wallis (1830-1916). Exhibited at the Royal Academy in 1859. By kind permission of Dennis Lannigan (see bibliography).
Commentary by Michael Hickox
This shows Raleigh imprisoned in The Tower by James I, following his 1603 Treason Trial working on his History of the World. A picture of Queen Elizabeth is on the wall symbolising for Raleigh a better past. Facing Raleigh is a young boy in Princely attire, contrasting with Raleigh's shabby garb, who is blowing bubbles from a pipe. How should he be interpreted? Does he represent the corrupt, frivolous and Catholic-leaning Stuart monarchy to which Raleigh was opposed? It is more probable that he represents James I's eldest son, Prince Henry, who hero-worshipped Raleigh. Had he not died in 1612 aged 18, Raleigh would not have been executed and the Protestant succession would have been guaranteed. From this perspective the boy could represent a figure of Hope and Inspiration encouraging Raleigh to continue his great work.
Related Material
Bibliography
Lessens, Ronald and Dennis Lanigan. Henry Wallis: From Pre-Raphaelite Painter to Collector/Connoisseur. Woodbridge, Suffolk: ACC Art Books, 2019.
---
26 March 2021