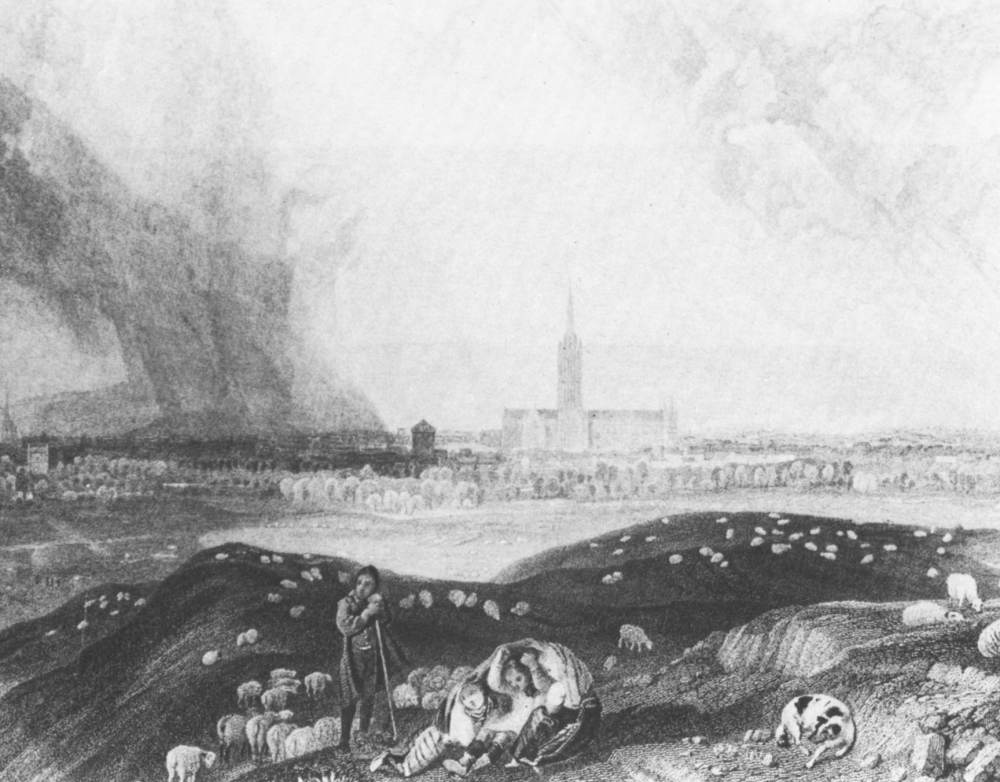 Salisbury from Old Sarum Intrenchment. Drawn by J. M. W. Turner. 1838. Engraving. From Picturesque Views in England and Wales. Photograph by Elizabeth K. Helsinger from a copy in the Joseph Regenstein Library, the University of Chicago. [Click on image to enlarge it.] [Plate 14 in Helsinger's Ruskin and the Art of the Beholder.]
Ruskin's comments on this work
To him [Turner], as to the Greek, the storm-clouds seemed messengers of fate. He feared them, while he reverenced; nor does he ever introduce them without some hidden purpose, bearing upon the expression of the scene he is painting. On that plain of Salisbury, he had been struck first by its widely-spacious pastoral life; and secondly, by its monuments of the two great religions of England— Druidical and Christian.
He was not a man to miss the possible connection of these impressions. He treats the shepherd life as a type of the ecclesiastical; and composes his two drawings so as to illustrate both.
In the drawing of Salisbury, the plain is swept by rapid but not distressful rain. The cathedral occupies the centre of the picture, towering high over the city, of which the houses (made on purpose smaller than they really are) are scattered about it like a flock of sheep. The cathedral is surrounded by a great light. The storm gives way at first in a subdued gleam over a distant parish church, then bursts down again, breaks away into full light about the cathedral, and passes over the city, in various sun and shade. In the foreground stands a shepherd leaning on his staff, watching his flock;—bareheaded: he has given his cloak to a group of children, who have covered themselves up with it, and are shrinking from the rain; his dog crouches under a bank; his sheep, for the most part, are resting quietly, some coming up the slope of the bank towards him.
The rain-clouds in this picture are wrought with a care which I have never seen equalled in any other sky of the same kind. It is the rain of blessing—abundant, but full of brightness; golden gleams are flying across the wet grass, and fall softly on the lines of willows in the valley—willows by the watercourses; the little brooks flash out here and there between them and the fields. (Modern Painters V, Library Edition: 7.189-90)
---
11 February 2013