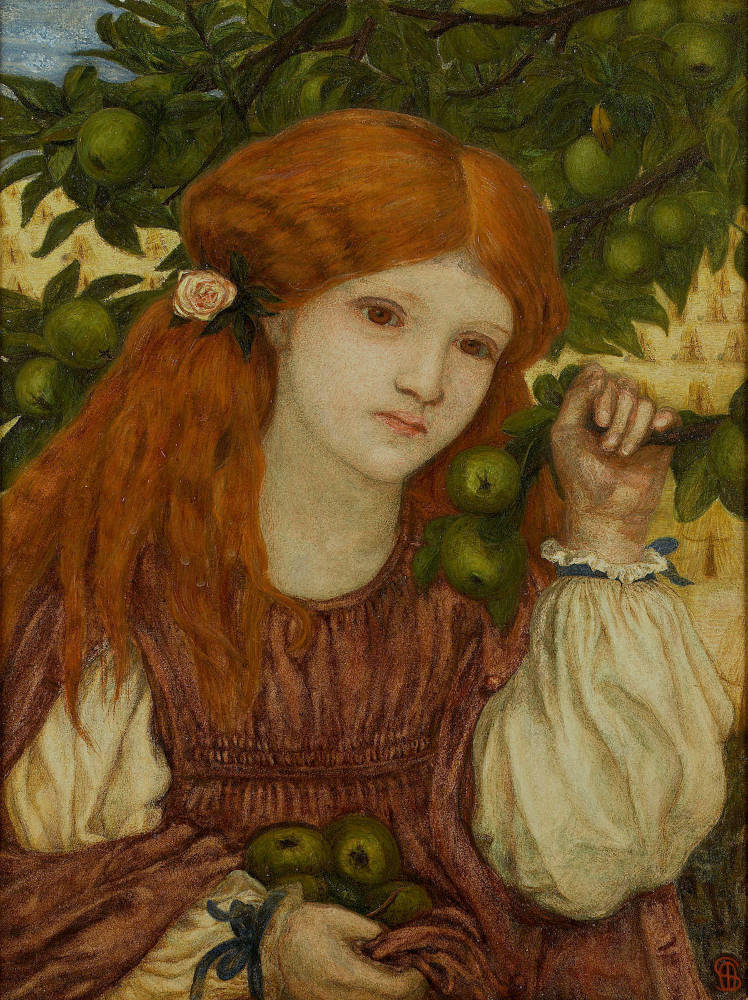 Autumn. Marie Spartali Stillman (1844-1927). c. late 1860s, early 1870s. Watercolour and gouache on paper laid on board, 15 ½ X 11 ¾ inches (39.3 X 29.8 cm). Private collection. Signed with MS monogram, lower right>Click on image to enlarge it.
The title Autumn was given to this painting by Bonhams auction house in London. What its original title may have been is unfortunately unknown. There is no record of a work matching this description having been shown at the Dudley Gallery, her usual exhibition venue from this time period, although it would have been highly appropriate for that venue. The autumn colours and the depiction of a young girl harvesting apples, with the wheat sheaves stoked in the background, make the title an appropriate one, however. This is a characteristic example of Stillman's early work from her "Poetry Without Grammar" period, with its uncertain draughtsmanship and flat perspective, but with its beautiful colour making it truly a harmony in brown and gold. The writer Ellen Clayton, who recognized Marie's artistic qualities early on, noted that "Spartali was generally commended for her use of colour, and criticized for her draughtsmanship, especially by those who disliked the 'archaic' Pre-Raphaelite aesthetic. Characteristically, she painted in watercolour, using the density of paint favoured by the Pre-Raphaelites " (136).
From 1864-70 Marie trained in Ford Madox Brown's studio alongside his daughters Lucy and Catherine and his son Oliver. The mentorship of Madox Brown, however, continued much later, well into the 1870s. His influence, as well as that of Dante Gabriel Rossetti, is readily apparent in Stillman's early works until she begins to develop her own very individualistic style by the late 1870s. Autumn must date from the late 1860s, or very early 1870s, because it so clearly reflects the influence of Madox Brown. It is also structurally similar to other works by Spartali from this period, including The Lady Prays-Desire of 1867 and Mariana of 1868. All three works are somewhat stiff and two-dimensional.
The identity of the young girl who sat for this work is unknown. The sitter is certainly too old to be Marie's daughter Effie, who was born on January 7, 1872. One possibility is her stepdaughter Eliza (Lisa) Stillman, who was born December 23, 1865, but a later drawing of her as a teenager by Charles Fairfax Murray in the collection of the Delaware Art Museum does not resemble this sitter. One wonders, however, if the model in this picture was later the model for Stillman's watercolour Luisa Strozzi that she exhibited at the Grosvenor Gallery in 1884. This painting is now in the collection of the Montreal Museum of Fine Arts.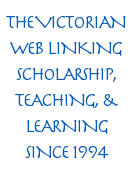 Bibliography
Elliott, David B. A Pre-Raphaelite Marriage. The Lives and Works of Marie Spartali Stillman & William James Stillman. Woodbridge: Antique Collectors' Club, 2006.
layton, Ellen. English Female Artists. 2 vols. London: Tinsley Brothers, 1876.
---
Created 3 November 2021