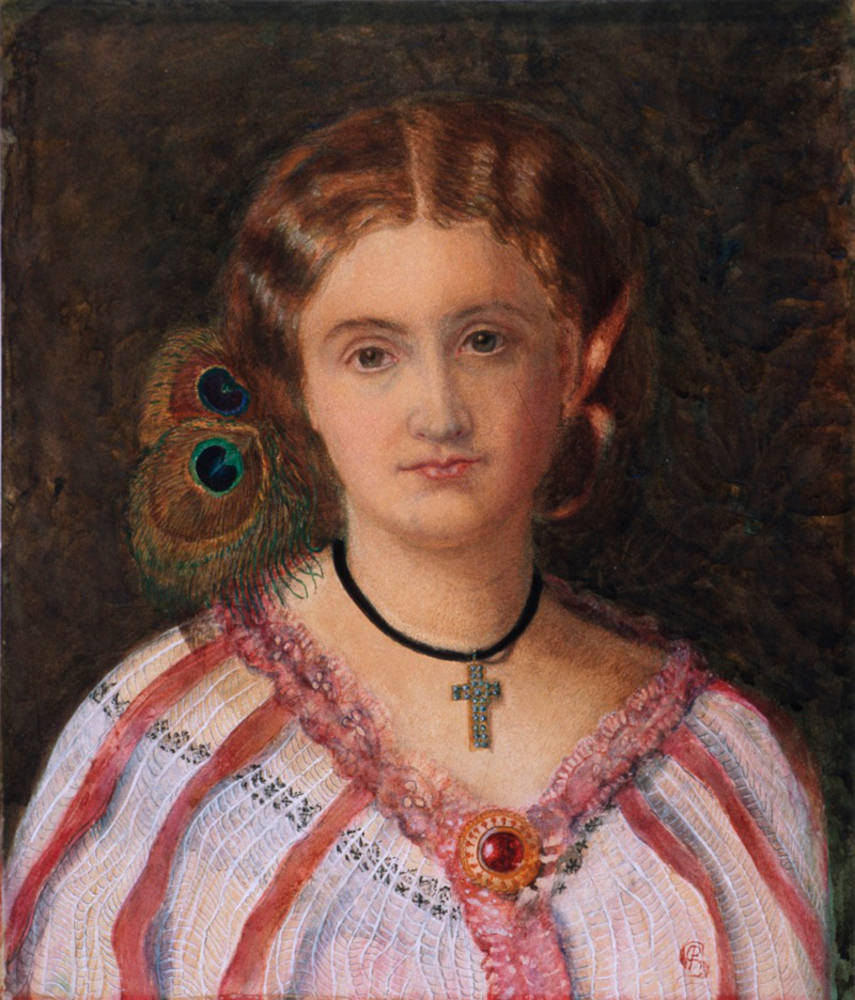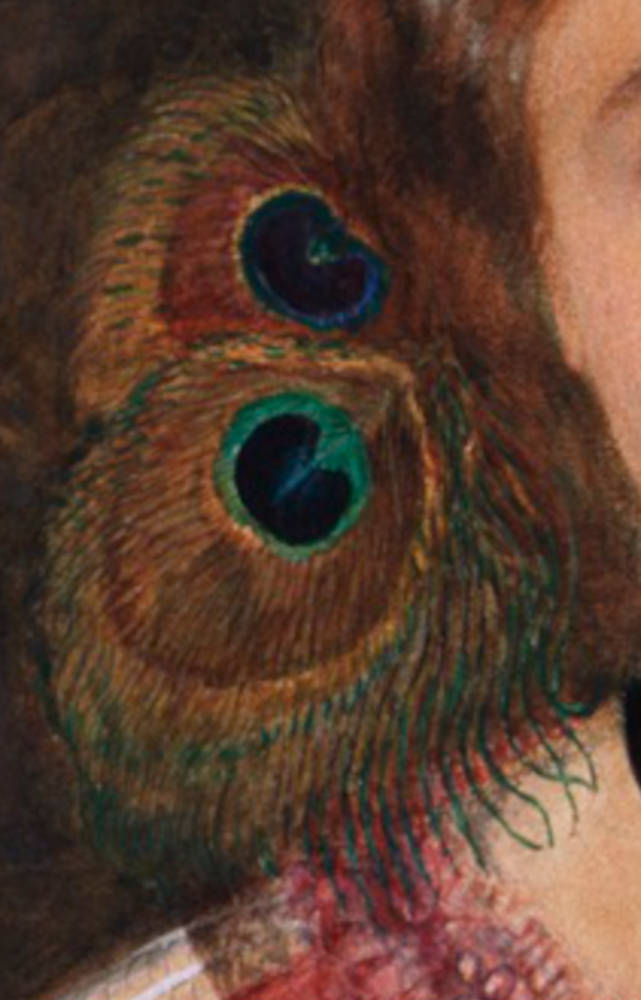 Left: Portrait of Clara Stephens. Frederic George Stephens (1827–1907). Collection of the National Gallery of Canada. Accession no. 48589. Right: (Detail) Peacock feather. [Click on images to enlarge them.]
Works by Stephens are extremely rare because he was a practicing artist for only a short period of time before he abandoned painting for a career as an art critic. He didn't completely abandon his artistic vocation, however, because he taught drawing at University College School from 1870-1902. Stephens once claimed "with satisfaction" to have destroyed all his paintings but this statement is obviously inaccurate because the Tate Britain owns a number of his works, although most are unfinished. Either this watercolour of a young woman must have particularly pleased Stephens, or the model must have had some personal significance to him, to allow it to have escaped destruction. This portrait is executed in the "Venetian style", popular with Aesthetic Movement artists in the 1860s, having been initiated by Rossetti's Bocca Baciata of 1859 and adopted by many painters within the Pre-Raphaelite circle. This suggests that Stephens must have continued to paint for longer than has generally been acknowledged. Casteras mentions that one evening in December 1865 James Smetham dined with D. G. Rossetti and Stephens and that Smetham then went on to visit Stephens' studio (82). Stephens may therefore have been continuing to paint at least as late as 1865. The use of peacock feathers in this work recalls Frederic Leighton's Pavonia of 1859, Frederick Sandys' Vivien of 1863, and G. F. Watts' The Peacock Fan of 1865.
This watercolour is most likely a portrait of Stephens' wife Clara Dalton (1832-1915). Clara was born in Iver, Buckinghamshire, the daughter of Riley Dalton, a building contractor. Stephens kept the early history of his relationship with his wife a closely guarded secret. For many years scholars believed that in 1865 he had secretly married a young widow, Mrs. Rebecca Clara Charles. The two had been courting since around 1859. Clara had been a student at the National Art Training School in South Kensington and the two probably met through artistic circles. In 1865 Stephens' old friend, the painter William Holman Hunt, told Stephens he was at last contemplating marrying Fanny Waugh and that he wanted Stephens to be his best man. Hunt had heard rumours that Stephens was married, however, which by Victorian standards would have rendered him ineligible. Stephens told Hunt that he was no longer a bachelor and therefore, with regret, he was unable to oblige his old friend. The truth is much more complicated and would have been scandalous for the time. Stephens mislead Hunt because he did not marry until January 8, 1866, the ceremony taking place at the church of All Hallows, Barking.
Stephens told his friends that his wife was a widow, Mrs. Clara Charles, but her status and name were both incorrect. The marriage certificate shows that Stephens married Rebecca Clara Dalton, a spinster, and furthermore she had two children, a daughter Clara Adelaide Charles, born on March 2, 1856, and a son Charles A. Charles. Little is known about the early life of Stephens's new bride and nothing about her children's natural father, William Charles Charles. Clara Dalton was supposedly largely illiterate when Stephens met her and he taught her how to read and write and how to behave properly in society. He certainly made a concerted effort to improve her spelling, grammar, and handwriting. He only introduced Clara to his family and friends after he had married her. The couple moved to 10 Hammersmith Terrace, Hammersmith, on September 29, 1866 where they were to reside for the next thirty-nine years. In September 1905 they moved next door to No. 9. Their marriage was apparently a happy one and the couple appear to have been devoted to each other. Their only child, Holman Frederic "Holly" Stephens, was born on October 31, 1868. Clara died on November 25, 1915 and was buried with her husband in the Brompton Cemeterey.
Bibliography
Wilkes, Robert. "The Hidden Pre-Raphaelite: The Art and Writings of Frederic George Stephens from 1848-70." PhD thesis, Oxford Brookes University, 2019, 14 and fig. 7.
Casteras, Susan. James Smetham. Artist, Author, Pre-Raphaelite Associate. Aldershot. Hants.: Scolar Press, 1995.
---
Last modified 25 October 2021