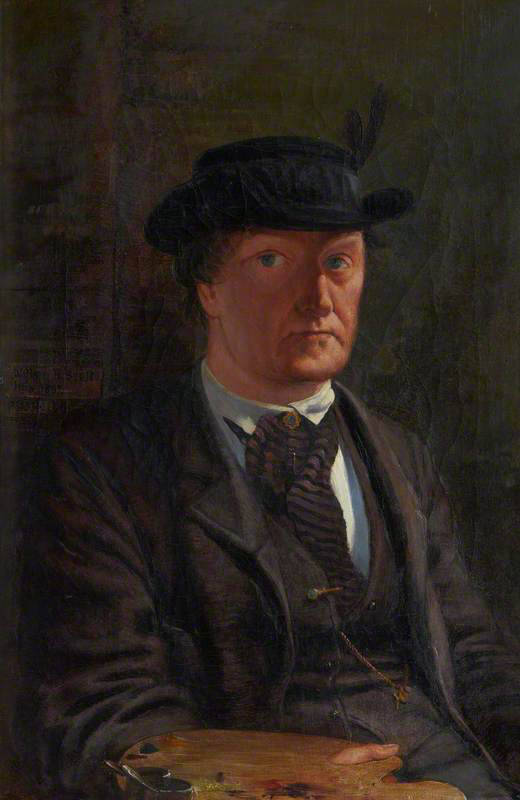 Scott was born on September 12, 1811 at St. Leonard's, Edinburgh, the seventh child of the engraver Robert Scott and his wife Ross Bell. William was the younger brother of the painter David Scott. William was educated at Edinburgh high school. He initially received training as an illustrator and engraver from his father. He then studied at the Trustees Academy in Edinburgh under William Allan and later at the Edinburgh School of Art. In 1831 he spent some months in London drawing from the antique at the British Museum. Scott was also an accomplished poet with his first verses published in 1831. In 1834 his poems appeared in Tait's Magazine and in the Edinburgh University Souvenir. For some years he assisted his father in his engraving business in Edinburgh before moving in 1837 to London where he supported himself by etching, engraving, and painting. At this time his aspiration was to be a history painter. During his time in London he was associated with a group of painters known as The Clique that included Richard Dadd, Augustus Egg, Alfred Elmore, William Powell Frith, Henry O'Neill, and John Philip. Scott exhibited his first painting at the Society of British Artists in 1840, the British Institution in 1841, and at the Royal Academy in 1842. He would continue to exhibit at the Royal Academy until 1869 and also exhibited regularly at the Royal Scottish Academy.
In 1839 he married Letitia Margery Norquoy. He competed in the Westminster Hall decoration competition for the Palace of Westminster In 1843 but failed to win a prize. In that same year he was appointed to the mastership of the Government School of Design in Newcastle-upon-Tyne where he developed an academic art school. In 1846 he published his long poem The Year of the World that was admired by Dante Gabriel Rossetti. In 1854 he first met Sir Walter and Lady Pauline Trevelyan. From 1856-61 Scott was commissioned to paint eight large murals on Northumbrian history for their house, Wallington Hall, in Northumberland. These murals are his finest achievements as a painter. His scheme of decoration for Wallington Hall was completed in 1863-64 by the addition of eighteen pictures on the subject of the ballad of Chevy Chase for the spandrels of the arches of the hall. Through Pauline Trevelyn Scott became friendly with the young poet Algernon Swinburne who spent some time visiting Scott after he was sent down from Oxford.
In 1863 Scott resigned as Master of the School of Design in Newcastle and in 1864 he settled permanently in London, living initially at 33 Elgin Road, Notting Hill. He worked for the Science and Art Department of the South Kensington Schools as an art examiner until 1885. In 1870 he moved to Bellevue House at 92 Cheyne Walk, Chelsea, and became a near neighbour to Rossetti. Scott served for a time as the art editor of The Academy in the early 1870s and also wrote for The Examiner, Fraser's Magazine, and The Portfolio.
Scott was an early enthusiast for William Blake and organized the groundbreaking exhibition of Blake's works at the Burlington Club in London in 1876. Scott wrote several volumes of artistic and literary criticism, as well as editing a series of editions of the works of famous English poets, including memoirs, on Keats, Byron, Coleridge, Shelley, Shakespeare, and Sir Walter Scott . His last volume of poetry entitled A Poet's Harvest Home was published in 1882. His later years were devoted to writing his Autobiographical Notes of the Life of William Bell Scott. It appeared after his death in 1892 in two volumes, edited by W. Minto, and proved very controversial. Scott suffered from recurrent attacks of angina from 1885 and spent the last five years of his life at Penkill as a virtual invalid. On November 22, 1890 Scott died there from ischemic heart disease and was buried at Old Dailly Churchyard near Penkill.
Links to Related Material on Scott and the Pre-Raphaelites
Bibliography
Angeli, Helen Rossetti. Dante Gabriel Rossetti His Friends and Enemies. London: Hamish Hamilton Ltd., 1949, 140-62.
Fredeman, William E. "A Pre-Raphaelite Gazette: The Penkill Letters of Arthur Hughes to William Bell Scott and Alice Boyd, 1886-1897." Bulletin of the John Rylands Library, Manchester, 50, No. 1, (1967): 34-82.
Fredeman, William E. "The Letters of Pictor Ignotus: William Bell Scott's Correspondence with Alice Boyd, 1859-1884." The Bulletin of the John Rylands University Library, Manchester, 58 (No. 1, 1977): 66-111.
Minto, W. Ed. Autobiographical Notes of the Life of William Bell Scott. 2 Vols. New York: Harper & Brothers, 1892.
Rossetti, William Michael. Some Reminiscences of William Michael Rossetti. Vol. I. New York: Charles Scribner's Sons, 1906.
---
Last modified 6 February 2022