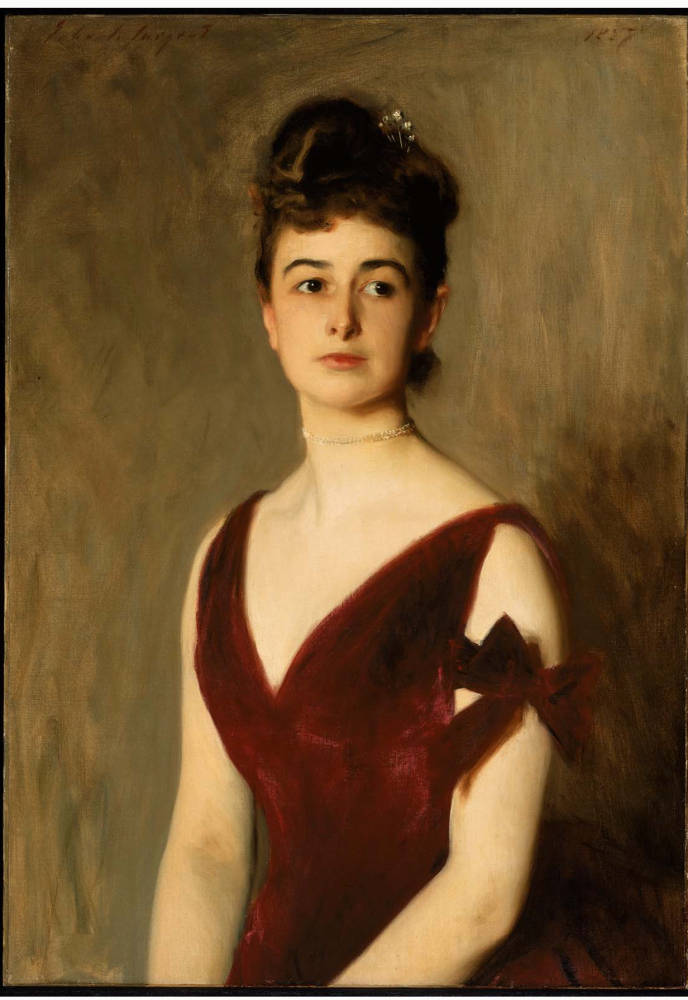 Mrs. Charles E. Inches (Louise Pomeroy)
John Singer Sargent
887
Oil on canvas
86.36 x 60.64 cm (34 x 23 7/8 in.)
Anonymous gift in memory of Mrs. Charles Inches' daughter, Louise Brimmer Inches Seton
Commentary from the MFA site
n 1887, Sargent made his first visit to the United States as a working artist. In New York, Newport, and Boston, Sargent painted more than twelve formal portraits, aided in his endeavors by author and friend Henry James's description of his talent and his previous success in the Parisian art world. During this trip, Sargent painted Louise Pomeroy Inches of Boston. [Continued below]
Commentary from the MFA website by Erica E. Hirshler
He arrived in the city early in 1887 and stayed with his friends Mary Louisa [63.268] and Edward Boit (who had returned from Paris in 1886, bringing with them Sargent's 1882 portrait of their daughters [19.124]. The Boits lived around the corner from Charles and Louise Inches and it is likely that Boit, who was Charles Inches's first cousin, introduced them to Sargent and may have encouraged the idea of a portrait. Boit documented the Inches' commission in his diary and noted that it was completed by Christmas Eve, when he went to their home at 88 Charles Street to see "Charley's wife's portrait by Sargent," describing it as "a beautiful picture."
Louise Pomeroy Inches (1861–1933) was born in Troy, Pennsylvania, the youngest of three daughters of Horace and Emma Pomeroy. When she was twenty-two, she married Dr. Charles Inches of Boston, a Harvard-educated physician twenty years her senior, who become known for giving free medical aid to the poor. At the time she sat for her portrait, Louise Inches was a prominent society hostess well known for her beauty and the mother of two young sons. She was pregnant with her third child when she posed for Sargent, wearing a fashionably daring red evening gown that had been made with detachable panels to accommodate her pregnancies. (The garment, which still survives in a private collection, is an American copy of a design by the French couturier Worth.) Apparently the artist and sitter enjoyed each other's company; both were accomplished musicians and are said to have played piano duets together.
Sargent concentrated his attention on his sitter's face and elegantly attenuated neck, painting her dress and arms more quickly and sketchily. The three-quarter length format, blank background, and slightly turned pose suggest French eighteenth-century portraits, which Sargent—and many of his patrons—admired. This reference is enhanced by the original frame selected for this painting, a decorative eighteenth-century style gilt frame crowned by an elaborate three-dimensional ribbon. The aristocratic fashionability of Sargent's Boston portraits, including Mrs. Inches, was praised in the local press when they were first exhibited at the St. Botolph Club, in Sargent's first solo exhibition, early in 1888. The critic for the Boston Evening Traveller declared that this portrait was "one of the most brilliant pieces of coloring that has been painted since the days of Titian." Writer Susan Hale noted, however, that many onlookers were "furious at the want of justice done to their friends … between those who thought them too beautiful and those who thought them not beautiful enough, all just speculation of [Sargent's] method and execution was lost." Many viewers gossiped about their peer: "I think Mrs. Inches looks as if she would bring you the head of Holofernes for the asking," Fanny Lang wrote astringently to Isabella Stewart Gardner. Mrs. Inches often made the painting available for loan, although Sargent advised against asking for it again for a 1924 exhibition, as "[Mrs. Inches] rather makes a condition about my going to see if there is not something wrong about her nose—& I haven't time." Despite such criticisms, Sargent's image of Louise Inches projects both virtue and style. Her demure gaze and pose contrast with her brilliant crimson evening gown with its daring décolletage. In this way, she personifies the bold innocence that contemporary writers, including Sargent's friend Henry James, found peculiarly American.
The above text was adapted from Erica E. Hirshler's entry in John Singer Sargent (1998) — George P. Landow]
Bibliography
John Singer Sargent, Ed. Elaine Kilmurray and Richard Ormond. Exh. cat. Princeton: Princeton University Press, 1998.
---

Victorian
Web

Artists

John Singer
Sargent

Paintings

Next
Last modified 26 May 2016