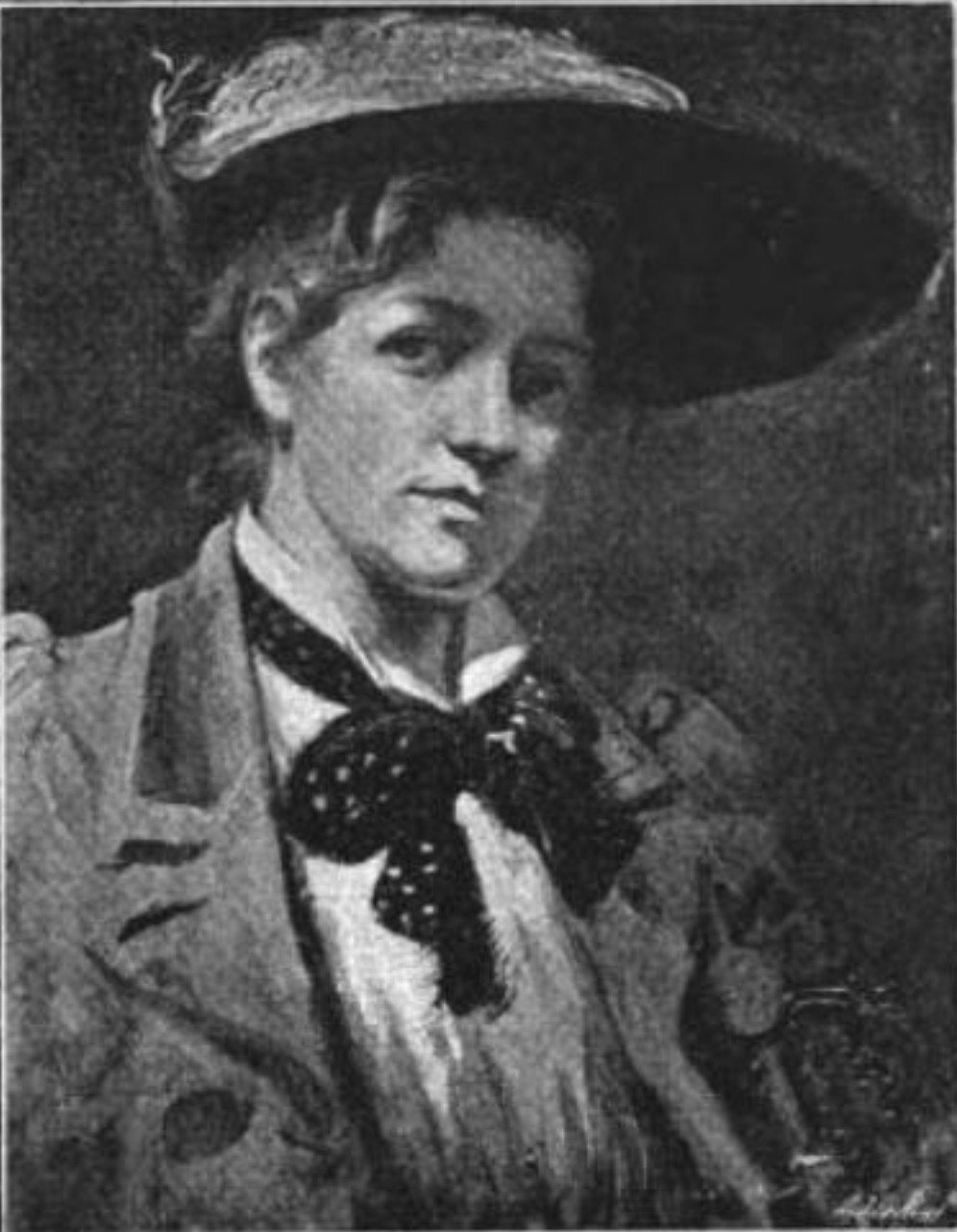 Self-portrait (reproduced
in Postlethwaite 18).
Born in London to Scottish parents Samuel and Elizabeth Reid, Flora Reid was brought up in Scotland, and in her teens studied at the Trustees Academy School of Art, Edinburgh, while also learning from her older brother, painter John Robertson Reid. (Their sisters Lizzie and Janet also painted.) From 1876 she exhibited paintings at the annual Edinburgh (Royal Scottish Academy) and Glasgow (Royal Glasgow Institute) shows, and in other Scottish cities such as Dundee.
In 1881 the Reid siblings moved back to London (living together for most of their lives, in fac)t, and in this year Reid made the first of what were to be many appearances at the Royal Academy and the Society of British Artists. In 1884 she added the Grosvenor to her regular gallery appearances, and after its closure she exhibited at its replacement, the New. She also exhibited from time to time at Liverpool, Manchester and other exhibiting ventures such as the Institute of Painters in Oil. Despite occasional etchings and pastels, oil painting was always her primary medium. She was included in the Exposition Universelle in Paris in 1889, in the ground-breaking Woman's Building at the Chicago World Fair of 1893, and the Paris Exposition Universelle of 1900, where her painting Faith was awarded a bronze medal. She also supplemented her income by teaching, at least during the 1890s. In this decade, she also began to exhibit with the Society of Lady/Women Artists
Selling well from the beginning of her exhibiting career, Reid became a regular crowd favourite at the Royal Academy with her scenes of peasant work and trade, making a substantial contribution to the taste in foreign market scenes that was part of the larger field of "peasant-painting." The leading British practitioners of peasant-painting, George Clausen and James Guthrie, set the trends, but Reid developed a more anecdotal version of the repertoire for which she became known. She travelled for her work in France, Belgium, the Netherlands and Norway, as reflected in her subjects e.g. Market-place, Bruges (1892), The Flemish Lacemaker (1894), French Politicians, Royalist and Republican (1901), A Dutch Fishwife (1902). She was, not, however, a plein-air painter, instead working up compositions in the studio from studies made on her travels.
Both Flora and John resided in Cornwall for about ten years (1897-1907), in Polperro near Looe, although Cornish subject-matter had appeared in their work from the mid 80s, and in later years they were both remembered as stalwarts of that artistic community. The two of them were included in the important show of Cornish art at the Whitechapel Gallery in 1902.
As tastes changed in the early twentith century, Reid's characteristic output began to pall with some forward-looking critics: "Miss Flora M. Reid paints foreign market-places with a keen eye for rich colour and a power of making her subjects vivid with sunshine. But Miss Reid must not use quite the same recipe for so long; one tires of toujours perdrix. Though incidents may supply separate titles, there is no excuse for the similarity of arrangement in these pictures," wrote Martin Hardie of her Academy exhibits in 1907 (The Queen, 25 May 1907, 52). And, six years later: "The work of Miss Flora Reid suffers from a too great monotony both of subject and colour, and when we have seen one of her pictures we have, in a certain sense, seen all; but few who come upon her work for the first time will fail to be impressed by it...," commented Laurence Housman in his Academy review for the suffrage paper Votes for Women (9 May 1913, 3). This was a dilemma faced by many Victorian artists trying to prolong their careers into the modern age.
During the War, Reid adapted her habitual subject-matter to the changed situation, sometimes just by a tweak of a title, continuing to exhibit much as usual. In 1916, a Belgian scene in characteristic vein, The Old Market before the War, was reproduced by the Oxo company in its pictures-for-vouchers scheme.
In 1926, John Reid died; Flora remained living in their Hampstead home with their niece Ellen (Nellie). She showed work six times at Paris's Société des Artistes Français until 1932; while at the Royal Scottish Academy she was last seen in 1922, at the RA in 1932, and at the Royal Glasgow Institute in 1938. By 1939, Reid was describing herself as retired.
Bibliography
Caw, James L. Scottish Painting 1620-1908. Edinburgh: T.C. and E.C. Jack, 1908: 283.
Postlethwaite, Helene L. "Some Noted Women Painters", Magazine of Art. Vol. 18 (1895): 17-22.
Strang, Alice ed. Modern Scottish Women. Painters and sculptors 1885-1965. Edinburgh: National Galleries of Scotland, 2015: 94-95.
Tovey, David. Polperro, Cornwall's forgotten art centre. Vol. I. Lifton: Wilson Books, 2021. 136-45.
---
Created 8 July 2022