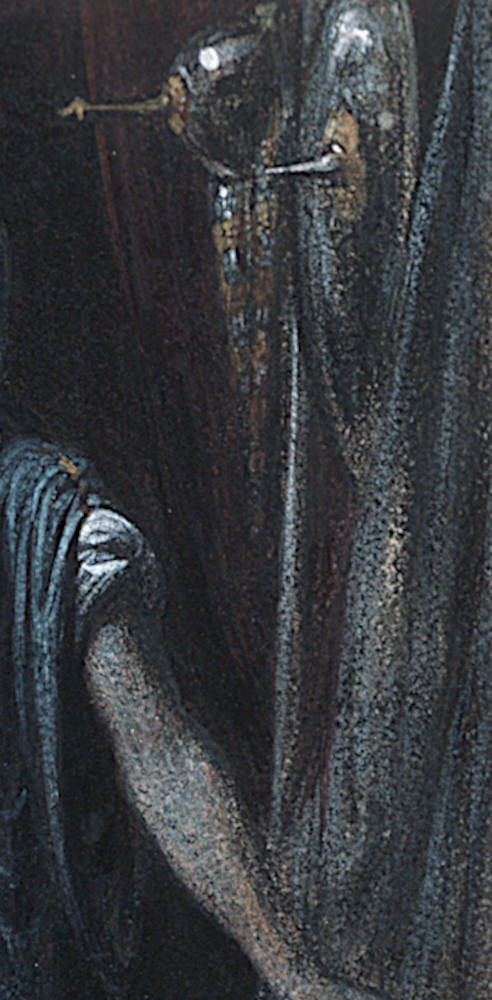 Judith and Holofernes by Edward Poynter. c. 1856-59. Watercolour and gouache on paper. 8 ⅝ X 5 ¾ inches (22 X 14.6 cm). Private collection.[Click on images to enlarge them.]
The subject of Judith and Holofernes had been popular with artists since the Renaissance (examples), and Poynter likely would have encountered examples during his travels on the continent in the 1850s. He later owned a seventeenth-century Italian Old Master painting of Judith and Holofernes by a follower of Caravaggio, but it is uncertain when and where he acquired it. The story is taken from the apocryphal Book of Judith in the Old Testament. Judith, a chaste but attractive widow, pretends to be deserting the Israelites and goes with her maid to the camp of the Assyrian general Holofernes, who is besieging the Jewish city of Bethulia. Holofernes invites her to eat and drink with him, hoping to later seduce her. When he passes out intoxicated from wine, Judith takes his sword and decapitates him. She gave Holofernes' head to her maid, who put it in her food bag, and they returned to Bethulia. The next morning the Israelites hung Holofernes' severed head from the city walls, causing the Assyrian army to flee in consternation and confusion, and they were slaughtered by the Israelites.

Abigail. Signed with EJP monogram and dated 1856, lower left by Edward Poynter.
Watercolour on paper, 9¾ X 3½ inches (24.8 x 8.9 cm). Private collection.
Because Judith and Holofernes is an Old Testament subject, one might be tempted to associate this watercolour with the studies Poynter carried out in conjunction with the Dalziel Bible Gallery, to which he was an important contributor. In these illustrations, however, which date from 1863-65, the faces are already much more characteristically "Poynter-like" in appearance than are those in this watercolour which must date from earlier. This is one of only a few surviving Poynter watercolours from the 1850s, painted early in his career prior to his own distinctive style developing. Another early watercolour, dated 1856, supposedly of Abigail another Old Testament heroine, was offered for sale by Sotheby's, London, on June 3, 1998. This work was painted the same year Poynter enrolled in Gleyre's atelier in Paris. Judith and Holofernes is treated in a more confident manner and is therefore likely to be from slightly later in date. Both works are similar in style and treatment, in particular the rather dark palette, the long faces, and the white headdresses of the two women. The subject of Abigail may in fact have been misidentified by Sotheby's and this watercolour could just as easily represent Judith and her maid going to the camp of the Assyrians. Judith and Holofernes would then simply represent a later scene within the same narrative. Poynter's inspiration to paint two scenes from this story may have been two small pictures by Sandro Botticelli in the Uffizi Gallery in Florence of c. 1467-72. In one painting Botticelli depicts the Assyrians finding Holofernes' decapitated body, while the second shows Judith and her maid returning to Bethulia with Holofernes' head in a basket.
Although Poynter's early work was generally inspired by the Old Masters, the major influence on this work would appear to be contemporary French academic painting, to which Poynter would have been exposed while a student in Paris and to which he may have been looking for inspiration. He had been much struck by the works of such painters at the Exposition Universelle in Paris in 1855, which had influenced his decision to study there. The Morning Post of March 20, 1913 quotes Poynter as saying: "In 1855 I visited the Paris Exhibition, with the result that I was greatly struck with the contemporary school of French painting...I have not abated one jot of my enthusiasm for the French painters of the time: Delacroix, Decamps, Ingres, Robert Fleury" (2). One French painting that Poynter might possibly have been familiar with from his time in Paris was Horace Vernet's Judith and Holofernes of 1828, which bears a resemblance to Poynter's version.
Bibliography
Inglis, Alison S.: "The Decorative Works of Sir Edward Poynter and Their Critical Reception." PhD Thesis, The University of Melbourne, 1999, I, 23 and III, 1.2b.
Morning Post, March 20, 1913.
Sotheby's, London: Victorian Pictures. (June 3, 1998): lot 198, 100.
---
Last modified 25 August 2021