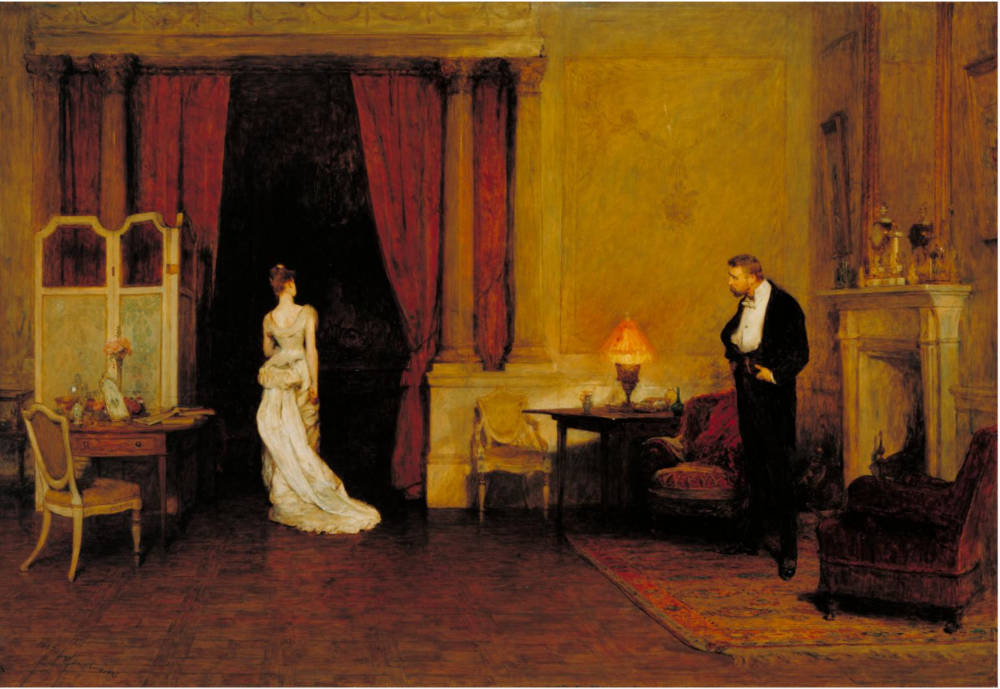 The First Cloud by W. Q. Orchardson, ARA. 1887. Oil on canvas, 832 x 1213 mm. Courtesy Tate Britain N01520. Presented by Sir Henry Tate 1894. [Click on image to enlarge it.]
Tate Britain commentary by Frances Fowle
This is the last of three pictures by Orchardson that focus on the theme of the unhappy marriage. The first two in the series, Mariage de Convenance (1883, Glasgow Museums) and Mariage à la Mode - After! (1886, Aberdeen Art Gallery) depict the disadvantages of marrying for wealth rather than for love. The elderly husband is soon abandoned by his bored young wife. In The First Cloud, the marriage is still based on an exchange of her beauty (plate) for his wealth (plate) , but the age gap is less noticeable. However, without love, the relationship lacks any firm foundation, and this first rift between the couple is merely the cloud before the storm. The picture was first exhibited at the Royal Academy with these lines from Tennyson:
'It is the little rift within the lute
That by-and-by will make the music mute.'
The setting, as with so many of Orchardson's costume dramas, is an elegant Victorian drawing room (detail) . The wife retires from the room through a pillared arch, her graceful form silhouetted against the dark opening in the curtains. Although she turns her back to us (and to her husband) her face is vaguely reflected in a mirror in the dark room beyond. This figure was modeled by a Mrs Hope, one of a family of very beautiful sisters. For the husband Orchardson used a close friend, the artist Tom Graham. He stands by the mantelpiece, looking extremely disgruntled, and possibly rather drunk, his hands thrust in his pockets. The psychological rift that has grown between the couple is emphasized physically by the empty expanse of parquet flooring that separates them. The colours are typically muted: cool creams, pastel pinks and blues, alongside Orchardson's favorite colour combination of yellow and brown, which the French critic Ernest Chesneau described as 'harmonious as the wrong side of a tapestry.' (Wood 1999, p.257)
This is a smaller version of the painting, now in the National Gallery of Victoria in Melbourne, which was exhibited at the Royal Academy in 1887 and was caricatured in Punch: The Academy Guy'd (7 May 1887, p.226). The husband, dressed as a painter, addresses the departing back of his model:
Yes, you can go; I've done with you, my dear.
Here comes the model for the following year,
(To himself) Luck in odd numbers - Anno Jubilee -
This is Divorce Court Series Number Three.
Bibliography
Hardie, William R. Sir William Quiller Orchardson R.A.. Edinburgh 1972.
Wood, Christopher. Victorian Painting. London 1999.
---
Last modified 7 July 2018