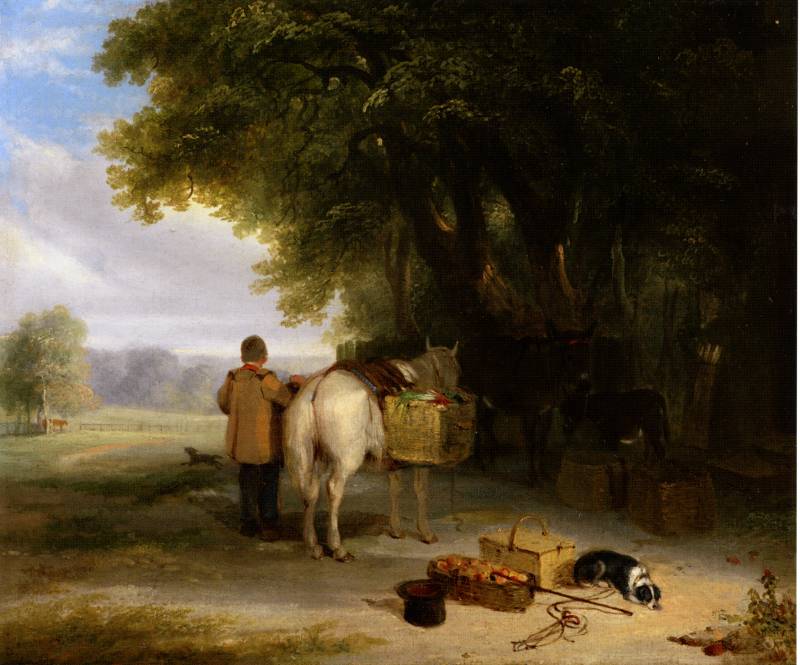 Off to Market by William Mulready, RA 1786-1863. Oil on panel, 11 3/4 x 14 inches. Image and text courtesy of the Maas Gallery, which holds copyright. [Click on image to enlarge it.]
Mulready's earlier works were in the manner of Constable, but he later abandoned landscape in favour of genre painting for which, like his friend David Wilkie, he became famous. Here, a countryman loads his pony with vegetables for the market. He watches anxiously as his excitable spaniel runs off after a cow, whilst his collie lies obediently by. A donkey stands with its foal in the shade, waiting to be loaded. The dusty foliage of the trees and the September light indicate the season, and the basket of apples confirms it. [60]
References
The Maas Gallery [Exhibition Catalogue]. London: Maas Gallery, 2010. Catalogue number 51.
Readers should consult the website of The Maas Gallery to obtain information about recent exhibitions and to order their catalogues. [GPL]
---
Last modified 15 June 201