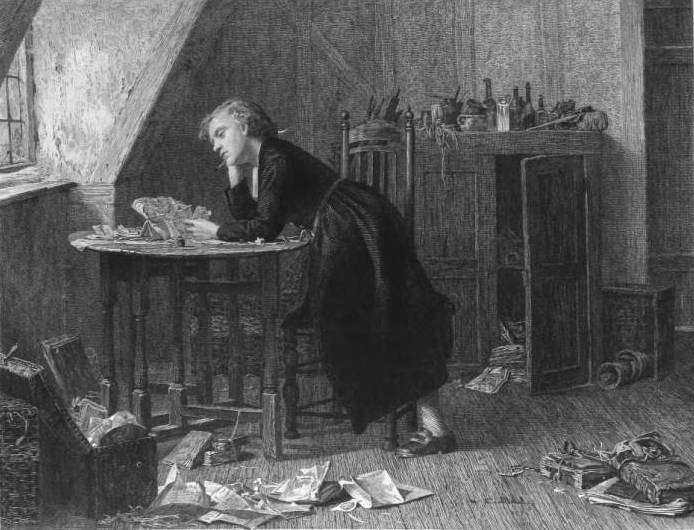 Chatterton's Half-holiday by W.B. Morris. Enraved by W. Ridgeway. Exhibited Royal Academy 1869. Source: The Art-Journal (1875), which strangely to a modern reader makes no mention of Henry Wallis's earlier painting of 1856. Text and formatting by George P. Landow. [You may use this image without prior permission for any scholarly or educational purpose as long as you (1) credit the University of Michigan and the Hathi Trust Digital Library and (2) link your document to this URL in a web document or cite it in a print one.]
Art-Journal

Commentary

A very good example of an artist who has painted and exhibited at the Academy some most pleasing pictures, attractive both in subject and in treatment; this appeared in that gallery in 1869, and was simply called 'Chatterton,' but was explained, to some extent at least, by a quotation from a biographer of Chatterton: — "For nearly seven years he remained an inmate of Colston's school. He was extremely fond of being alone ; and on holiday afternoons it was quite a subject of speculation with his mother what the boy could be doing, sitting alone for hours in a garret full of lumber." That "lumber," however, was wealth, yet fatal wealth, to

"The marvellous boy,
The sleepless soul, that perished in his pride;"

for among those old parchments and manuscripts, the legacy of a venerable relative who had filled the office of parish-clerk at one of the churches in Bristol, young Thomas Chatterton assumed to find the poems and stories he imposed on the world. we call the wealth "fatal;" his use of it led to his untimely end. A few words must suffice to explain his story, which, to a certain extent, is that of the picture also.

He was born at Bristol in 1752, was educated at Colston's Charity-school, and at eleven years' old wrote those well-known and beautiful verses commencing "Almighty framer of the skies." Apprenticed at the age of fourteen to an attorney, he spent his leisure hours in the forgery of ancient manuscripts of various kinds, pretending that he had discovered them. Among the rest, he sent Horace Walpole, then engaged in compiling his "Anecdotes of Painters," a fictitious account of eminent "Carvellers and Peyneters" who were presumed to have at one period flourished in Bristol. His imitations of the antique, executed when he was but fifteen or sixteen years old, exhibit a vigour of thought and a facility of versification, to say nothing of their archaeological character, which puzzled the most learned men of the day, and stamp him, a poet of a very high order. Campbell says:--—"No English poet ever equalled him at the same age." After three years' service in the lawyer's office he came up to London, and found employment in writing for magazines and newspapers; but these resources soon failed him, through the exercise of an overbearing, unconquerable pride, allied with excessive vanity. He indulged in intemperance, and, reduced to the direst distress, and in his pride rejecting some little aid kindly proffered by his benevolent landlady, he poisoned himself with arsenic, August 25, 1770, ere he had reached the age of eighteen. The remains of the unhappy suicide were enclosed in a rough shell, and interred in the burial-ground belonging to the Shoe Lane workhouse. He had, before his death, destroyed all his unfinished papers, the fragments of which were found strewed on the flooring of his wretched lodgings. Mr. Morris's cleverly-painted and expressive picture seems to be only the opening scene of the tragedy of which another garret, equally covered with "lumber," in London, was the last.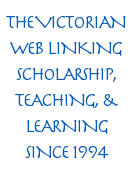 Bibliography
"Chatterton's Half-holiday." Art-Journal. (1875). Hathi Trust Digital Library digitized from a copy in the University of Michigan Library. Web. 2 April 2014.
---
Last modified 2 April 2014