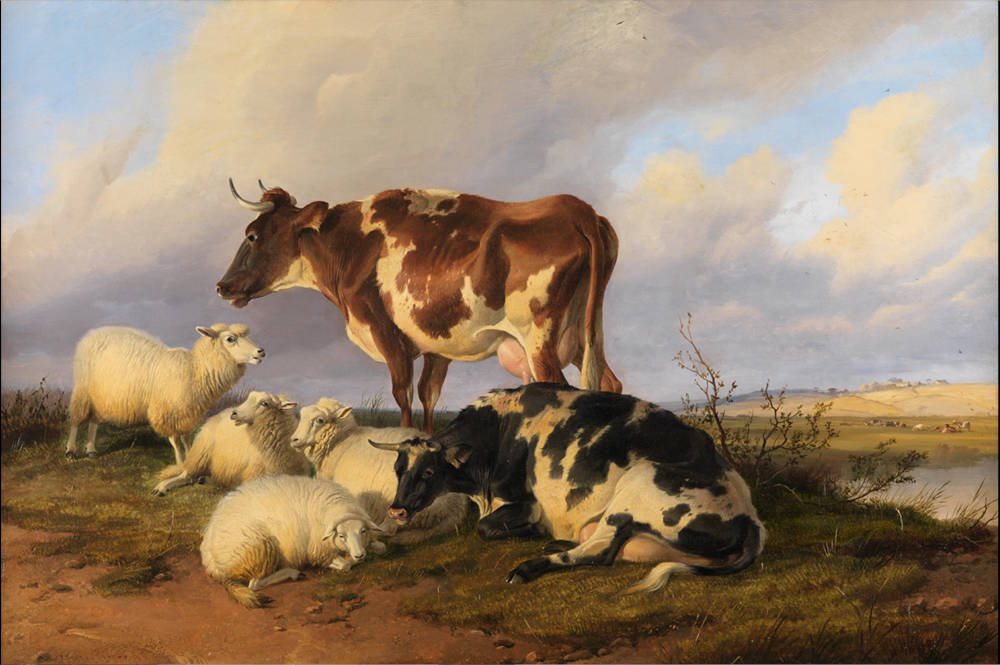 Sheep and Cattle on the Marshes by Thomas Sidney Cooper RA (1803-1902). Oil on canvas, 20 x 30 inches. Signed and dated 1876. Courtesy Maas Gallery London. Click on image to enlarge it.
Maas Gallery Commentary
'Cow' Cooper, as he became known, or 'The Cuyp of Kent' (he lived near Canterbury for most of his long life), trained at the Royal Academy Schools before taking up a position as a teacher in Brussels in 1829. Here, he made friends with the great Belgian animal painter Verboeckhoven, who gave Cooper the 'secret' of the great 17th-century Dutch Master: walnut oil medium, which brightened his colours. Back in Britain and painting livestock, Cooper found a ready market amongst wealthy farmers and landowners, modelling ordered life in the farmyard as a paradigm of a well-governed state. He left horses and dogs to other painters, believing them not picturesque.
Cooper's cows's noses shine wet, their flanks bristle dustily, their udders swell with milk; you can almost hear them mooing with contentment as they chew the cud. His sheep are either sleeping or typically wary, their wool layered in the same way that he paints grass, oily with lanolin, discoloured and crusty with the mud of the pasture. His low viewpoint projects the cow against the sky, giving an heroic stature to the beast - 'Queen of the Meadow', as it were.
The Maas Gallery, 6 Duke Street, St. James, London SW1Y 6BN has most generously given its permission to use in the Victorian Web information, images, and text from its catalogues, and this generosity has led to the creation of many valuable documents on painting and drawing. The copyright on text and images from their catalogues remains, of course, with the Gallery. Readers should consult their website to obtain information about recent exhibitions and to order their catalogues. [GPL]
---
Last modified 22 June 2022