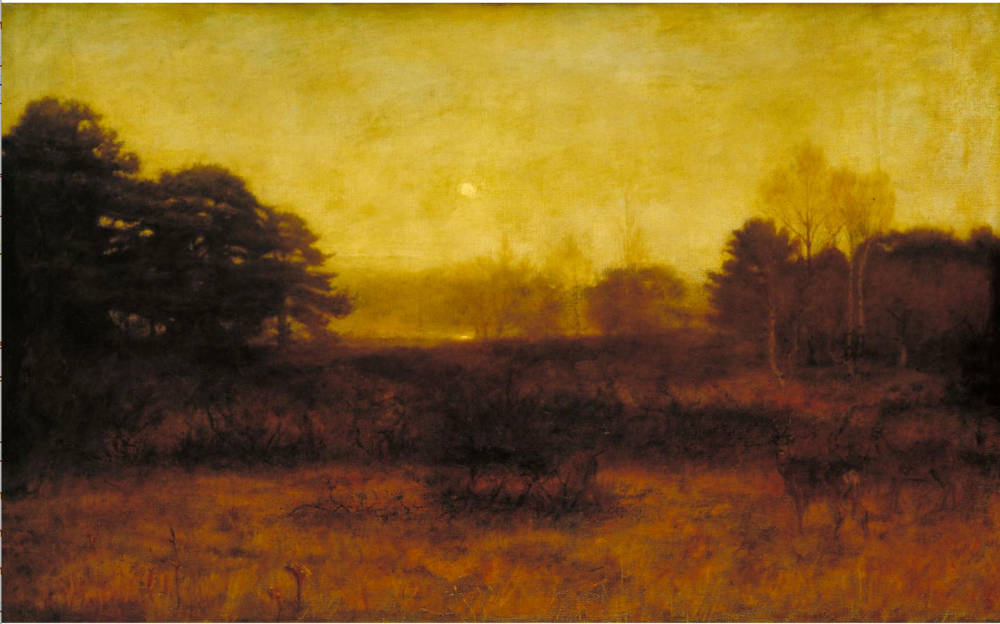 'The Moon is Up, and Yet it is not Night'. 1890. Sir John Everett Millais Bt PRA (1829-96). Oil on canvas. 1041 x 1689 mm. Courtesy of the Tate, N05632. Presented by Mrs H.S. Neilson 1946. Released by the gallery on the Creative Commons CC-BY-NC-ND (3.0 Unported) License. Click on image to enlarge it.
Tate Britain Commentary by Rebecca Virag
his large, oil landscape was one of three that Millais exhibited in 1890, the others being Dew-drenched Furze) and Lingering Autumn (Lady Lever Art Gallery, Port Sunlight) Apart from a few early attempts, Millais's landscapes were all produced late in his career, between 1870 and 1892, and were based upon the local Scottish scenery near his home in Bowerswell, Perthshire and the estate at Murthly that Millais rented from 1881 for the purposes of recreational shooting and fishing. Millais's decision to introduce a stag and a hind (detail) into the landscape, which are just visible in the semi-darkness, lends an evocative sub-text to the painting; the site for the composition was Cairnleith Little Bog on the Murthly estate which was a well-known refuge for hunted deer.
Millais frequently appended titles with a literary source to his landscapes, thereby adding an emotional dimension to the scenes he depicted. The title of this painting is from Canto IV of Byron's Childe Harold's Pilgrimage (1818), in which Byron evokes the cities and landscapes of Italy:
The moon is up, and yet it is not night;
Sunset divides the sky with her; a sea
Of glory streams along the Alpine height
Of blue Friuli's mountains.
The title and its source (which would have been recognised by the Victorian gallery-going public) endow the remote Highland setting with the atmosphere of an exotic and romantic locale.
Millais's landscapes were not universally liked among critics and a public which had grown used to the artist's figurative art and the portraits that dominated his late career. Although it was evident to the Art Journal that "The moon is up, and yet it is not night" displayed 'higher aspirations and more pathos than the master has often of late years exhibited in pure landscape', the critic had reservations. The fault in Millais's landscapes was felt to lie with the artist's Pre-Raphaelite roots which discouraged him from generalising: 'The drawback is still that he reproduces rather than he interprets nature' (Art Journal, 1890, p.218).
Bibliography
Baldry, A.L. . Sir John Everett Millais, His Art and Influence. London, 1899.
Eggeling, W.J. Millais and Dunkeld: The Story of Millais's Landscapes. [Edinburgh ?], 1985.
Millais, J.G. The Life and Letters of Sir John Everett Millais. 2 vols. London: 1899.
---
Last modified 8 July 2018