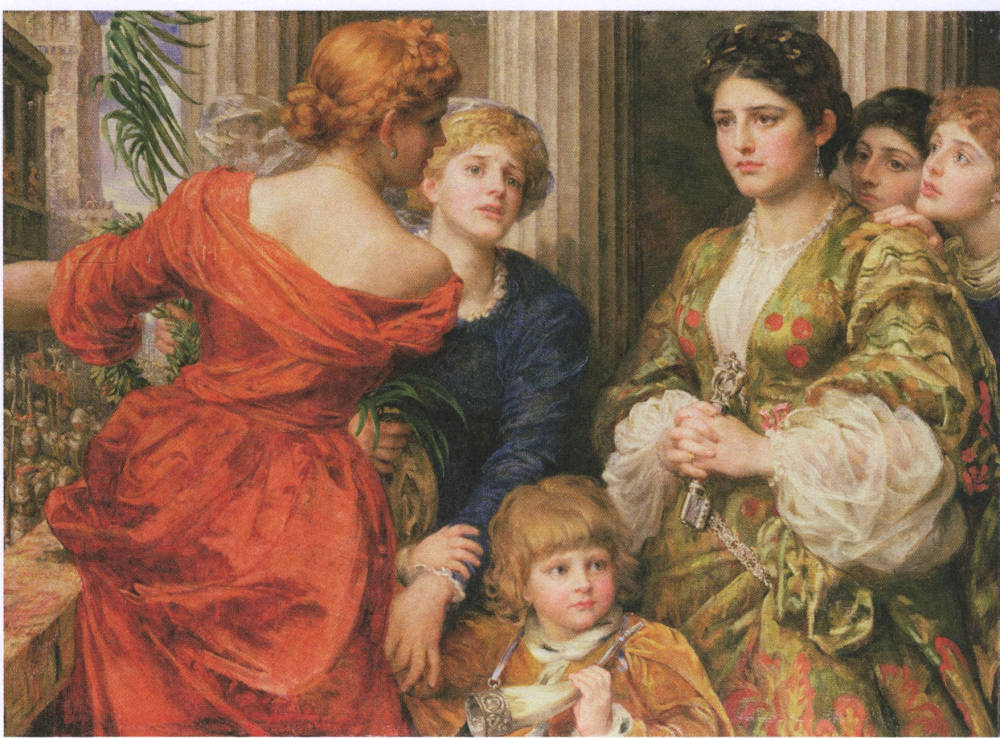 War by Anna Lea Merritt (1844–1930). Oil on canvas. H 101.5 x W 139.5 cm. Courtesy of Bury Art Museum, accession no. 0620:1948 (a gift), via the Art UK website., where it is available for reuse on the Creative Commons Attribution-NonCommercial-NoDerivatives licence (CC BY-NC-ND). [Click on image to enlarge it.]
The composition here is both dramatic and subtle. Merritt first draws our eyes to a gathering of sumptuously-dressed women on a balcony, one of them with a small boy. But this is no festive occasion. The rich colours and textures only serve as a contrast to the expressions of anxiety writ large on the women's faces, as ranks of soldiers pass on the street below. The soldiers themselves are just a blur of helmets and battle-ready spears. But these are the women's menfolk, marching off to battle. The little boy clings to his mother's arm, but also holds a hunting horn, and turns the other way: one day he will want to fight too, to join those men whose lives will be at risk.
The child's mother looks particularly anguished, as she clings with her other hand to the plant trailing down the side of the balcony. Another woman holds a large key which introduces various symbolic possibilities: the women now have responsibility for the home, perhaps; or might it remind us of St Peter's key to the gates of heaven, and the fate that awaits many of those marching below?
But the focus here is not on the men. It is most definitely on the young women they leave behind. Merritt reminds us that they too pay the heavy cost of war. Their lavish costumes and plaited hairstyles seem to belong to a different era from that of the vaguely-glimpsed uniforms (armour and helmets) of the soldiers. Merritt shows, with striking success, that this is a timeless situation. — Jacqueline Banerjee
---
Created 16 April 2022