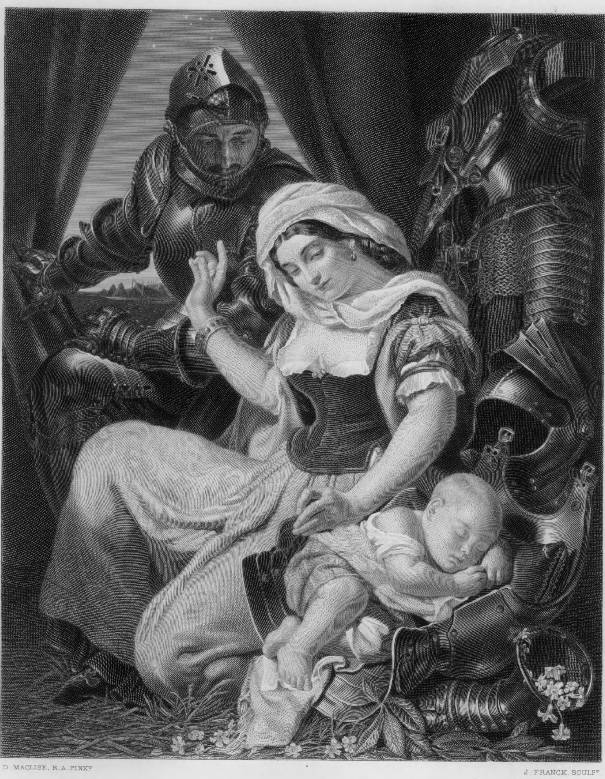 The Warrior's Cradle
Daniel Maclise, 1806-1870, artist
J. Franck, Engraver
1846
Oil in canvas
Source: 1865 Art-Journal
[Click on image to enlarge it.]
Image capture and formatting by George P. Landow
[You may use this image without prior permission for any scholarly or educational purpose as long as you (1) credit the Hathi Trust Digital Library and the University of Michigan and (2) link your document to this URL in a web document or cite the Victorian Web in a print one..
Commentary by the Art-Journal
No artist of our time has proved himself more capable of dealing pictorially with the age of chivalry, both in its poetical and real aspects, than Mr. Maclise. A glance at some of his pictures will show how completely the subject has taken hold of his mind. So far back as 1833, we find him exhibiting 'A Love Adventure of Francis I., with Diana of Poictiers ;' this was followed at intervals by 'The Chivalric Vows of the Ladies and the Peacock,' 'Robin-Hood and Richard Coeur-de-Lion,' 'Merry Christmas in the Baron's Hall,' 'Banquet-scene in Macbeth,' 'The Sleeping Beauty,' 'The Play-scene in Hamlet,' 'The Return of the Knight,' 'Ordeal by Touch ;' 'The Spirit of Ohivalry,' and 'The Spirit of Justice,' both painted for the House of Lords; the 'Marriage of Strongbow and Eva,' with some others: all of these may be identified, in more or less degree, with the age of iron—the age of warlike deeds, of chivalrous enterprise, and of gentle courtesies, amid much that was also half—barbaric, violent, tyrannous, and opposed to liberty of thought and action. If individual character influences the imagination of an artist so that it is seen through his works, and undoubtedly this is often the case, then Mr. Maclise must consider he has fallen upon evil days, living, as he does, among a matter-of-fact generation which has no sympathy with the times that, at least from his art- point of view, are so cherished by him; for what can an "age of industries" have in common with an "age of chivalry?" the two in all their essential qualities are altogether opposed to each other; and the mind, not attuned to a love of Art for its own sake—that is, for the excellence of the painter's work—finds in the foray or tournament of "belted knight," or in his more peaceful passage at arms with the maiden he woos in leafy bower, little but that to which it is indifferent. There is, however, one ground whereon the past and the present may meet in harmony, for domestic affection is limited to no time, or locality, or class; and our forefathers who wore steel armour or leather jerkin, and their wives, and the men who now are clad in broadcloth or fustian, and their Wives, may, in this trait of natural feeling, he placed in the same category. And thus the chivalric scene which Mr. Maclise's mind has conjured up, will find an echo in the hearts of the living.
It is a noble picture; grand in design, and worked out most powerfully. The warrior, armed cap-à-pied, has entered his tent from the field, and seated by his wife, who raises her hand to enjoin silence, watches his infant boy, sleeping soundly in one of his father's breastplates, extemporised as a cradle, and a fitting one, too, for a warrior's child; a sturdy youngster he is, who, if life be spared, will certainly grow up to be a stalwart knight, a worthy scion of that majestic-looking couple, for the lady is a magnificent specimen of her. sex, as her husband is of a soldier. The incident itself is highly poetic, and the accessories of the composition, even to the flowers peeping out of the armlet and strewed upon the ground, aid the sentiment. We feel indebted to the owner of this fine . picture, which has never been exhibited, for his kind permission to engrave it.
Bibliography
"The Ballad Singer." Art Journal (1865): 140. Hathi Trust Digital Library version of a copy in the University of Michigan Library. Web. 21 August 2013.
---

Victorian
Web

Artists

Daniel
Maclise

Paintings

Next
Last modified 9 April 2014