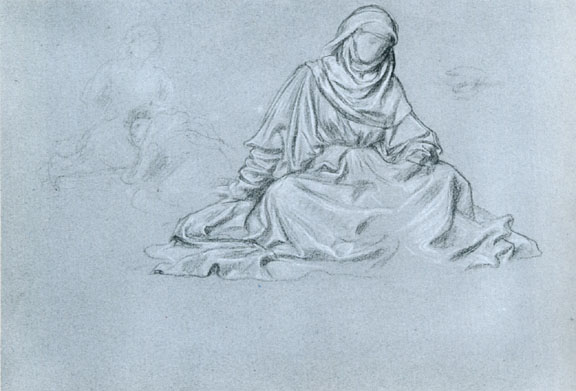 Study of two draped female figures — the central figure of the group seated on the ground and resting on her right arm, the other figure lying on her left side with her head raised; for the painted frieze The Dance by Frederic, Lord Leighton, PRA RWS 1830-1896. Black and white chalks on brown paper. 6 1/2 x 12 1/4 inches, 16.5 x 31.1 cm.
Commentary by Hilary Morgan
The present drawing corresponds to the group of seated girls who appear as spectators in the centre of the left hand half of Leighton's painted frieze, 'The Dance'. For details of the commission see the note to catalogue number 105 [Hilary Morgan's commentary from Burne-Jones, the Pre-Raphaelites, and Their Century]. This drawing shows most clearly the influence exerted on Leighton's classicism by the Parthenon pediment figures from the Elgin marbles. It is revealed in the elaborately folded and wrinkled drapery, and in the reclining pose.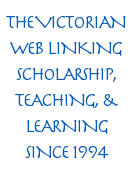 References
Morgan, Hilary, and Peter Nahum. Burne-Jones, the Pre-Raphaelites, and Their Century. London: Peter Nahum, 1989. Catalogue number 107.
Peter Nahum Ltd, London has most generously given its permission to use in the Victorian Web information, images, and text from its catalogues, and this generosity has led to the creation of hundreds of the site's most valuable documents on painting, drawing, and sculpture. The copyright on text and images from their catalogues remains, of course, with Peter Nahum Ltd.
Readers should consult the website of Peter Nahum at the Leicester Galleries to obtain information about recent exhibitions and to order their catalogues. [GPL]
---
Last modified 2001