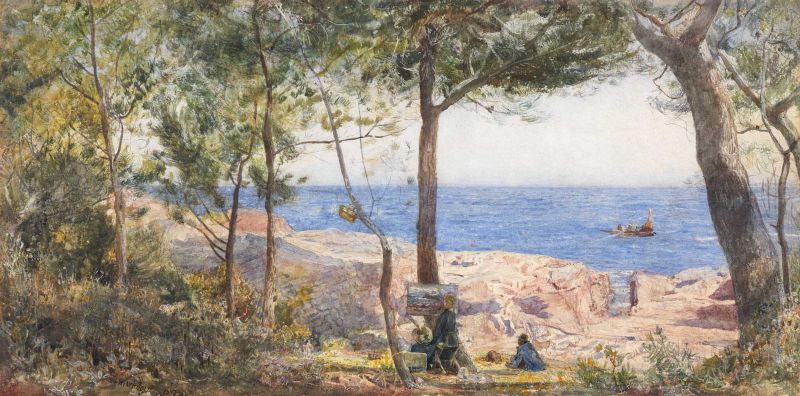 An Artist Painting by the Sea by John William Inchbold. Watercolour and bodycolour; signed and dated 1887, and monogrammed on the paint box in the picture. 6.75 x 13.75 inches. Collection: The Maas Gallery.
Commentary from the Maas Gallery catalogue
Inchbold was one of several young landscape artists to be inspired by the Pre-Raphaelites. The praise and patronage of Ruskin launched him on his career in 1855, but by the late 1850s he had moved away from the tenets of strict observation towards a more personal style and a looser, more experimental technique. Like the painter A.W. Hunt, he was also a poet, and he found it hard to make a living by his watercolours. In 1886–87 he made his last long painting tour, exploring the Mediterranean coast from the south of France to Naples; our painting dates from this trip. A lady paints at an easel, whilst their lunch basket waits for them hung high in the shade from a tree.
The Maas Gallery, London has most generously given its permission to use in the Victorian Web information, images, and text from its catalogues. The copyright on text and images from their catalogues remains, of course, with the Maas Gallery. Readers should consult the gallery website to obtain information about recent exhibitions and to order their catalogues. [GPL]
Bibliography
Pre-Raphaelitism. Exhibition catalogue. London: Maas Gallery, 2013. No. 26.
---
Last modified 5 September 2014