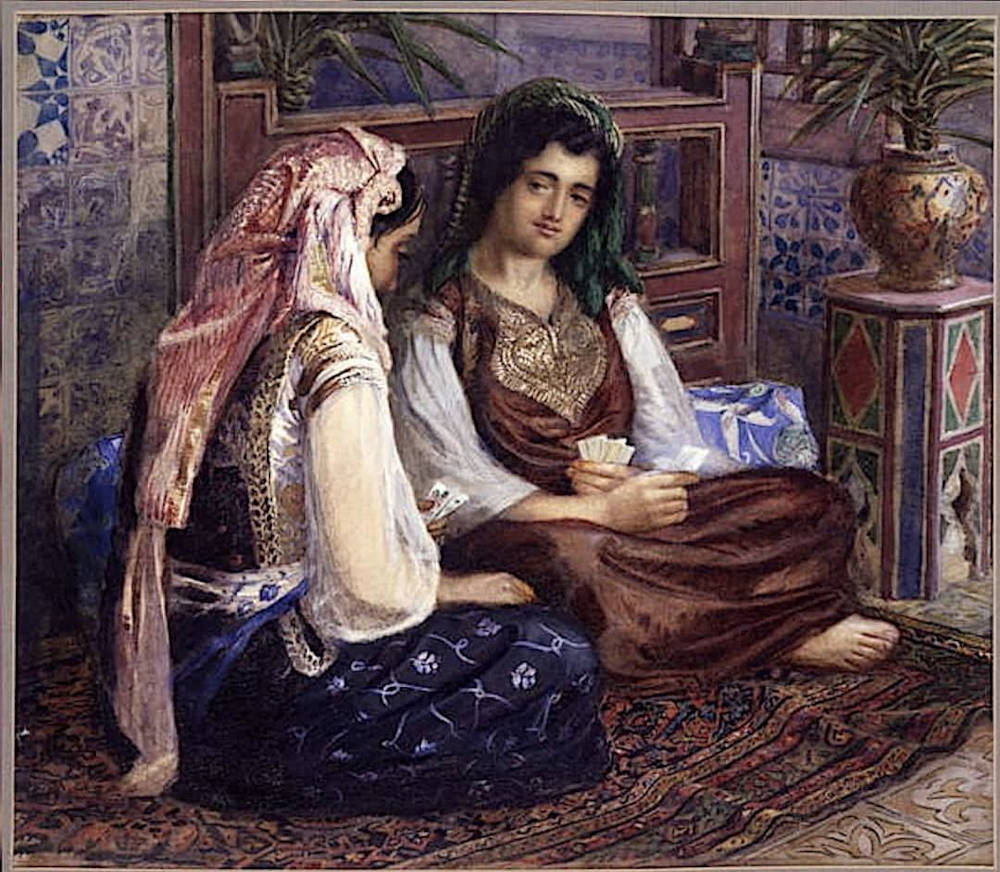 Algerian Women Playing Cards by Michael Frederick Halliday. 1864. Watercolour and gouache on paper, 10 ¾ x 12 inches (27.3 x 30.4 cm). Signed, inscribed, and dated "Nov. 1864," verso. Private collection. Click on image to enlarge it.
Halliday was one of the most successful amateur artists of his day and a close associate of the Pre-Raphaelite Brotherhood. He joined The Folio in 1854, a sketching club primarily consisting of members of the Pre-Raphaelite circle. In 1857 he participated in the first Pre-Raphaelite group exhibition held at No. 4 Russell Place, Fitzroy Square, London. Ford Madox Brown's diary entry of May 21, 1855 mentions Halliday's participation in an earlier meeting to discuss the possibility of holding such an exhibition independent of the Royal Academy: "Halliday a synecurist & gent - swell & hunchback & artist combined, known chiefly as a friend of Millais & Hunt" (138). In 1859 Halliday was elected a member of the Hogarth Club, a club to which many of the most advanced younger artists and architects of the time belonged.
Halliday's trip to Algiers was not his first to a foreign location. In January 1856 Hallliday, journeying from the Crimea, met up at Pera, Constantinople, with Holman Hunt who was returning from the Holy Land. The two traveled back together to Paris and then to London. They later shared houses and studios together. In a letter to William Bell Scott of April 14, 1856, William Michael Rossetti described a visit to the house in Claverton Street, Pimlico, where Hunt, R. B. Martineau and Halliday were then living. Rossetti wrote "Joined with him [Hunt] there are Halliday and Martineau, whom you may have heard of, or possibly seen; the latter an artist, the former something between artist and amateur. Both go in for Praeraphaelitism, and both look up to Hunt with a genuine reverence and affection" (64).
Because Halliday was such a great friend of Hunt's, it is therefore not surprising that he would eventually travel to the Middle East. Unlike Thomas Seddon and Holman Hunt, who were originally chiefly interested in accurate topographical settings for religious subjects, his two works known to survive from his trip in 1864 show that Halliday sought standard orientalist subjects. Both works show local inhabitants in exotic costumes with interesting accessories. The striking desert landscape in The Pomegranate Sellers allowed Halliday an opportunity to explore effects of perspective and to experiment with colour contrasts. His other watercolour shows two Algerian women in traditional dress playing a card game in an exotic interior. It is possible that Halliday's journey was largely undertaken for medical reasons because English artists frequently travelled to Algiers because of its warmer climate in order to escape the harsh English winters thought to be detrimental to health.
The Pomegranate Sellers and Algerian Women Playing Cards are classic examples of nineteenth-century British Orientalist Painting, which can be defined as the depiction by British artists of people and places in the Middle East including North Africa. Orientalist painting was a European phenomenon, however, and not just confined to Britain. Many artists in the Pre-Raphaelite circle made trips to the Middle East realizing its artistic potential in terms of subjects. Not everyone was enthusiastic about the results from such trips, however. G. P. Boyce records in his diary for April 14, 1862 a conversation with D. G. Rossetti where Rossetti told him: "Did not like what I had done in the East. Said that all the things that artists brought from the East were always all alike and equally uninteresting" (34).
Bibliography
Boyce, George Price. The Diaries of George Price Boyce. Ed. Virginia Surtees. Norwich: Real World, 1980.
Brown, Ford Madox. The Diary of Ford Madox Brown.Ed. Virginia Surtees. New Haven and London: Yale University Press, 1981.
Rossetti, William Michael. Selected Letters of William Michael Rossetti. Ed. Roger M. Peattie. University Park and London: The Pennsylvania State University Press, 1990.
---
Last modified 17 October 2021