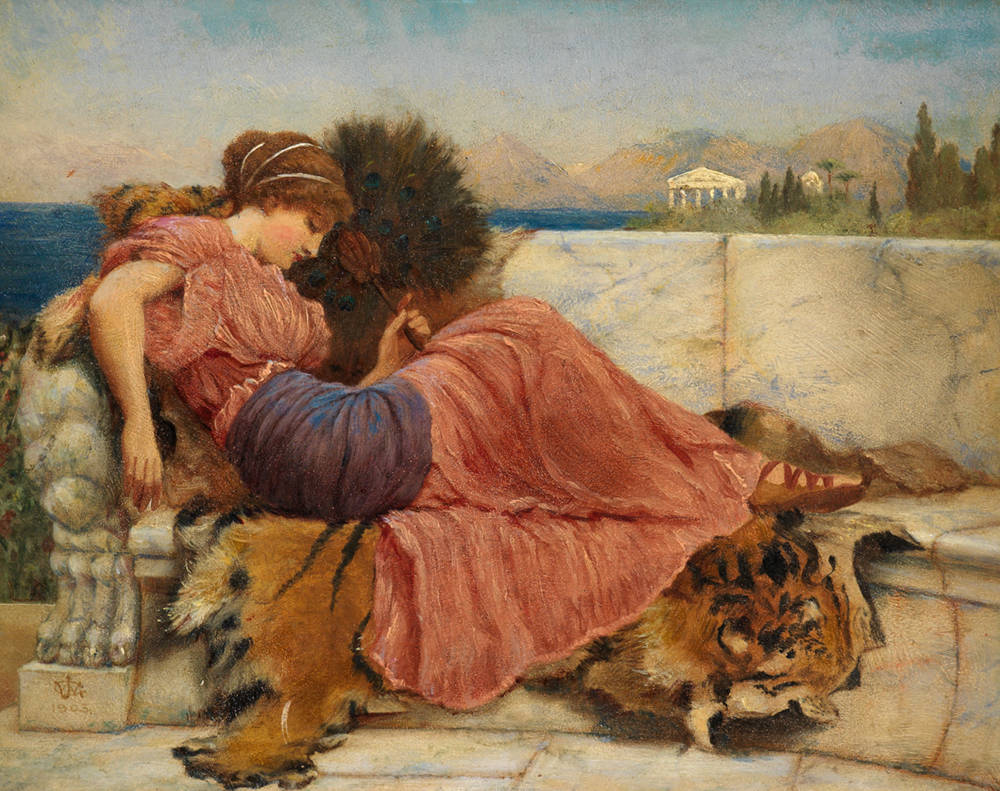 Sketch for Amaryllis. John William Godward (1861-1922). 1903. Oil on board, 7 x 9 inches; monogrammed and dated 1903. Courtesy of the Maas Gallery, London. Click on image to enlarge it.
Maas Gallery Commentary
When the finished painting was published as a chromolithographic print by Pears Annual in 1906, the magazine described it as a 'Greek classical subject. A fair-haired maiden, daintily robed in diaphanous warm- hued draperies, and holding in her left hand a capacious fan of peacocks' feathers, reclines on a deep marble seat, over which tiger skin has been carelessly thrown. The face is full of radiance, the expression being one of sweet content and happy thoughts. A cluster of waving poppies nestles close to the seat, and in the middle distance beyond. Beauty, grace, and splendour, nature, and art, mingle in an atmosphere of poetry, the whole constituting an exquisite example of classical treatment.'
Several drawings for this oil are in the collection of the Milo-Turner family, the artist's descendants. The name Amaryllis was that of a shepherdess, a pretty girl unburdened by education, in the pastorals of Theocritus and Virgil.
The Maas Gallery, 15a Clifford Street, London W1S 4JZ has most generously given its permission to use in the Victorian Web information, images, and text from its catalogues, and this generosity has led to the creation of many valuable documents on painting and drawing. The copyright on text and images from their catalogues remains, of course, with the Gallery. Readers should consult their website to obtain information about recent exhibitions and to order their catalogues.— George P. Landow
Bibliography
Swanson, Vern. J. W. Godward: The Eclipse of Classicism. 2018.
---
Created 8 February 2015