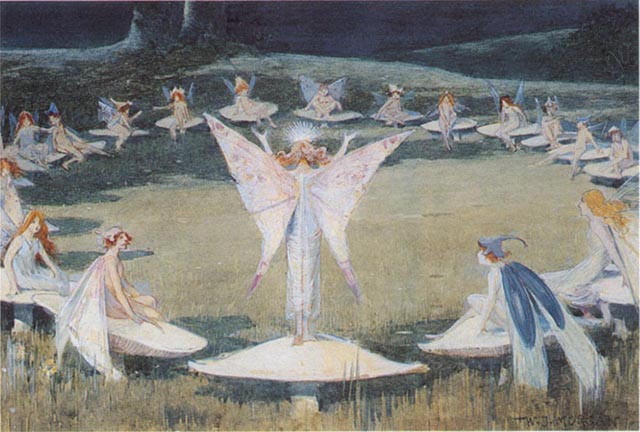 A Fairy Ring by Walter Jenks Morgan, RBA, RBSA, 1847-1924. Watercolor with white heightening on paper. 6 1/8 x 9 inches, 15.5 x 23 centimetres
Walter Morgan was born at Bilston and educated at Sir Robert Peel's school, Tamworth. He moved to Birmingham, and there became apprenticed to a lithographer and studied at the Birmingham School of Art and the Birmingham Society of Artists. He was a painter and an illustrator and he produced numerous drawings for more and magazine illustration including The Graphic, Illustrated London News, and Cassell & Co. He exibited his paintings ar the Royal Academy, at Suffolk Street, and the New Watercolor Society. He was president of the both the Birmingham Art Circle and the Midlands Art Club.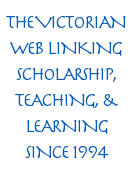 Peter Nahum Ltd, London has most generously given its permission to use in the Victorian Web information, images, and text from its catalogues, and this generosity has led to the creation of hundreds of the site's most valuable documents on painting, drawing, and sculpture. The copyright on text and images from their catalogues remains, of course, with Peter Nahum Ltd. Readers should consult the website of Peter Nahum at the Leicester Galleries to obtain information about recent exhibitions and to order their catalogues. [GPL]
Bibliography
Nahum, Peter. Fairy Folk in Fairy Land. London: Peter Naham at Leicester Galleries, 1997. Catalogue number 28.
---
Last modified 6 August 2001