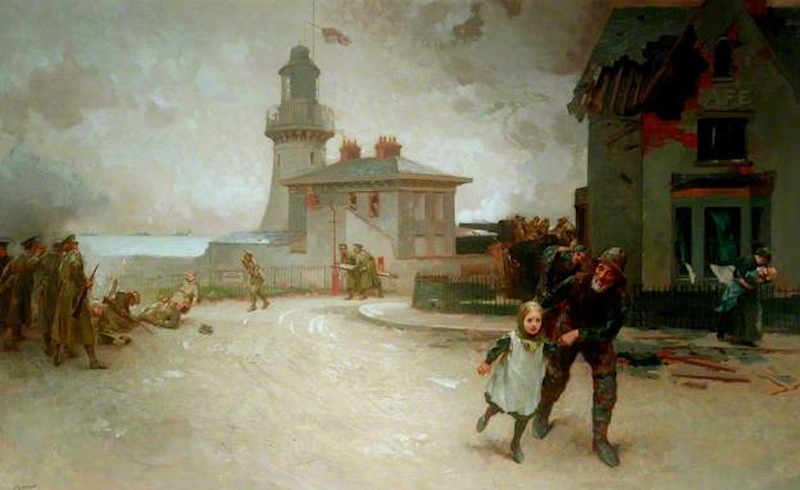 The Bombardment of the Hartlepools (16 December 1914), by James Clark (1858-1943), was painted in 1915. This is an oil painting on canvas, measuring 85 x 136 cm, and is a copy of the larger canvas that Clark painted in order to commemorate the unprecedented Bombardment of his original hometown by three warships of the German Navy, when nearly 130 people were killed and hundreds more injured. It is reproduced here by courtesy of Hartlepool Museums and Heritage Service. Commentary by Jacqueline Banerjee. [Click on the image to enlarge it.]
Clark had come to visit the scene of this attack just days after the event, says Charlotte Taylor. Here, it is still in progress. Against the seawall, some of the territorials lie fallen while others, in their khaki greatcoats, are urgently struggling to put up a defence, which was hampered by the position of the lighthouse. People are fleeing. A woman carrying an infant rushes away on the far right, in the shadow of a wrecked seafront building, with the word most of the word "Cafe" visible on the frontage. Some timber lies in the road. But the main focus, apart from the central lighthouse bravely flying its flag, is a fisherman hurrying a little girl from the frightening scene, and, he hopes, from danger. Another person can be seen running behind him on the right.
The painting becomes the more poignant, especially with reference to the little girl, when accompanied by the following account:
a number of the characters are identifiable. Sarah Ann Stringer is the lady in the background carrying her son Jonathon in a bid for safety; unfortunately, she was hit in the back by a piece of shrapnel, which exited through her stomach and then took off Jonathon's foot. The boy survived but Sarah died thirteen years later from, it seems, septicaemia caused by her injury. Ethel Stringer is the little girl in the foreground being ushered away by the fisherman; sadly, she too was hit, losing both her legs and dying eleven days later. [Chrystal and Crossley]
Clark would have known some of this, but, as with The Great Sacrifice, he does not attempt to show the full ugliness of war. Instead, by focusing on the fisherman's attention to his charge, and the mother's to her infant, he dwells on how the human spirit, at its best, can rise above the immediate predicament in its concern for others. As he had hoped, the painting came to sum up the horrors of the Bombardment and record it for future generations.
Sources
Chrystal, Paul, and Simon Crossley. Hartlepool through Time Stroud, Gloucestershire: Amberley, 2013 (ebook).
Taylor, Charlotte. "James Clark, 1858-1943." Information provided at the exhibition of Clark's work at the Hartlepool Art Gallery on the 150th Anniversary of his birth, in 2008.
---
Created 16 July 2015