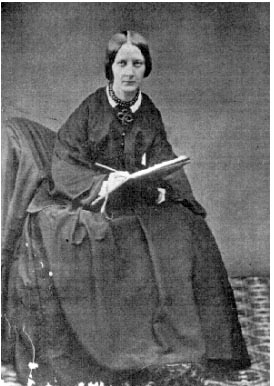 Jemima Blackburn née Wedderburn (1823-1909) was born in Edinburgh into privilege, which facilitated her success as an artist at a time when men dominated the field. Her father was Solicitor General for Scotland, and her uncle (on her mother's side) was the Rt. Hon Sir George Clerk, who held several ministerial offices. Both parents were close friends of leading historical novelist Sir Walter Scott whose Waverley novels Blackburn not only enjoyed but also illustrated. At age 19, she was presented to the Queen during Victoria's tour of Scotland, and she knew personally the Duke of Wellington and the Prince of Wales. She was intimately connected with elite artists and intellects of the Victorian age. She corresponded with German artist Joseph Wolf, who specialized in illustrations of natural history, and Francis Galton, a Victorian era polymath who was cousin to Charles Darwin. She had lifelong friendships with Edwin Landseer, who gave her sketches of his own celebrated animal paintings to copy; leading Victorian art and social critic John Ruskin, who discussed painting and mixing colors with her; and Pre-Raphaelite co-founder Sir John Everett Millais, to whom Ruskin introduced her. Her friends among the literati include Anthony Trollope and William Makepeace Thackeray, who hugely admired her birds.
In an age when women who pursued art had few opportunities to exhibit their work, Blackburn showed her paintings at the Royal Academy (1848-63), the Royal Scottish Academy (1856-61), the Society of Women Artists (1857-58), and a Pre-Raphaelite exhibition that toured America in 1856. Given her acclaim and connections in her time, why is Blackburn overlooked in our time? In his lengthy biographical introduction to Jemima: The Paintings and Memoirs of a Victorian Lady (1988), Robert Fairley offers one explanation—illustrations for her premier ornithological work, Birds Drawn from Nature, were reproduced in black and white. It was an economical choice on Blackburn's part. Books were expensive in the Victorian age, which led popular authors like Charles Dickens to publish their works serially. Before the invention of color printing, the process of hand-coloring flourished in the eighteenth through the mid-nineteenth centuries, but the application of color with delicate watercolor brushes tripled or quadrupled the price of a work. Perturbed that Audubon's and Gould's large hand-colored folio albums were luxury items, Blackburn wanted Birds Drawn from Nature to be more affordable to a middle-class audience. Even when she revised the book, adding 22 plates, she retained the black-and-white format. Only seven copies of the 1868 edition were hand colored, six for sale to the general public and a seventh given as a birthday present to a friend. "It is unfortunate," notes Fairley, "that further coloured copies were not produced, as one cannot but feel that the decline in her reputation since her death is at least partially due to this" (58). For the scientific accuracy and beauty of her birds and animals painted from life, Jemima Blackburn deserves critical reappraisal and an entry in The Victorian Web's list of British illustrators.
Birth and Early Life
Jemima was the youngest of seven children and a posthumous child—her father died six months before she was born. "My birth was in sorrow," notes Blackburn in the opening line of her Memoirs; "If I had had a choice in the matter I would fain have delayed his death till I could have known him" (97). Young Jemima had a frail constitution as a child and was often sick in bed. John Abercrombie, the family doctor who was also the first consulting physician of Scotland, advised drawing as a "good amusement" (Memoirs 100). Four-year-old Jemima exhibited talent for drawing animals and birds at a young age. Reflecting on her childhood, Blackburn observes: "that was the beginning of my drawing, and I have gone on with it" (Memoirs 100). Jemima's mother supplied her with ample sketch books. In 1827, she received a copy of Bewick's Land Birds, the first of two volumes in The History of British Birds (1797, 1804) that also inspired poetry and painting by the Brontë sisters and found its way into the opening scene of Charlotte Brontë's Jane Eyre (1847). Of her childhood, Blackburn records in her Memoirs: "I wrote stories with illustrations or rather illustrations with stories" (101). The word choice here is telling. Drawing was always Blackburn's primary focus.
Blackburn kept pets from childhood and was keenly interested in animal and human anatomy and nature, which she studied and sketched; in these respects, she anticipates Beatrix Potter, who greatly admired the artistry of the elder Blackburn. Jemima was self-educated as an artist, but trips to London afforded her an opportunity to draw a variety of bird and animal life at the Zoological Gardens. Her elder brother James, studying to be a surgeon, encouraged Jemima to dissect mice to understand anatomical structure. "I was always fond of anatomy and used to get dead mice to skin and find out how their muscles acted" (102), Blackburn notes in her Memoirs. Blackburn learned much from dissection, but nature was always her prime teacher, guiding her book illustrations, nature studies, and paintings.
Marriage and Development as an Artist
In 1849, Jemima married her childhood friend Hugh Blackburn, a mathematician who became a professor at the University of Glasgow. During her happy married life, Jemima, Hugh, and their children spent the academic term in rooms at Glasgow College, where Hugh held a university appointment, and summers in Roshven, an estate in the northern Highlands of Scotland that the Blackburns purchased in 1854. Roshven afforded Blackburn opportunities to paint and sketch many aspects of rural life—laborers building a haystack, harvesting a field, or carting peat; and guests at Roshven enjoying a country dance—as well as birds and animals native to the region. These works form an important part of Blackburn's legacy; in them she captured everyday people and pursuits from the rural nineteenth century that complement her studies of the bird, animal, and plant life that the Scottish Highlands sustained.
As a married woman, Jemima continued to lead a life of privilege and to move among the elite in politics, literature, and the arts. At Roshven, the Blackburns entertained important personages including Benjamin Disraeli, Lord Kelvin, the Duke of Argyll, and Lord Lister. The Blackburns traveled extensively, visiting Italy, Sicily, Corfu, Spain, Greece, France, Germany, Switzerland, Algeria, and Iceland. On a trip to Egypt with her son William, she encountered the Prince of Wales and toured the Karnak temples as part of the royal party. Another memorable trip was a cruise the Blackburns took to Iceland and the Arctic on board a ship called the Mastiff; the party included Anthony Trollope with whom Jemima collaborated on a privately printed publication entitled How the Mastiffs Went to Iceland (1878).
Her oeuvre is wide ranging: alongside intimate home scenes of family members and pets in Glasgow and Roshven are watercolors created during her visits to the Nile, Iceland, Spain, and Constantinople, many reproduced in Fairley's Jemima: The Paintings and Memoirs of a Victorian Lady. She was a prolific artist, completing, for example, 56 paintings and drawings on her trip to Iceland in a mere 15 days. Blackburn also painted in oils, which distinguishes her from many Victorian women artists who did not like the smell and dirt involved. She and her husband were also early experimenters in the emerging art of photography, and she created several stained glass windows—one is in the Glasgow Cathedral (Fairley 48).
---
Last modified 10 January 2021