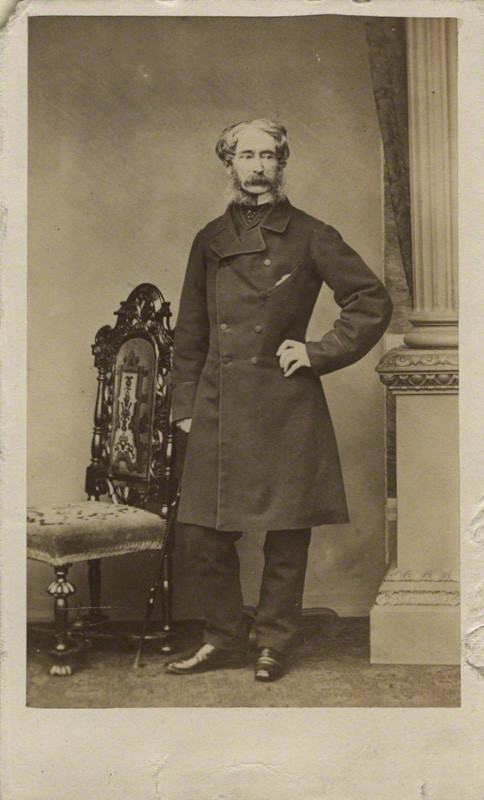 Albumen carte-de-visite by James Good Tunny, from the 1860s. © National Portrait Gallery, London (NPG Ax14908), reproduced here by kind permission.
John Ballantyne was a Scotsman, born in the market town of Kelso on the Scottish Borders. He studied painting at the Trustees' Drawing Academy in Edinburgh (later part of the Edinburgh College of Art), continuing his studies in London, Paris and Rome. He then returned to Scotland, setting up as a portrait and historical genre painter in Edinburgh at the end of the 1830s, also painting still lifes, and exhibiting regularly both at the Royal Scottish Academy and the Royal Academy (see Lamb). He became a full member of the former in 1860. Although he had also been teaching at the Trustees' Academy, where he had considerable success and exerted a great deal of influence on the coming generation of artists, he was unable to make a good enough living for his family's needs, and moved to London in 1863, where he "specialized in depicting successful Royal Academicians happily working in their vast studios, painting no fewer than 15 works of this type" (Lambourne 33; Lamb puts the number at seventeen). Commenting on the four such paintings that he showed at the Royal Scottish Academy Exhibition of 1867, the Art-Journal was quite dismissive: "it is very doubtful if much is gained by the choice of such subjects" — though the reviewer praised another painting of his (122). His portraits of famous artists at their easels (or, in the case of Edwin Landseer, working on one of the Trafalgar Square lions) have much historical interest now. Joseph Lamb describes them as "his most important and most frequently exhibited works today. Highly significant as the first visual records of Victorian artists portrayed at work in their studios, they provide the only or finest records of what these large and often impressive rooms actually looked like, and they eloquently capture a sense of how each artist worked. While his other rather mediocre works are virtually unknown today, the artist series is very widely reproduced and admired." Of the whole series, the Landseer one is probably the best known.— Jacqueline Banerjee
Sources
Lamb, Joseph F. "Ballantyne, John (1815–1897), portrait painter." Oxford Dictionary of National Biography. Online ed. Web. 4 December 2015.
Lambourne, Lionel. Victorian Painting. London and New York: Phaidon, 1999.
"Royal Scottish Academy Exhibition." The Art-Journal: Illustrated Catalogue of the Industry of All Nations. New series, Vol. 14 (1867). London: Virtue & Co. Google Books (free ebook). Web. 4 December 2015.
---
Created 4 December 2015