Excerpted, with permission, from the Salopian Recorder: The Newsletter of the Friends of Shropshire Archives, gateway to the history of Shropshire and Telford. No. 85, Spring/Summer 2016: 2-3. Formatted and illustrated by Jacqueline Banerjee; click on the images to enlarge them.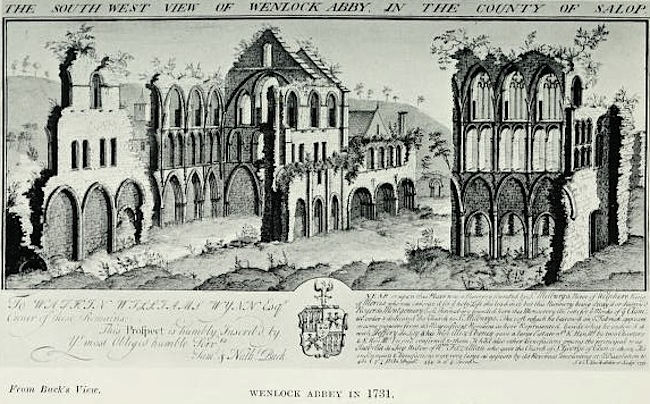 Wenlock Abbey in 1781, before the Milnes Gaskells brought the medieval monastery to life again. Source: Gaskell, facing p. 94.
The discovery of an unpublished cache of documents rescued from Wenlock Abbey marked the starting point for what became my book Wenlock Abbey 1857-1919: A Shropshire Country House and the Milnes Gaskell Family (2015). The immediate task was to make an inventory of the materials under general headings such as letters, photographs, sketches, notebooks and other documents. The letters required most attention. First of all, deciphering the handwriting was far from easy. A system was devised with codes, based on the names of sender and addressee and dates, so that each letter could be identified and then entered into a computer. Another major task was transcribing the entire contents of the Visitors' Book — names of guests who were invited to Wenlock Abbey — that commenced on 10 November 1863 with the signature of Maria Marchioness of Ailesbury. Important historical notebooks were also transcribed.
Shropshire Archives care for many private archives, sometimes deposited with accompanying, restrictive conditions. I had the privilege of being permitted access to one of these for the preparation of my book. I had first to obtain special written authorisation from the donor, the Trustees of the Willey Estates, and then had to make a payment and submit the text of my book for approval. I am also grateful to Shropshire Archives for permitting me to consult and use Eddowes Shrewsbury Journal and Salopian Journal of 1874 and 1877, and some of the Much Wenlock Primary School Log Books and Registers.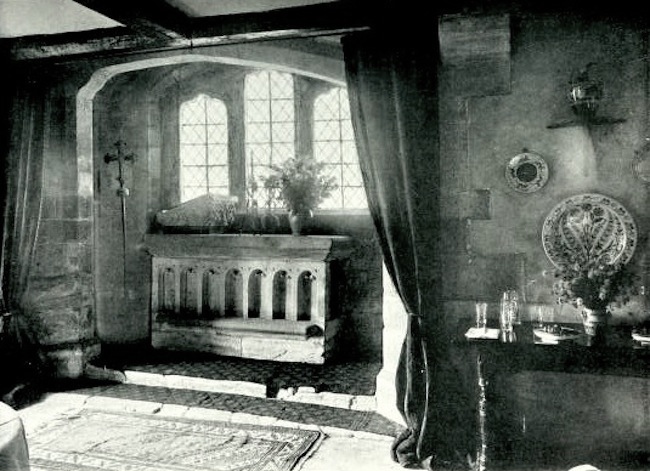 Chapel Hall later on. Source: Gaskell, facing p. 132.
These archives, private and public, provided the solid, indispensable basis from which I constructed the narrative of Wenlock Abbey 1857-1919: A Shropshire Country House and the Milnes Gaskell Family, and brought to life the stones of the medieval monastery in the Victorian and Edwardian periods in the time frame of 1857 to 1919.
Related Material
Reference
Gamble, Cynthia. Wenlock Abbey, 1857-1919: A Shropshire Country House and the Milnes Gaskell Family. Much Wenlock, Shropshire: Ellingham Press, 2015.
[Illustration source] Gaskell, Catherine Henrietta Milnes, Lady. Spring in a Shropshire Abbey. London: Smith, Elder & Co., 1905. Internet Archive. Contributed by University of California Libraries. Web. 3 June 2016.
---
Created 3 June 2016