This biography is an edited selection from a full-length manuscript by Caldwell and Elspeth Bradley, which weaves together the adventures of two woman explorers who both traversed the Indus Valley between Tibet and Kashmir. One of these women is Bradley herself, who travelled to Leh in the Ladakh region during the floods of 2010. The other, about 170 years previously, was Caldwell's adventurous great-great-aunt, Juliana Hervey, whose Adventures of a Lady in Tartary made a considerable impact at the time of publication (1853). "Mrs Hervey," as she is called on the title page of her travelogue, is little remembered now, but we are very grateful to have her brought to our attention. Her extraordinary journey certainly entitles her to a place alongside other women explorers and travellers of the Victorian period. — Jacqueline Banerjee

Publisher's advertisement in the The Literary Gazette of 9 July 1852 (p.680).
uliana Morton was born in India in 1825. She was the third daughter of Colonel William Heppell Morton of the Royal Bengal Engineers, and his wife Juliana (née Gowan) — after whom she was named. In his affiliation with the army in India, Colonel Morton was following family tradition. But, according to family history sources, he left the army while still a young man, and entered a business partnership with his brother and a few others. The partnership operated in Calcutta (present day Kolkata), and appears as McClintock, Morton & Co. in the list of "British Agency Houses in India and of London East India Houses in 1830" (Le Pichon 7). It did well at first. However, it acquired large areas of land, on bad advice and without securing the relevant title deeds. While one of the other partners appears to have turned this situation to his advantage, Morton was ruined. He died bankrupt in Futeghur (probably Fatehgarh in Uttar Pradesh). This left his wife, who by then had seven children, and was expecting another, completely penniless.
One of the couple's sons, Alexander Ross Morton, was old enough by then to take charge of the rest of her family. He took them home to Edinburgh where the younger children received their education. There, whether she was privately tutored or sent to school, Juliana was exceptionally well taught: in her journals she quotes Herodotus and is fascinated by alleged ruins relating to Alexander the Great's journeys through the mountainous regions of Northern India – sometimes challenging the views of experts on their location. She spoke at least a smattering of several languages, German, French, Latin, and during her travels was later able to acquire a good working knowledge of Hindi and some Tibetan.
Family history sources are short on detail, but as a young woman Juliana returned to India where she married Captain Edward Hervey of the 10th Light Cavalry in Cawnpore (how Kanpur) on 10 September 1845. She is sometimes referred to as "Mrs Ed. Harvey" in the reviews of her book — important to note, in view of the fact that she has sometimes been confused and conflated with other women who had the same surname. Edward and Juliana had one child, a daughter whose death at the age of four is mentioned in Juliana's journal. But the marriage was unhappy and the couple parted ways. Julianna fell into depression. During this difficult period, she was involved in scandal in her cantonment: she is recorded as having accepted an offer of marriage simply for a bet, and then as having abandoned the would-be husband at the church door.
Juliana then left for two years' exploration of Himalayas, Kashmir and Ladakh, reaching as far as China, keeping the journal of her travels which was published to considerable acclaim. She explains her motives at the end of her introduction:
Under the pressure of severe domestic affliction, which was paralysing every energy of mind and body, I formed the project of visiting these almost unknown countries. I found no means so efficacious in enabling me to escape from "the demon thought," as the constant change of scene in travelling, and the fascinating excitement inseparable from wanderings in wild and unexplored regions — lands where
— things that own not man's dominion dwell And mortal foot hath ne'er or rarely been.
I had solitude without its weariness, and in the wilds of the snowy Himalayas I almost forgot the world I had left, and the memory of many bitter sorrows and trials was softened if not banished. [I: 8]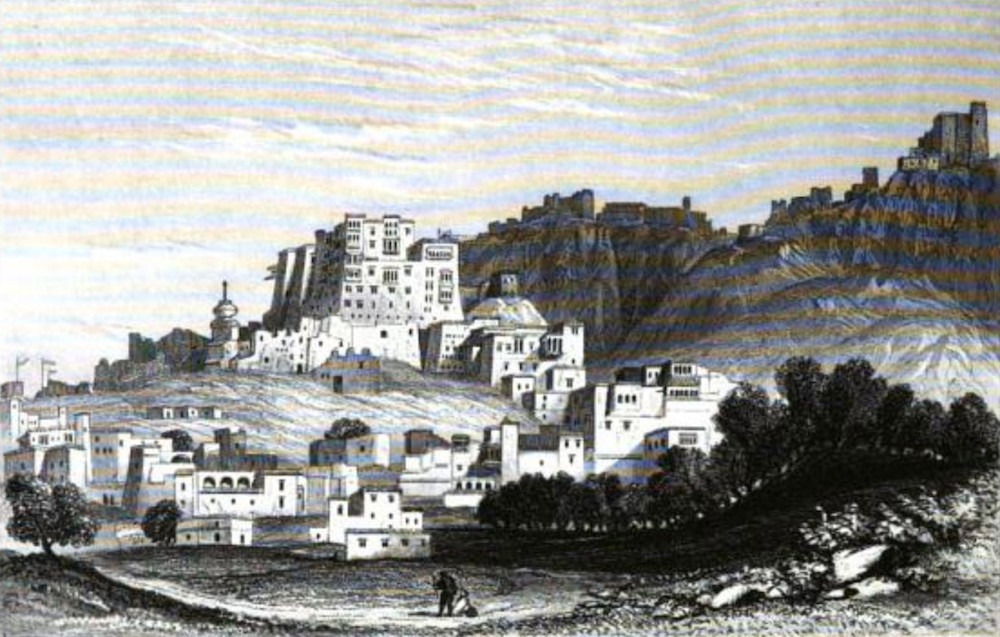 Palace and City of Leh. Hervey I: facing p. 178.
Her facility with language came in useful here: for example, she writes later, "I have picked up enough of the Thibetan tongue to ask for the ordinary things I require ... I shall follow the the dialect used Ladakh and Roopshoo. That of Bultistan or Little Thibet is in many words different.... I have spelt the words as my ear picked up the pronunciation" (III: 21). She must have learned quickly, because, based further south, she could hardly have known more than a few words of Tibetan, let alone its dialects, before embarking on her journey. That last comment is worth noting too: since her spelling is phonetic, it is often difficult to unravel her itinerary, and especially to match her versions of village names to those on the route she must have been taking.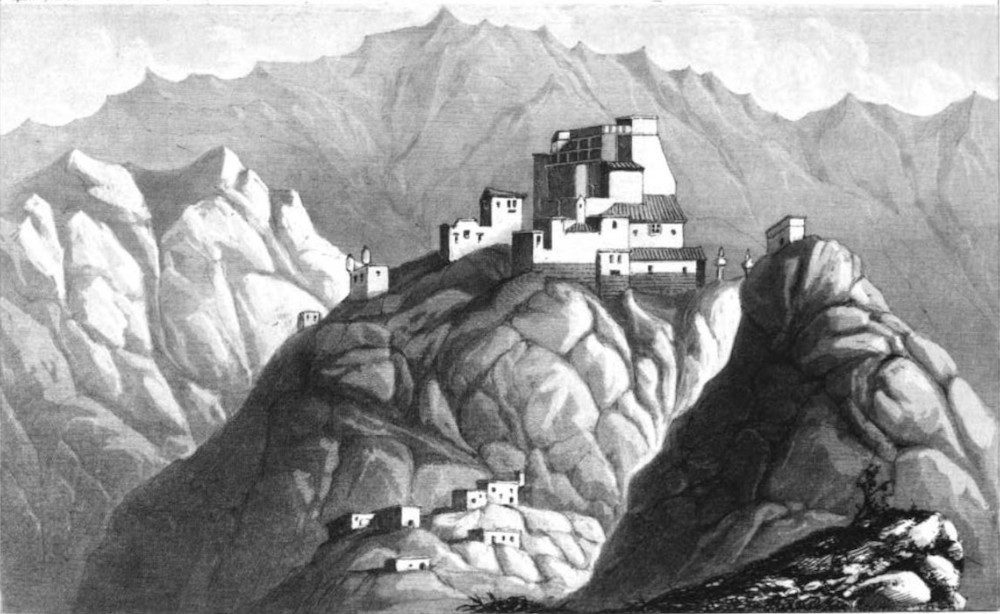 "Goompah" or Buddhist Temple of Dunkir in Ladak, Tibet. Hervey III: facing p. 43.
On her return to England, Juliana lived first with cousins in Shrewsbury, then retired to 18 Manchester Square, an elegant four-storey Georgian terrace house in the heart of the west end. She died in April 1905, and is buried with other members of the Morton family in St Mary's Church, Cheltenham.
Links to related material
Bibliography
Caldwell, Phoebe, with Elspeth Bradley. Not for Wimps. Unpublished manuscript.
Hervey, Mrs. The Adventures of a Lady in Tartary, Thibet, China, & Kashmir, Vol. I. London: Hope & Co., 1853. Internet Archive. Copied from PAHAR: Mountains of Central Asia Digital Dataset. Web. 7 August 2022.
_____. The Adventures of a Lady in Tartary, Thibet, China, & Kashmir, Vol. II. London: Hope & Co., 1853. Internet Archive. Copied from PAHAR: Mountains of Central Asia Digital Dataset. Web. 7 August 2022.
_____. The Adventures of a Lady in Tartary, Thibet, China, & Kashmir, Vol. III. 2nd ed. London: Hope & Co., 1854. Internet Archive. Copied from PAHAR: Mountains of Central Asia Digital Dataset. Web. 7 August 2022.
Le Pichon, Alain, ed. China Trade and Empire: Jardine, Matheson & Co. and the Origins of British Rule in Hong Kong, 1827-1843. Oxford: Oxford University Press (for the British Academy), 2006.
Literary Gazette: The Literary Gazette: A Weekly Journal of Literature, Science and Fines Arts. 1853. Google Books. Free to read.
---
Created 7 August 2022