[These two tables listing killings and other damage committed first by the insurrectionists and then by Governor Eyre's forces immediately precede the following passage, which closes Westminster Review article, which examines five publications listed in the bibliography below. — George P. Landow]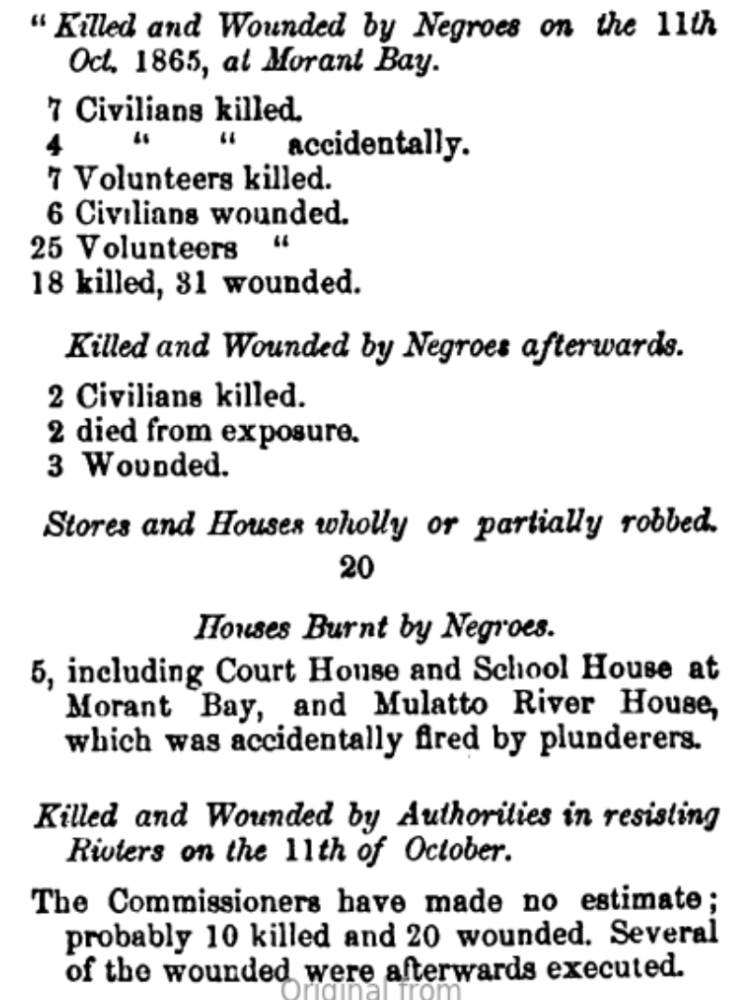 A defence of the authorities responsible for the acts of vengeance aud retaliation above depicted has been made in a very inaccurate and silly book, in which it is stated that the Jamaica negroes within one hundred years had risen in rebellion no less than ten times. There is no mention made by the writer of this book that the rebellions and insurrections he alluded to were those of slaves rising against the oppression of their masters in attempts to recover their lost liberty. Judicial decisions have established that slaves are entitled to achieve their liberty by violence if necessary. If the inference intended by this writer is that the negroes of Jamaica are a turbulent and sangumary race, it is only necessary to say that since they have acquired their personal freedom, during nearly 30 years of bad government, injustice, and oppression, they have proved their peaceable and law-abiding character by order and submission to the authorities; and that until the deplorable occurrences at Morant Bay this eminently docile people have exhibited a remarkable obedience to law and order. Since they have obtained their freedom no instance to the contrary has happened in Jamaica down to the time of the outbreak in St. Thomas-in-the-East. It only remains to be mentioned that the last rebellion against slavery, in 1831, instead of causing the British people to falter in their determination to put an end to slave-labour within the British dominions, proved so far justifiable and successful, that it actually co-operated in no small degree with the powerful arguments already advanced in inducing the Government of the time to rid the country of both the cost and disgrace of upholding any longer the institution of negro slavery. [102]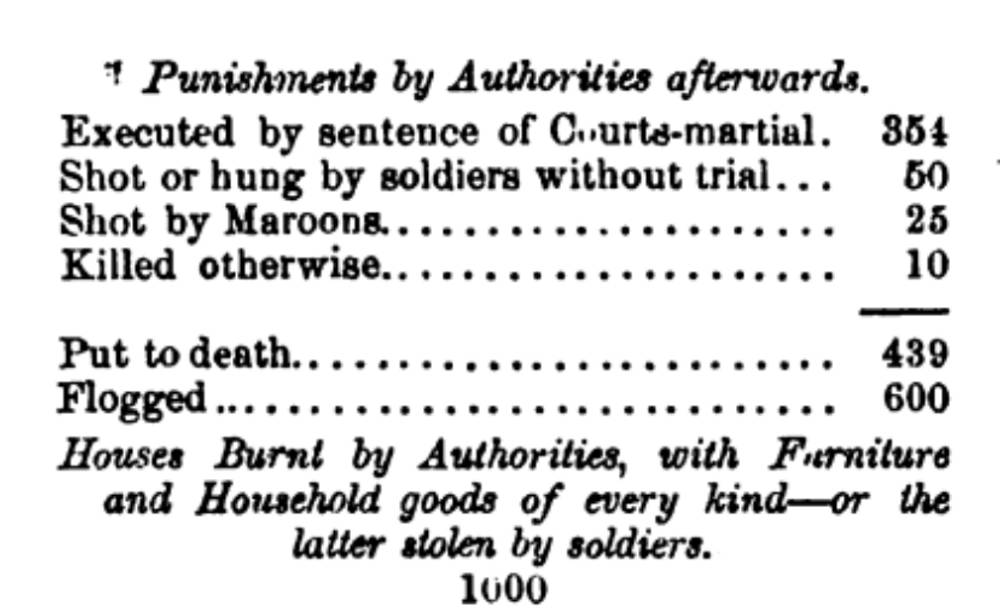 Bibliography
Gorrie, John. Illustrations of Martial Law in Jamaica Compiled from the Report of the Royal Commissioners and other Blue Books laid before Parliament. 65, Fleet-street. 1867.
Harvey, Thomas, and William Brewin. Jamaica in 1866. A Narrative of a Tour through the Island. A. W. Bennett. 1867.
"Jamaica." Westminster Review 87-88 (July 1867): 86-102. Hathi Digital Library Trust version of a copy of the periodical in the University of Minnesota Library. Web. 29 January 2016.
Ludlow, J. M. A Quarter Century of Jamaica Legislation. 65, Fleet-street. 1866.
Price, George. Jamaica and the Colonial Office: Who caused the Crisis? Sampson Low, Son, and Marston. 1866.
Report of the Jamaica Royal Commission. Parliamentary Paper, No. 15589. 1866.
---
Last modified 28 January 2016