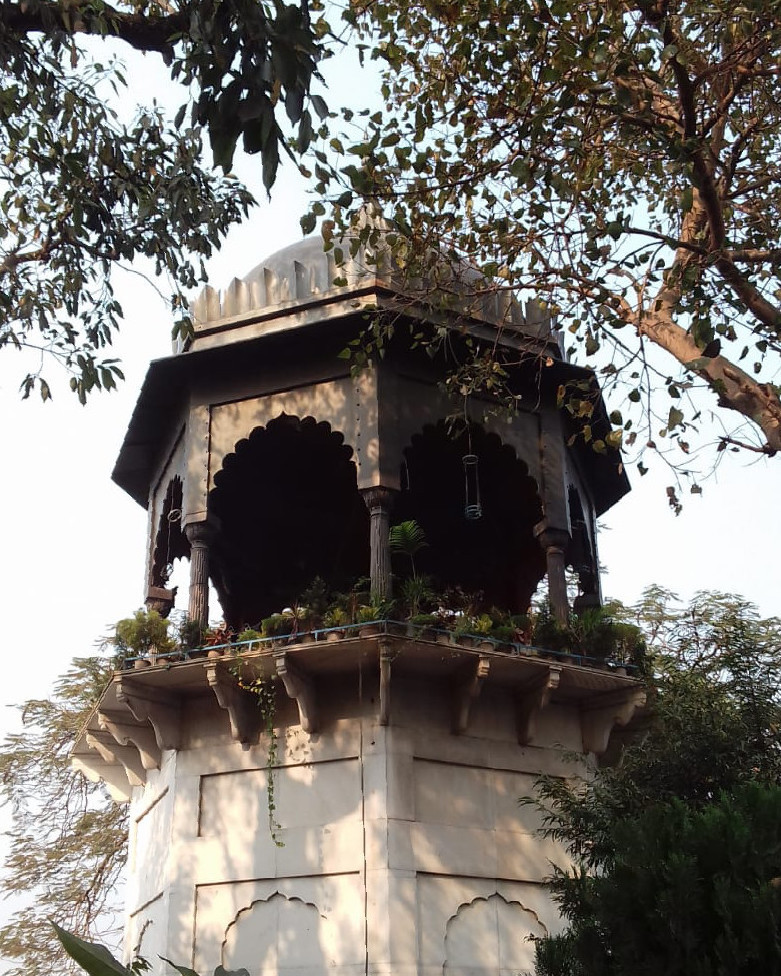 Left: The Gwalior Monument from the Strand. Right: Closer view of the cupola.
The Gwalior Monument, off Strand Road, Kolkata, designed by Colonel Goodwyn of the Bengal Engineers, is a memorial to those who died in Madhya Pradesh in 1843, in the two engagements against the forces of Maharaja Mahadji Rao Scindia. These were the battles of Maharajapur and Punniar, fought on the same day, 29 December 1843: "The Gwalior Campaign was of only 48 hours duration, the double victory putting an end to all resistance" (Featherstone 37). But the cost was great on both sides. On the British side, several Indian regiments, both cavalry and infantry, fought alongside the British ones.
Despite the fact that victory was won against huge odds, it was hardly noted in England, where the campaign for the repeal of the Corn Laws (and the trail of Daniel O'Connell) were taking all the attention. However, the Duke of Wellington was full of praise, Gwalior Campaign Stars were awarded, and, in Calcutta, this memorial was erected under the auspices of Lord Ellenborough in 1844. Built of brick, it is "faced in Jaipur marble and crowned by a cupola made from the metal of guns seized from the enemy" (Davies 76), and the names of those who died are inscribed on a cast-iron sarcophagus.
It is good to know that the Indian fatalities are not forgotten here, and Geoffrey Moorhouse's sample of their names suggests that they were fully a part of the colonial contingent: "Sepoy Ganga Din and Sepoy Juggernauth Misser and Naick Runmust Singh and a variety of Bombardiers, Roughriders and Farriers, led by a Major-General C. H. Churchill, are commemorated for a battle they fatally won in 1843" (140). Its martial origins notwithstanding, the monument was quickly nick-named the Pepper Pot.
You may use these images without prior permission for any scholarly or educational purpose as long as you (1) credit the photographer and (2) link your document to this URL in a web document or to the Victorian Web in a print one. [Click on the images to enlarge them.]
Bibliography
Davies, Philip. Splendours of the Raj: British Architecture in India, 1660-1947. London: Penguin, 1987.
Featherstone, Donald.British Colonial Warfare: India, from the Conquest of Sind to the Indian Mutiny. London: Cassell, 1992.
Moorhouse, Geoffrey. Calcutta: The City Revealed. New Delhi: Penguin, 1994.
---
Created 15 February 2021