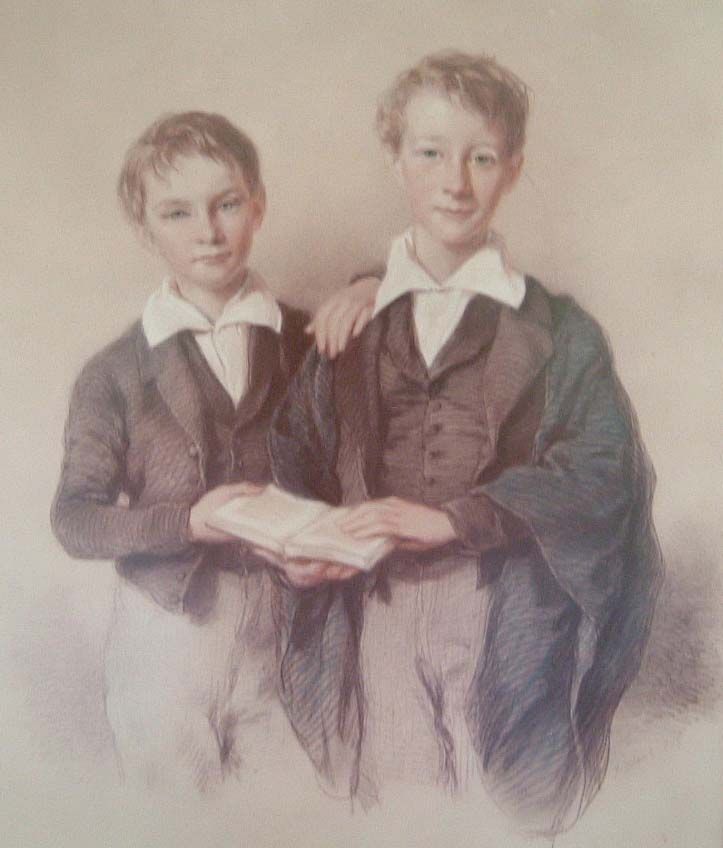 Thomas Charles Spyers, born 1838. Entered Radley January 1849, aged 11. He left the school in 1852, aged 14/15. He attended St Andrews University, becoming a Doctor of Medicine, and then a member of the Royal College of Surgeons (MRCS). He was in practice in Weybridge, then in Faversham, Kent. He married Lucy, daughter of C. Phillips, MD. He died at Faversham on 14th July, 1875.
Henry Almack Spyers, born 1840. Entered Radley August 1849, aged 9. He became the Senior Prefect when William Sewell was Warden, and rowed for the VIII in 1857. He left Radley in 1857, aged 17/18. Attended Balliol College, Oxford. He took Holy Orders in 1863. He served as the Headmaster of Weybridge School, 1880-86, then as Vicar of Purbrook, Hampshire, 1886-1903. He married Alice, sister of James Orme, one of his classmates and close friends. He died at Southsea on 20th June, 1915.
Henry Spyers features extensively in the diary of William Wood, Sub-Warden under William Sewell, and later Warden. Sewell's preferential treatment of Spyers as the Senior Prefect caused much annoyance to the teaching staff.
The joint portrait of the Spyers brothers in 1849 is the earliest portrait of Radley boys. It is by John Gilbert, RA. The original was in the keeping of descendants of the family until its theft in the late 1990s.
Bibliography
Raikes, T.D. Fifty years of Radley. Oxford 1897.
---
Last modified 1 February 2013